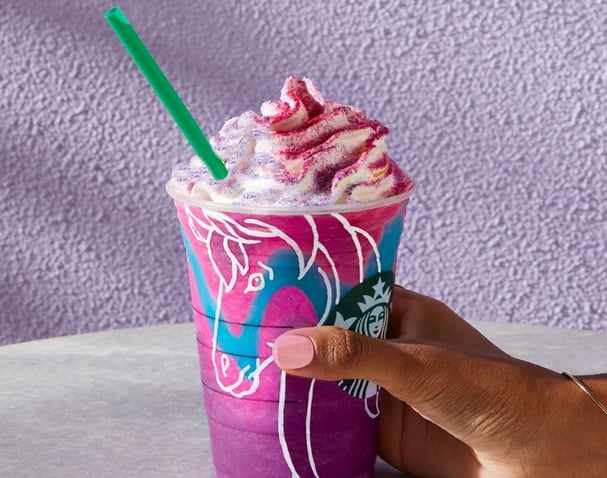 Starbucks' infamous Unicorn Frappuccino has made big headlines — some people love it, some are complaining about the unhealthiness of it, and most are probably sick of hearing about it.
However, we must tip our hats to the team at Starbucks who came up with this brilliant idea.
Let's talk about some of the key factors surrounding the success of this mystical Frappuccino.
1. It is a LIMITED-TIME offer
Let's break this down — "available for limited time only" in a world of FOMO (Fear Of Missing Out) translates into big wins for promotional campaigns. Starbucks harnessed this limited-time offering as a key marketing strategy and capitalized on the "get it before it's gone forever" mentality. FOMO is real, and it is definitely a factor when it comes to buying behavior.

In fact, I must admit after staring at pictures of this colorful, limited-time drink, I almost found myself wanting to try one just for the sake of trying one... And I know what Starbucks is up to. FOMO is powerful, people, especially when put on a time constraint.
Another factor that is real, powerful, and time sensitive is packaging. Unfortunately, too many of us know the downside of working with companies that cannot deliver in the appropriate time frame. Nothing is more frustrating than when a promotional campaign is delayed because packaging comes later than expected.
There's good news though: ABC Packaging Direct has sought to eliminate this issue for customers by offering digital printed prototypes and short runs for promotional holidays and special events. Can you imagine if Starbucks' order of the blue syrup in their Unicorn frap didn't arrive on time? That would have wreaked havoc on the entire promotion and seriously hurt sales. The same goes for packaging that doesn't arrive on time. Partner with a packaging supplier that delivers 100 percent of the time.
2. Shock & awe
ATTENTION. The key to any new product launch is grabbing customers' attention. If you release a new product that is the same concept, the same packaging, the same general ingredients as all your other offerings, how will you translate the message that this product is new, innovative, exciting, and a must-have? Some of your brand's loyal customers might buy in, but this will not create wide-spread demand.
However, if you keep this new product launch in line with your brand ideals, AND make it shockingly brilliant, THAT is when demand is created. You can't tell me that a Unicorn Frappuccino isn't shockingly awesome. For those of us who don't have a product like the Unicorn frap that essentially markets itself, there are other ways to create the shock and awe factor.
One way is to have quality packaging that is as unique as your product. Packaging is the first thing that your potential customers see when first interacting with an item in stores, and offers a great opportunity to create a shocking and awesome experience. Take advantage of this with unique spouted pouches, microwaveable film, unique shapes and other eye-catching packaging styles.

For decades, Starbucks has set a new precadent for coffee packaging that is iconic, instantly recognizable, and artfully designed. How will your brand stand out?
3. Social media shareability
Another factor we must take into consideration is the world we live in. Social media dominates everything from politics to the latest Starbucks craze. So, how does that come into play here? The shareability of the Unicorn frap, plus people's obsession with social media, equals a HUGE recipe for success.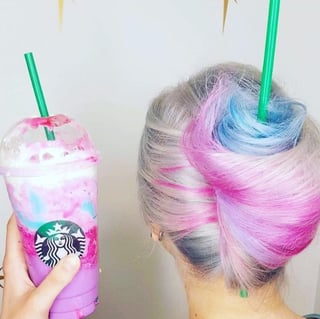 Have you ever heard someone say, "Did you really even workout if you didn't Instagram it?" In a world of oversharing, the Unicorn frap made a home on social media, and it couldn't have panned out better for Starbucks.
Face it: If your product, and its packaging, are eyecatching, creative, unique, and look cool on Instagram, your brand is going to either go viral or, at the very least, start building demand and brand recognition among online communities that share, post, and communicate extremely fast and extremely often.
4. Visuals = free promo
Why are things, especially food, overshared on social media? Because they are BEAUTIFUL. Are you going to snap a picture of your cereal this morning? Probably not. But if you go to the latest foodie brunch joint and are blown away by the presentation of your basted egg and avocado toast, that is totally Instagram worthy. Instances like this have dubbed a hashtag on Instagram called #FOODPORN.
The Unicorn frap most certainly falls under the category of Food-Or-Drink-Pretty-Enough-To-Post-On-Social-Media. And oh, how people did. In fact, when #UnicornFrappuccino is searched on Instagram, 155,985 posts come up. Do you know what this means? FREE PROMOTION for Starbucks.
Most people went out and ordered a Unicorn frap not because of an ad or promotion they saw created by Starbucks' marketing team, but because the 155,985 posts of the vividly colorful drink they saw on social media. As soon as the FOMO kicked in, they were running out of the door. Let's all slow clap for Starbucks…. WELL. PLAYED.
No matter the ingredients of this drink, everyone and their mother has been purchasing it if not to ONLY snap a photo or video and post it online. The drink has undoubtedly become the most popular topic on the internet, and we ask ourselves why? It's all about the visuals, folks.
Visual branding is so important in today's world of social media, and what better way to get people talking other than create an extraordinary visual than with your own product packaging?
Packaging is the voice of your brand. It is the first impression potential customers have of your product. Are you going to use it to shock and awe, or let it simply fall in line with everything else on the shelf? Are you going to use packaging to grab attention and create a level of demand where people without it are going to experience serious FOMO and want to go purchase it?
Are you going to have such cool, innovative, eye-catching packaging that people can't help but overshare and snap pictures of it for Instagram? These are questions you need to ask yourself. When you can answer YES to these questions, contact us. We'll take it from there!
(Image Sources: Starbucks Newsroom, Elite Daily)