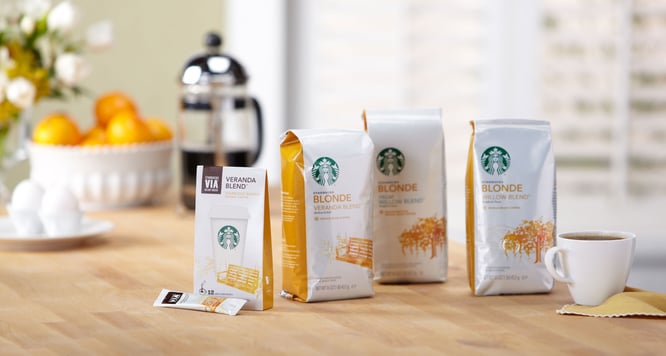 Longtime Starbucks CEO, Howard Schultz, recently announced his departure from his leadership position, passing the reins to the company's current President and COO, Kevin Johnson, effective April 2017.
Over the years, Schultz has had a major hand in revamping the coffee chain's brand image and incorporating innovation, modern design, and storytelling into Starbucks locations across the world, as well as in its line of CPG products. Schultz will still be leading the coffee giant's path toward the future as Executive Chairman, and his plans for revitalizing the brand could have a major impact on all coffee roasters across the U.S. He has said the country is "over-retailed," and with such influence in the CPG space, these comments may spark changes in the way retailers design their physical locations and create memorable in-store experiences.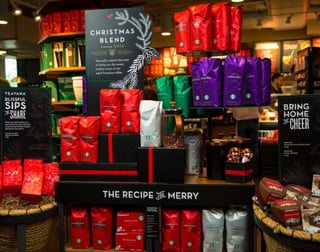 Schultz envisions a reimagining of retail, turning standard brick-and-mortar supermarkets into experiential consumer venues in an effort to make each shopping trip exciting and enjoyable, rather than viewed as an errand or chore. Coffee packaging like Starbucks will have a huge impact on the way people perceive visits to the grocery store, as each package has the ability to send visual cues to shoppers that assist in creating an overall impressive and pleasant experience.
Consider the fact that Starbucks' CPG growth has consistently increased due to factors like debuting new coffee bags in Europe, China, and Latin America, as well as launching more than 500 Signature Aisles in grocery stores across the U.S. The more consumers are able to see Starbucks products in their neighborhood stores, the more brand recognition and loyalty will increase. Great packaging designs that complement the retailer's aesthetic and layout will heighten those memorable in-store trips and remind consumers that they can take the experience of visiting a Starbucks coffee shop home with them by purchasing a high-quality bag of coffee grounds or beans.
"I think it's not just the coffee, it's the experience," Schultz said. "As an example, they're spending about 40 minutes, the average customer, inside the roaster because the experience is a cathedral of coffee."
Starbucks is ranked among the world's top three coffee brands, and its packaged roasts and ground coffee have take the lead in the premium coffee sector. The brand has kept in mind that 80 percent of experiences and interactions with coffee happen outside of coffee shops, making it clear that coffee brands need to step up their packaging in order to draw in consumers — especially highly influential millennial shoppers.
Partnerships are also key, and under Schultz's reign Starbucks has teamed up with PepsiCo to launch its packaged ready-to-drink coffee products, like Double Shot and Frappuccino, making the brand the leader in this market. Starbucks is also preparing to launch ready-to-drink Teavana teas in 2017 after partnering with Anheuser-Busch. This further asserts the need to have highly functional, appealing coffee packaging that will not only draw in coffee drinkers but also attract major industry players who can help propel your brand forward.
Through all its forward thinking and success, it's worth noting that Starbucks has used traditional coffee packaging for its premium beans and grounds, both in its own coffee shops and in grocery stores across the country. Innovation and experiences are key, according to Schultz, and the brand has determined this type of coffee packaging is most efficient at attracting consumers, establishing product and brand recognition, and keeping is high-quality roasts fresh and protected for extended periods of time.
Plans are already set in motion for Starbucks to become regarded as more of an upscale brand, no doubt in an attempt to compete with increasingly successful small coffee shops that focus on high-quality roasts and the art of brewing coffee. Local roasters pull in more and more young consumers and have tremendous power marketing themselves as "alternatives" to mainstream corporations like Starbucks or McDonald's. This is where smaller coffee companies can strike the perfect balance of a local business people can trust and an upscale brand with premium coffee. Using traditional coffee packaging, like side-gusseted bags, puts these brands on the same high level as Starbucks but allows them to differentiate themselves with their own unique experiences and designs.
Schultz has said Starbucks serves as a bridge that connects people between home and work, and coffee packaging like Starbucks has the ability to work as a mini billboard that advertises the company's signature branding anywhere the consumer takes it. Coffee packaging like Starbucks is so effective at building brand recognition and loyalty because it can appear most everywhere — it's the first thing a coffee drinker sees when he or she wakes up in the morning and steps into the kitchen to brew a fresh pot. It appears again if the consumer needs a pick-me-up on the way to work and decides to swing by a Starbucks location for a cup of coffee to go. He or she might stop by the grocery store on the way home, and the traditional coffee packaging appears once more on retail shelves.
It's clear from Schultz's vision of the future of Starbucks and retail that coffee packaging plays an important role in creating those memorable experiences that millennial consumers crave. A careful focus on design, an ability to make constant updates and improvements to the packaging, and establishing a cohesive brand image (this includes packaging, online presence, flagship stores, merchandise, and more) will help coffee brands stay relevant as the market evolves.
Want coffee packaging like Starbucks that will propel your brand into the New Year and beyond? We're offering 10% off all traditional coffee packaging in our online store through December. Visit store.standuppouches.net and enter code CoffeeBags10 at checkout.
(Image Sources: Business Wire, Starbucks)