Think of some of the world's most popular brands. Can you recognize them from their logo alone?
From food and beverages, to clothing, electronics, and many industries in between, big-name companies are building loyalty and among consumers with creative, recognizable branding. Today's marketers are using packaging as an integral way to reach customers, understanding that a great logo and unique packaging can really sell a product and allow it to stand out in retail locations. The packaging industry is innovating at lightning fast speed, which is good news for companies looking for exciting new ways to reach customers.
Building a credible brand is important for modern marketers. A quality product, coupled with consistent imagery and transparency, is important for building trust among consumers. Packaging is the perfect way to let people know that your goods are fresh and protected, while presenting it using the most advanced, highly functional packaging on the market today. Flexible retail packaging is really the way to go if you want to sell your goods in creative and interesting ways while maintaining the aspects that make your product so special.
Drew Boyd recently shared five tips from his book, "Inside the Box: A Proven System of Creativity for Breakthrough Results," that help marketers best utilize product packaging as a tool to increase their companies' growth and success. We've broken down these solutions and expanded upon them using our inside knowledge of food marketing and packaging.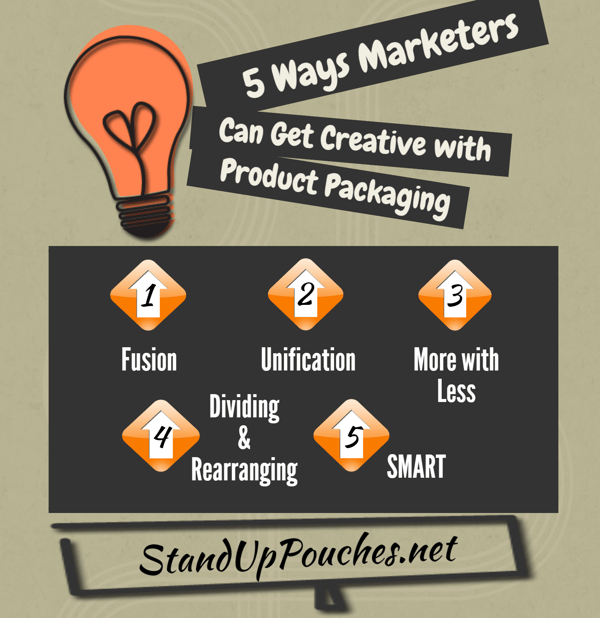 Share this Image On Your Site
1. Fusion
Boyd explains "fusion" is a clever tool creative marketers use to connect packaging to a company's overall brand message. This unifies the product and packaging to send visual cues to consumers that communicate the value of the goods. Boyd recommends that marketers make a list of the qualities that make their product stand out, and use these descriptors to help design the packaging. Fusing together the product, its packaging, and a metaphorical symbol can lead to breakthrough designs that set your brand apart from the rest.

2. Unification
Packaging's No. 1 goal is to keep items inside protected, acting as a barrier that keeps away harmful outside elements while maintaining the quality of the goods inside. Packaging also serves as a powerful communication tool, using graphics, text, and branding to send a company's desired message to consumers. Boyd says packaging can take on additional roles that add value to customers. For example, stand up pouches can be made with spouts that take some of the work out of the customer's hands. Users won't have to dump products into another container for easy pouring. Likewise, resealable zip lock closures allow consumers to keep using the original packaging instead of tossing it and putting the product in a separate bag or container to keep it fresh.

Boy recommends making two lists, one of which contains the traditional features of your company's packaging. This can include tear notches, clear windows, and other structural elements. The second list should include the steps consumers must go through to use, store, or dispose of your product. Next, develop a way for each of the packaging's elements to solve each problem for your consumer. This will help you and your packaging supplier develop unique and inventive ways to contain your product and make your customer's life a little easier.
3. Doing More With Less
Boyd explains a technique called "partial subtraction," which involves transforming small parts of your packaging to promote your brand. Again, he suggests making a list of all of the packaging's components and removing one or two to make your product or company more visible. A perfect example of this is using stand up pouches with transparent windows that show off the goods inside. By "removing" part of the opaque package and replacing it with a clear plastic barrier layer, you aren't taking away from your overall packaging design – rather, you are incorporating the product into the overall look, thus making your brand more transparent.

4. Dividing and Rearranging
Creating convenience and functionality can be achieved by rethinking the entire shape of your packaging. We see many companies switching away from bulky boxes and choosing stand up pouches for items like cereal, granola, and even pet food. They're using the same stand-up functionality but are rearranging their packaging strategy to include more structurally sound, protective, and flexible retail packaging. Not all products can be packaged the same – it's important to work with a supplier that can create a custom size and shape for your product packaging so it best protects and displays your individual offerings.

5. Making it Smart
Food and beverage companies know that they have to select packaging that supports products of specific weights, temperatures, consistencies, and materials of their products. What if you could take each of those factors and make it more of an interactive experience for the customer? An example of this is using color-changing materials that are sparked when the packaging becomes hot or cold. We seed this type of awe-inspiring packaging often done with beverages – think of Coors' Cold Activated Bottle – where certain shapes or tones emerge when the liquid is chilled.
Food companies can get creative about the interactive elements of their product packaging in similar ways. Maybe there's a secret message on the inside of the pouch that is exposed when the package is opened or the product is consumed. By allowing packaging to adapt to changes in its environment, you show customers you've made extra effort to delight them and make their product fun and interesting. This type of "attribute dependency" can be applied to inform consumers if a product is safe to consume as well. If it needs to be heated or chilled, the product packaging can inform consumers exactly when it's ready for consumption.
Great packaging has the ability to tell your brand's story through its colors, graphics, and designs. Thinking outside of the box and having fun with the structural materials of your packaging can help marketers get creative and push their companies forward in exciting new directions. Packaging can truly attract customers and get them talking about your company and its offerings. Putting a little extra effort into the structure and presentation can set your brand apart and set it on the path of becoming an innovative leader in the industry.
Related Posts: