From baby food to probiotics, alcohol, soup, sauces and even automotive products, many of today's leading manufacturers are using lightweight, spouted stand up pouches to package their products.
Liquids, oils and gels are notoriously difficult to package. There's the possibility of leaks, breakage, contamination and myriad other perceived risks that can damage a product (and your brand image) if something goes wrong.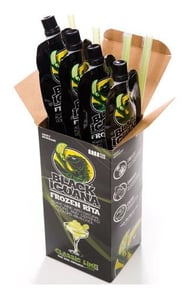 This is one reason why many CPG brands are choosing flexible packaging to replace traditional containers like plastic jugs, glass jars, bottles and cans for their liquid products. Flexible packaging, like spouted stand up pouches, can stand upright like a rigid container but is able to expand without bursting or tearing when the product is added. The laminated layers of barrier film also ensure the product doesn't escape and is only to be removed from the designated pour spout.
Flexible packaging is also a more sustainable alternative, as it takes up less space in landfills and can be recycled with other R7-coded materials. It's also proven that more of today's consumers seek out flexible packaging because it's more conducive to their active lifestyles.
In fact, we partnered with independent research firm Cint to better assess consumer preference toward spouted stand up pouches vs. a traditional glass jar. Did you know more than half of consumers would replace the products they normally buy with a competitor who uses innovative spouted pouches?
If you're considering using a stand up pouch with spout for your liquid product, you may be wondering exactly how this type of packaging is filled. Pouches without a spout usually come with an open void where the product can be inserted, then the packaging is heat sealed shut. However, spouted pouches offer more variety and options for the manufacturer.
Just as there are many different styles of pour spouts available to choose from, there are also several different ways to fill the pouch with your product, seal it, stand it up and get it into your customer's hands.
Let's break down the various ways to fill spouted stand up pouches:
We can supply spouted pouches with the cap separate or removed. This will allow you to fill the pouch with your product through the spout, and torque down the cap to reclose.

The stand up pouch with spout can come to you with the pour spout and cap intact. There will be a void (opening) in the top of the pouch itself, then you add your product through the void and heat seal it shut.

We can create a larger void in the side of the pouch for you to fill and heat seal. This is the ideal solution for liquid packaging that has a unique shape or a smaller pour spout.
The beauty of a stand up pouch with spout is that it can be created in a wide range of sizes, styles, shapes, colors and finishes to suit your needs and best protect your product. Depending on the size and manpower of your team, there is a variety of ways to fill and seal the product so it's easy and efficient for your organization. Our spouted pouches are reclosable and can be produced to include features like handles, keychain clips or hang holes to best suit your needs and help your product stand out on retail shelves.
Further Reading: