Stand up pouches are one of the most effective and innovative packaging styles on the market today.
What differentiates these containers from traditional lightweight plastic bags is their ability to stand vertically on shelves, making them the perfect alternative to flimsy cardboard boxes. They show off a brand's distinct logos, taglines, graphics, and color schemes better than a container that lies flat and remains obscured by the store displays, signage, and other eye-catching materials that are scattered throughout retail locations.
Stand up pouches are an inventive and popular solution because they keep air, vapor, and odor out of the container better than a standard plastic zip lock bag. Each pouch is produced using multiple layers of scientifically developed plastic that are laminated together, resulting in a tougher barrier that protects the shape and quality of the products inside while keeping them safe from spoilage or pests. The bottom of a stand up pouch is structured in a way that supports the side barrier layers, allowing the package to remain upright before and after it has been opened.
The key to ensuring this type of packaging properly contains your product and remains standing is through the use of heat sealing.
A stand up pouch heat sealer does the job of locking each protective layer of food grade, FDA-approved plastic together, creating a structure unlike any other. However, because stand up pouches can be produced using a variety of materials to suit your products needs, not every type of heat sealer will work with your individual packaging. Stand up pouches can be made with external layers that include Mylar, metalized foil, and kraft paper, and each requires a different type of stand up pouch heat sealer to perfectly secure the layers together and make sure your product's freshness and quality are locked in tight and sustained throughout the transportation, manufacturing, and purchasing stages.
There are two main types of devices used for heat sealing – an impulse packaging sealer and a direct heat sealer. The impulse heat sealer does just what its name implies – it doesn't need any time to warm up, and it quickly sends a jolt of energy to the pouch to connect the layers together. This type of sealer works best with gusset style bags made of Mylar or cellophane. Impulse sealers do not require as much energy as others, so they are generally cheaper. A double impulse packaging sealer is ideal for stand up pouches because it has the ability to seal 10 mils or 20 mils of film (a stand up pouch generally uses 5 mil per side), so it can lock together your packaging must faster and easier than a single impulse heat sealer.
A direct heat sealer includes two types of devices – a vacuum sealer and a clam shell sealer. Both of these sealers work to maintain a constant temperature and deeply penetrate thick packaging materials. This type of heat sealer is ideal for kraft stand up pouches, gusset bottom pouches, poly cello films, barrier pouch bags, and coated PP. This type of stand up pouch heat sealer is more expensive than an impulse sealer because it is used for heavy duty sealing. Both jaws are heated simultaneously, which is perfect for bags made of thicker materials.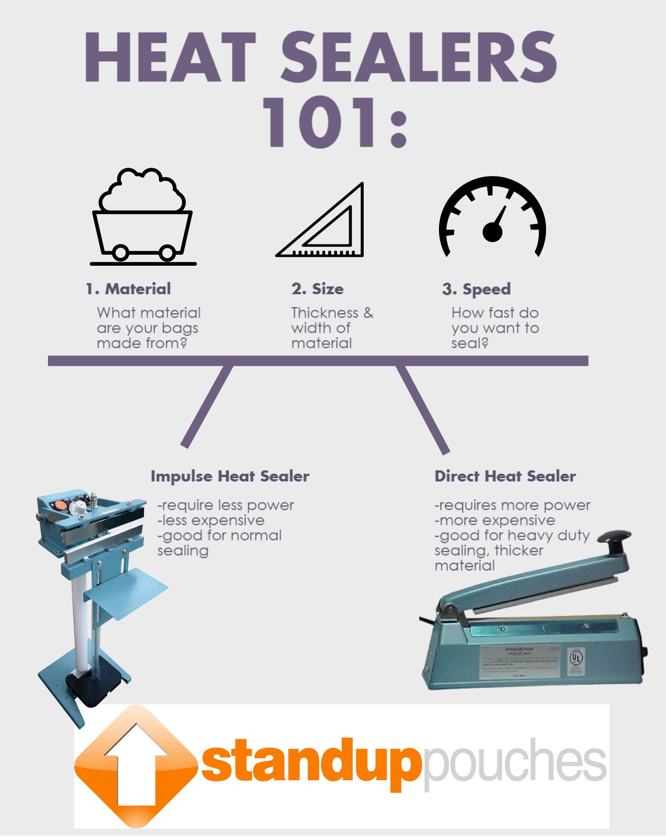 Share this Image On Your Site
Whether you're sealing small quantities of standard stand up pouches, or large masses of bigger, oversized bags, a heat sealer is the perfect way to make sure your packaging best protects your products and presents your brand in the best light. Once you receive your shipment of stand up pouches from your packaging supplier, your team can get the ball rolling by stuffing your bags full of your amazing products and using the appropriate heat sealer to push air out and package them with care.
(Image Source: BCF)
Related Posts: