Sustainable Packaging Information

(image source: http://www.devicepitstop.com/earth-day/)

As more of today's leading companies make sustainability an integral part of their company cultures, missions, and overall initiatives, packaging has become both a cause for concern and an important tool for communicating an eco-friendly brand image to customers.
Producers and consumers alike are making active strides to reduce their carbon footprint and are researching new ways to recycle, reuse, and reduce product packaging to cut back on waste and pollution.
Stand up pouches and other forms of flexible packaging have become an increasingly popular option because they are resistant to puncture and breakage, they lend well to bold, creative designs, and they stand upright on shelves without the weight and heft of traditional boxes, cans, or jars. They are much lighter than traditional containers, thus reducing the amount of fuel emissions required to transport products from point A to point B.
Stand up pouches can be broken down into recyclable regrind, or tiny pellets that serve as the main raw ingredient used to produce other forms of flexible packaging or even items like plastic tables and benches. Flexible pouches also lessen the negative effects disposed packaging has on the environment by reducing raw material distribution and storage needs.
Stock and plain or custom printed stand up pouches can be placed right in the recycling bin with other R7 coded materials like large water bottles, Tupperware and additional extraneous plastics that consumers dispose. This form of lightweight packaging also reduces consumer waste by eliminating extraneous packaging components like lids or inner linings that usually come with boxed or tray products.
When it comes to lessening the negative impact consumers, manufacturers, and disposed products have on the environment, lightweight recyclable packaging is a much more viable and beneficial option than heavy, rigid containers or flimsy packaging that ends up in landfills and results in wasted or spoiled product due to its lack of protective features. Stand up pouches, on the other hand, are made with multiple layers of scientifically developed, FDA-approved film that are laminated together, creating a strong but flexible structure that reduces food waste and contact with outside contaminants.
As proud members of the Sustainable Packaging Coalition, the team at StandUpPouches.net
understands the tremendous impact companies can have on the world around us. We partner and work closely with many eco-conscious CPG companies, and we are dedicated to providing packaging solutions that ensure each brand's commitment to sustainability and clean labeling remains consistent.
Our packaging plant has one of the world's best R&D departments for discovering new and innovative technologies to make stand up pouches and other forms of flexible packaging more sustainable. We currently work with several businesses invested in the research of creating biodegradable films, as many of our eco-conscious customers seek out this type of packaging. As such, we make it our commitment to keep up with the latest findings and present them to the brands we work with.
Flexible packaging is regarded as the "future of packaging," and our commitment to sustainability is crucial to ensuring our clients — and their customers — are confident their brand is adhering to environmentally friendly packages throughout the entire supply chain.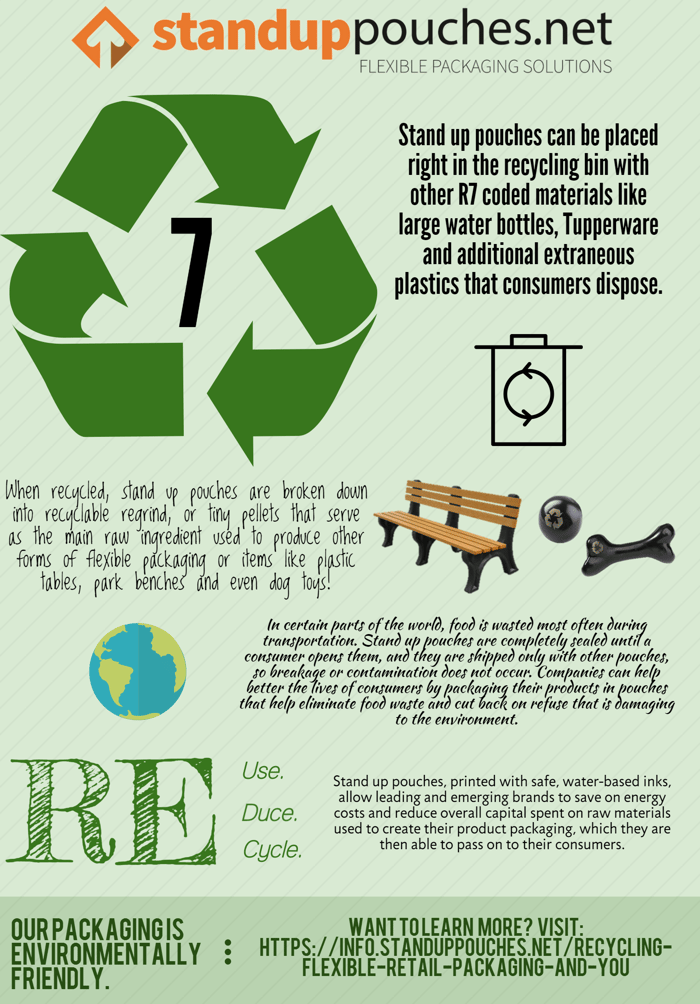 Share this Image On Your Site