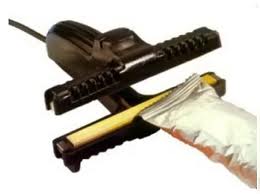 As anyone can imagine, sealing a stand up bag, custom and printed or stock and plain, depends on several things. It depends on how much time someone has to seal each pouch, how many pouches they want to seal, and frankly how much money they want to spend. There are basic options where someone can seal a stand up pouch by hand, which of course is down and dirty but inexpensive. A basic hand sealer will cost about $100. After sealing about 1000 bags you'll wish you had spent more money for something faster, but again, for a decent version, $100 bucks is what you'll spend.
Next up would be a foot pedal type of heat sealer. Here instead of holding or clamping the stand up pouch, you'll step on a pedal and it will clamp the plastic for you. A foot pedal sealer has 2 versions, a single impulse or a double impulse. A single impulse means one side of the clamps are heated, and that one side is used to heat through the film. A stand up pouch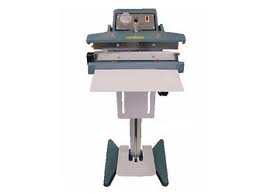 is generally 5 mil or micron thick, by comparison a trash bag is usually less than 2 mil or micron, so a stand up pouch is much thicker. Further, remember you have two sides of the opening for a stand up pouch you are sealing, so your heat sealer will need to seal 10 mils or microns of film. Long and short, a single impulse sealer will cost you about $249 but will really need to work "hard" to seal 10 mils of material.
There is a double impulse heat sealer, where both sides of the clamp are heated, this will seal 10 mil material much faster and easier, and yes of course, you'll pay more. Figure on a good double impulse foot sealer costing $495. Then, the semi and fully automated heat sealers will take you into the $1000 and several thousand dollar range.
Heat sealers are definitely something you'll need to use as you get started, however as mentioned on the video, many companies will opt to hire a contract packager to use their much more sophisticated equipment to fill and seal stand up pouches.