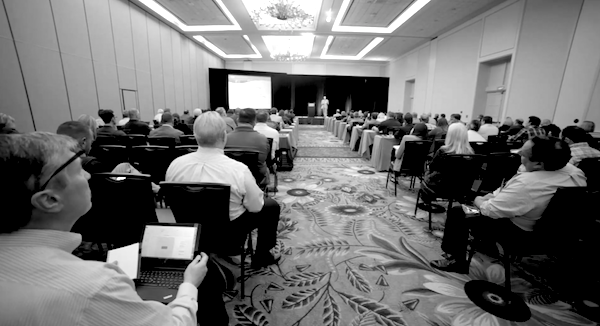 When food industry leaders want to get in front of the right players, tradeshows and expos can be a goldmine.
They are the perfect opportunity for retailers, distributors, investors and customers to gather in a central location and see what new, cutting-edge products and services are soon to emerge in the marketplace. Tradeshows are a great opportunity to highlight your brand and market your goods in person... but, as you know, there is more to growing your business than promoting your offerings in a busy expo environment.
This is where education and networking opportunities come into the picture. Both personal and professional growth is nurtured when possibilities to capture new knowledge and information are readily available. Imagine being invited into an intimate space filled with top leaders from your particular industry who are willing and able to share their "tricks of the trade," discuss your products and answer your most pressing questions.
That's what events by Next Level Summits are all about. Developed specifically for top players in the food industry, these gatherings are intended to bring some of the brightest minds and most successful brands together in close quarters to network, share information and establish meaningful connections that help one another gain new insights and opportunities for success.
We attended this year's NLS Food Evolution Summit as food packaging industry delegates, and we were blown away by the innovative concepts and changing trends that were introduced by brands like Campbell Soup Co. and Farmhouse Culture. Our team was able to connect with forward-thinking decision makers from a variety of companies who are turning changing consumer habits into impactful trends that will drive the food industry forward.
Coming up next is the 9th annual Food Quality Symposium, taking place Dec. 4-6 in California, developed specifically for top-level executives working in safety, quality assurance and other related fields in the food industry.
This one-of-a-kind event will delve into important issues impacting today's food producers and will introduce key strategies relating to crisis management, pest control, food quality assurance technology, third-party audits, produce lifecycle management, sanitation and protective packaging solutions.
While it is important for food brands to get in front of the right players who will buy and sell their products, it is critical that their leadership team stay informed about issues regarding safety quality and assurance to keep consumers healthy before goods go out on shelves. From the handling of ingredients to choosing protective packaging that keeps food products safeguarded from external contaminants, every detail involved in consumer safety matters.
We're grateful for a events like the Food Quality Symposium because they present rare chances to discuss important topics with members of the FDA, USDA, CFIA, GMA and FPDI in an environment that fosters real connections and encourages important conversations among industry leaders.
As packaging partners, we want to see the brands we work with innovate, thrive and succeed, all the while keeping their products fresh, protected and of the highest quality. This is why we've teamed up with Next Level Summits to offer our readers discount passes for this year's Food Quality Symposium.
Here's what you'll receive:
$1,000 off the price of general admission (standard rate is $1,995)

Learning and discussion opportunities with the industry's best minds

Networking sessions at the scenic Hyatt Regency Indian Wells Resort & Spa

Practical, applicable technological solutions for your business

In-person presentations from decision makers at Starbucks, Campbell Soup Co. and more

Breakfast, lunch, dinner and refreshments throughout the day

Three days' worth of breakout sessions, keynotes, one-to-one meetings and much more
Call Corey Bahadur, NLS Director Business Development, at 416-366-0001 ext. 227 and mention promo code DAVEABC to secure your exclusive discounted pass.
This special rate expires Oct. 31, so you must act quickly to take advantage of the offer. Visit fqsna.com for more information.
Further Reading: