Industry events and trade shows can be goldmines for businesses large and small — they're the perfect opportunity to meet buyers in specific markets face to face and build brand awareness while highlighting new products or concepts.
These networking events allow vendors and attendees to stay up-to-date with new trends and innovative ideas while building new connections with brokers, distributors, retailers, and even potential partners. Just as crafting a solid resume and wearing professional clothing helps people get ahead at expos and networking events, thinking about how you are going to present your company and its product line requires careful thought and attention to detail.
Demonstrations and samples of a new or existing product are highly effective ways to get people interested in your offerings and dazzle them with your unique, forward-thinking concepts. However, if your display can't catch the attention of attendees within a few seconds, crucial time has been lost, and the chances of someone listening to your sales pitch or sampling your product have likely been diminished. In the same way products must be differentiated from competing items on store shelves, your trade show display should be able to stand out in a crowded venue and get people curious and excited about what you have to show them.
We know just how important a product's packaging has become in a company's overall brand-building strategy. As an integral part of modern marketing, factoring the way your product is packaged into your entire trade show display helps keep your branding cohesive while offering others a chance to interact with your items and test out their quality and functionality. Before investing time and money on bulk orders of your fully packaged goods, ordering digital printed prototypes is a better option for events like trade shows, and they have become an important part of any brand's trade show "tool kit."
If you're gearing up to display your items at an upcoming industry event, be sure to have the following items locked down and ready to go.
A definitive goal
Companies attend trade shows for many various reasons, but pinning down one overarching goal three to six months before you enter the venue can help your team gauge whether or not the experience was successful. Using quantitative data never hurts. For example, a goal could be to find three investors or get solid feedback about your product and packaging prototypes from 20 different passersby. Keeping track of this information and using it to devise larger, more ambitious goals in the future will help your brand grow and keep up with changing buyer demands.
An outstanding booth
We hear this mantra all the time: location, location, location. Carefully planning where your vendor booth is located in the venue can help get more eyes on your product and face-to-face interactions with your staff. Believe it or not, setting up your display next to a restroom can be effective, and choosing a booth at the end of an aisle can help get people to stop and look before they venture into a different direction. Truly, the most effective way to get traffic to your display is with bold graphics and media that excite and delight. Eye-catching digital printed prototypes placed in an easy-to-spot place on your booth will grab people's attention – think of them as three-dimensional billboards that assist in providing a full sensory experience for potential customers. Remember to always have a fully stocked "first-aid kit" full of office supplies, extension cords, and lots of product samples to do any last-minute tweaks to your vendor station.
A solid team
Select at least three people from your company who are charismatic, expertly educated on your product, and resourceful enough to be able to restock items when things get busy and walk around showing off your printed prototypes and networking with potential stakeholders. Someone should always be at your booth to answer questions and conduct product demonstrations. Assign each person specific tasks, but make sure they're familiarized with the responsibilities of other team members so duties can be reassigned and shared as needed. Oh, and don't forget to equip everyone with business cards so the networking and connection building can be extended long after the event ends.
SWAG
Who doesn't love free stuff? Product samples are key, but carrying your branding into staff T-shirts, promo items, and other forms of merchandise allows people to easily locate your company and remember it when every time they use your items later on. Keep the color schemes and designs consistent with your product packaging and booth displays, and choose free items that are consistent with the goods your target audience would actually seek out and use.
Digital printed prototypes
A solid strategy, unique booth setup, and perfectly written sales pitch are all integral to a successful trade show experience, but the focus should really be on the product you're selling in the first place. Packaging prototypes help show off new or in-development items by sealing them in professional, highly protective pouches that are printed with bold, vibrant colors that reflect your company's distinct branding. Packaged products can be displayed or handed out, and they give potential buyers a true sense of how your items work. Industry events are valuable because they let you meet your target audience face to face, and they're a rare instance when you can actually let people interact with your product concepts and ideas. Packaging prototypes allow you to fine tune and perfect the way your items are presented so they draw people over to your display and leave a lasting positive impression.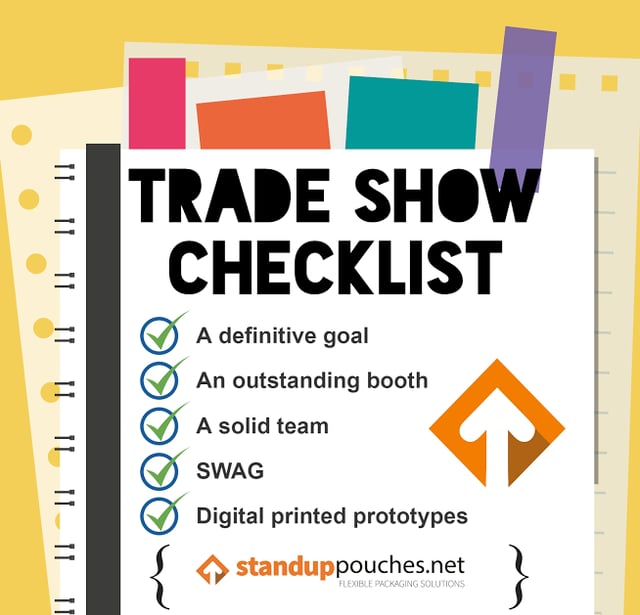 Share this Image On Your Site
Related Posts: