There is a magical little ingredient in your kitchen that has the power to give new flavors to your favorite food, bring out vibrant hues in your vegetables, make fruit taste sweeter, and tenderize meats and poultry to their juiciest potential......
It is an essential nutrient that has been prized for centuries. It acts as a preservative and has even caused nations to go to war when this powerful substance becomes scarce. What we're talking about here is salt, and it's one of the most important seasonings you own.
Most homes tend to use common table salt to amp up the taste of their foods, but additives and an ultra-fine texture strip away the full potential the tangy, crunchy spice has to give to food. That's why companies like Spice Lab are introducing families to the wonders of gourmet salts and spices, each of which has unique abilities to boost flavors to their richest and most delicious.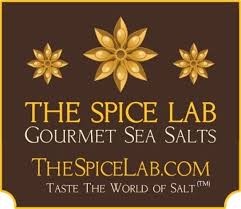 Spice Lab offers more than 350 different salts from 30 countries around the world. These gourmet products are available in specialty shops around the country and make the perfect gift for the seasoned or aspiring chef in your life. The company prides itself on carrying the largest selection of salts and seasonings from a single source and serving as a top wholesale resource for premium Himalayan salt and salt products.
This company sells goods that revolutionize the way people cook and what flavors they expect from their homemade foods. Spice Lab proves itself to be creative and inventive, offering products like sea salt shot glasses and colorful cocktail rimming salts. The Himalayan salt the company specializes in is hand-mined from salt beds formed in the Jurassic era. This is no ordinary salt, and Spice Lab is certainly not your run-of-the-mill company. (Image Source: SpecialtyFoods.com)
To reflect its brand values and innovative goods, Spice Lab needed modern, high-quality packaging that keeps spices fresh and features eye-catching designs. The company has already won several awards for its packaging, much of which gained it initial sales and recognition when it launched in 2009. Founded by tech entrepreneur and gourmet cook Brett Cramer, along with his interior designer wife Jennifer, much focus and attention is placed on both the design and structure of the product packaging of all Spice Lab products. That's why they needed to partner with a supplier that understands their focus on high-end, gourmet items that need an immaculate presentation.
The company packaged not only its famed Himalayan pink sea salt, but also olive oil dipping herbs and seasonings in packaging from StandUpPouches.net. Spice Lab has also selected pouches for its exotic fleur de sel, meaning "flower of the salt," which is a meticulously hand-harvested sea salt that is moist and flaky, melts quickly, and packs a sublimely delicate flavor.

By choosing flexible retail packaging, Spice Lab was able to find the perfect solution for both its large, course sea salt granules and its light French salt crystals. The company began its working relationship with ABC Packaging direct to much success, choosing flexible retail packaging solutions for many of its rare, gourmet products.
For its most recent offerings, Spice Lab chose six pouches of varying sizes, featuring a clear window so customers can see the brilliant texture and hues of these unique salts and seasonings inside. Many of Spice Lab's products work as finishing salts, adding that extra flavor and flourish to a wholesome gourmet meal. Retail packaging, too, should serve as that extra ingredient that makes your product shine and creates a great first impression.
In order for salts and seasonings to work their magic on a dish, they must be fresh. Stand up pouches offer protection that gives these products an extended shelf life and keeps them free from air and moisture. By working with ABC Packaging Direct, Spice Lab was able to ensure its meticulously gathered salts and spices would be kept fresh and pure all the way from its 15,000 square foot building to customers' pantries.
Proper packaging means a high-quality product, and partnering with a supplier who holds the same high standards results in a perfectly packaged good that reflects brand values and creates loyal customers. When a designer and engineer start a company, customers can expect high-quality structure and designs. Flexible retail packaging acts as the perfect solution for bringing colors to life and stimulating the senses just like those tangy, smoky, and delicious spices inside.
Related Articles: