Imagine this, you've just signed deals with Whole Foods and Wegmans and they want your product on the shelves within the next 3 months. Now imagine this, you've got little to no product and haven't even thought about the packaging. This happens more often than not, but as many companies have shown, it is possible to rise above these issues and create a healthy future for your brand. This is the true story of how Barnana got their start, and how packaging helped turn them into a leading brand in the health food industry.
Barnana's Founder, Caue Suplicy, grew up in Curitiba, Brasil. One day his father brought home an old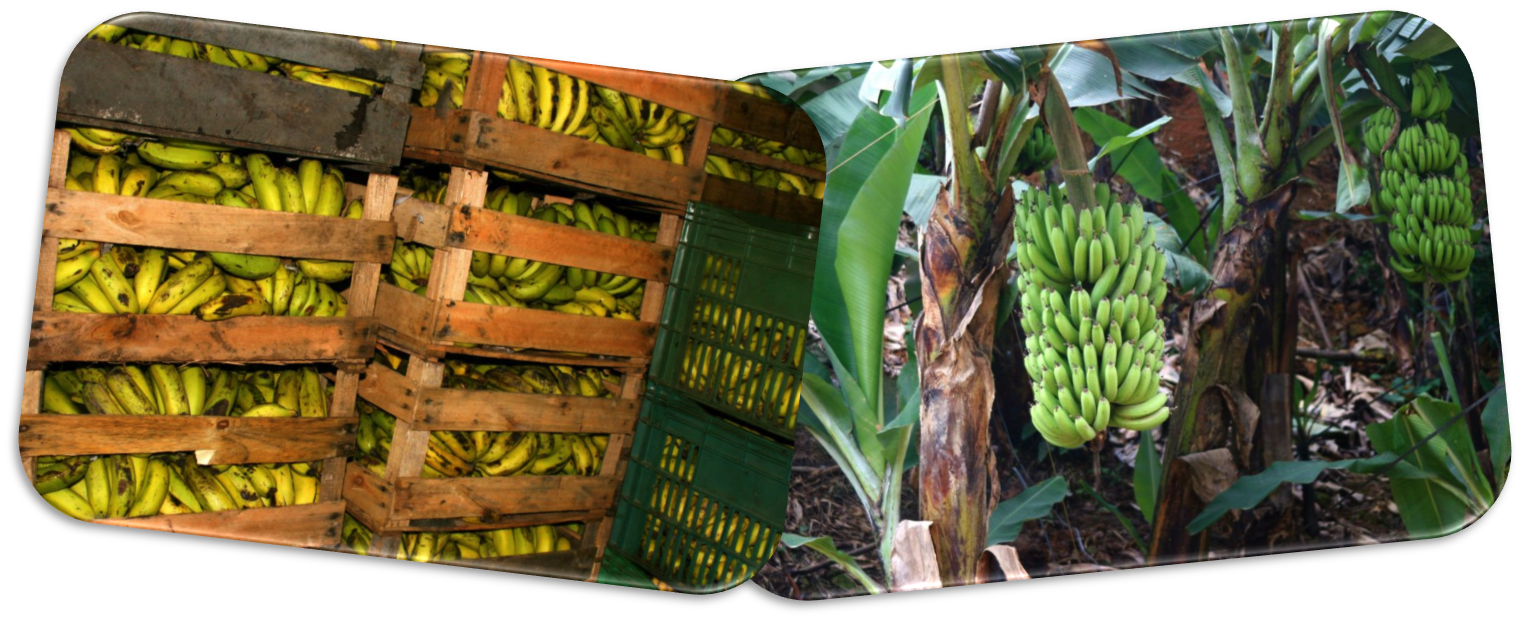 skylight and quickly realized it could be used as a natural dehydrator. He tested the dehydrator out with fresh peeled bananas and they soon became a family favorite. They were not only a healthy option, but they tasted sweet and lasted for months making them the perfect snack for all to enjoy.
In 2001 Caue made the journey to the United States to realize his dream of becoming a professional triathlete. Throughout his 10 years of competing on the professional level, he never lost his passion for his father's chewy banana treats. He shared them with friends and fellow athletes and after retiring from his racing career, he decided he was going to change the world with this unforgettable snack.
In 2010, Caue came to his friends, Nik Ingersol and Matt Clifford, with the idea of starting a new banana company. Soon after, Barnana was created. They spent a lot of time putting the brand together, and after raising $25,000 in capital, they decided to put their product to the test at Expo West. With proper planning and execution, they managed to land deals with two major retailers; Whole Foods and Wegmans. After their initial state of bliss waned, they realized they were in trouble; they had little to no actual product and hadn't even thought about how they were going to package their snacks. In a rush, Nik ran to FedEx, ordered some packages and hoped for the best as they shipped off their last minute snacks to be put on the shelves of the biggest stores in the US.
They knew that FedEx packages were not going to cut it, so their journey for the perfect snack food packaging commenced. They were originally going to make the bites into bars and sell them as a snack bar, but they quickly realized that the market was extremely crowded. Deciding on going the chewy bites route, they needed a type of packaging that would differentiate them and complement the bites. That is when they stumbled upon stand up pouches. Stand up pouches fit perfectly with their company; they're resealable, easy to carry around, and most importantly they'll keep the organic banana bites fresh and protected from harmful elements.
After the decision was made to use stand up pouches, they needed to find the perfect supplier. They were very dedicated on using compostable packaging, but after many failed attempts at getting a quality bag that sealed properly, they began searching for other options. And that's when they found us, StandUpPouches.Net. One of the key reasons they chose us for their packaging supplier was the fact that we could do low minimum runs. We are able to run as low as 5,000 pieces. This creates a huge advantage for companies that are just starting out or want to test out a new product line without the risk of losing a ton of money. It was decided that we would start off with 10,000 pieces and so our journey began to create the perfect stand up pouch for Barnana.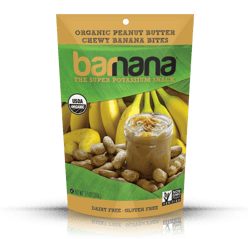 Since 2010, with the help of stand up pouches, Barnana has expanded their flavors and SKUs from 1 to now 4. They went from 0 to $2 million in sales, and are in 2,500 stores across the US and in Japan. Next year they plan to make around $6 million in sales and move into Kroger and Costco. Nik expressed to us that he wanted to eventually 'own' the banana brand, "I want Barnana to be synonymous to banana". In March of 2015 they are going to release 2 new SKUs and we believe they are well on their way to owning "everything bananas".
Nik, co-founder and CMO of Barnana, grew up drawing and painting and was tasked with essentially creating the Barnana brand. When asked how he came up with the look he simply said he asked himself one question, "what do you want them to feel about your brand?". After answering that question he came up with the bright yellows and greens as the perfect color scheme to encapsulate a brand that is fun, in one with nature and cares about the environment. While Nik utilized his art skills to create the artwork for the bags, he, just like many of our clients, needed help in deciding on the types of materials and size of the bags.
He knew he wanted a matte feel but did not want the colors to be muted. Our senior project manager, Tam Olle, came up with the perfect solution; use metalized material on the inside for good protection and use a matte finish, also known as "BOPP", for the outer layer. Using this combination of materials, Nik was able to get the look and feel of matte, while maintaining color vibrancy and knowing that the banana bites would be kept fresh and protected. Our in-house graphic designers approved their artwork, a cylinder count was created and then the bags were ready to be printed. In the end, both standuppouches.net and Barnana were extremely pleased with the outcome of the bags.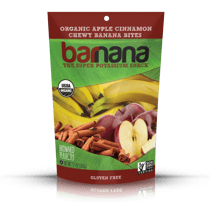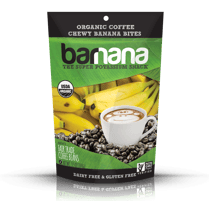 Barnana epitomizes everything that a brand should be; they are truly passionate about what they do and they take a deep caring into how their products are made. 100% organic, gluten free & certified non-gmo, these guys continue to amaze us with their zeal for their product, their company and their customers. This is a genuine brand that has grown tremendously by passion, integrity and a whole lot of fun.
---
To check out their stunning pouches and get your hands on these delectable treats, visit their website www.barnana.com and find them in a store near you!
Inspired by their story? Let us help you create the perfect stand up pouch for your product.