Packaging, in its various forms, has always played a key role keeping consumers safe and protecting pharmaceuticals from contamination and counterfeiting. Medicinal packaging has the potential to serve as a key contribution to the success of various parties involved in the pharmaceutical industry, and mass customization will allow new types of medicine to appear and be sold in multiple markets.
Pharmaceutical packaging should serve the following five key functions, as outlined by the Journal of Pharmacy & BioAllied Sciences: containment, protection, presentation, identification, and convenience. With new advances in the world of flexible packaging, pharma brands are able to accomplish all of the tasks above — and many more.
Federal regulations state prescription drugs and over-the-counter medication must be contained and sold in tamper-evident packages that make it difficult for small children to open but intuitive and easy for older adult consumers to use and handle. Flexible pouches and child resistant bags have become an innovative solution for packaging various types of medication, and they serve as a more functional, protective alternative to traditional cardboard boxes and cartons used as secondary packaging for blister packs. Blister packs have been used by pharmaceutical brands around the world to create compliance packs or calendar packs, allowing them to help consumers control pill doses with custom-printed days and other information appearing right on the packaging.
The purpose of this primary packaging is to contain and hold the medication, while extending its shelf life and keeping tablets protected. However, the structure of the thin aluminum that appears on the preform packaging is brittle, as it's meant to allow consumers to easily push pills out of the container. But without secondary packaging, blister packs become vulnerable to puncture and contamination with harmful external factors.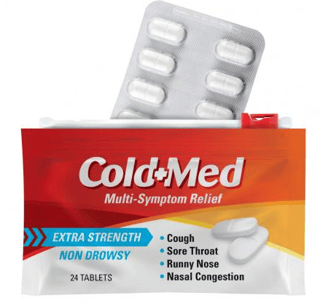 As a result, bister packs require secondary packaging that mirrors the same high quality, functionality, protection, and ease of use while safeguarding the product inside so patients can be sure their medicine is in pristine condition and has not been exposed to outside moisture, air, light, or bacteria. This is why new flexible child resistant packaging is so crucial — its multiple laminated, opaque layers provide barrier protection for prescription and OTC drugs while making it difficult for children to open the packaging. These pouches are easier to take on the go in first-aid kits, camping gear, purses, or backpacks than rigid cardboard cartons, while offering a unique combination of pliability and strength that ensures neither the packaging nor the medication inside become damaged.
These inventive child resistant bags offer increased flexibility for retailers and pharmacies to display medications in new locations while still remaining compliant with federal child-proof packaging regulations.
It's so crucial that this form of secondary pharmaceutical packaging be difficult for children to get into – it's not uncommon for a child to mistake a pill for candy, which can pose a choking hazard or extreme disastrous side effects if consumed. The scientifically developed locking mechanism at the top of the bag is federally approved to make the child resistant bags tamper evident and compliant with safety regulations.
Using flexible pouches as secondary packaging for tablets contained in blister packs also prevents wasted product, which saves patients money and reduces trips to the pharmacy. Damaged, lost, and expired medication that occurs due to faulty or inadequate packaging can cost consumers a tremendous amount of money, and it can be harmful for people who have to wait days for a refill. Cancer medications, for example, are often packaged in single vials that contain more medicine than the patient actually needs. Because of this, leftover medication has resulted in $3 billion worth of waste. Experts say drug companies should offer more varied packaging, since using new and inventive methods reduces the amount of medication that is wasted and helps patients cut costs they are forced to spend to treat their illnesses.
FDA-approved new child resistant bags also help medicine companies save money since the flexible pouch is optimally designed to provide superior protection of the product inside. As a result, blister packs can be made with less expensive or extraneous packaging materials since, in this case, the secondary container serves as the most protective part of the packaging.
Flexible childproof bags are a progressive form of medicinal packaging that meets the demands of consumers and retailers while providing optimal protection to keep children safe. Because the pouches can be custom printed, consumers can clearly see dosage information, side effects, and ingredients printed right outside of the pack while being able to easily identify the OTC drugs they need by a brand's specific logo, color scheme, and graphic design. Thinking outside the box and embracing the latest innovations in healthcare packaging is one small, but significant, way companies can offer peace of mind to patients and their families.
(Image Source: Packaging Digest)
Related Posts: