We know in the flexible retail packaging industry that no two pouches are alike.
Special material and design goes into making the packages for specific products. Paying close attention to these components is vital for the safety of the consumer and the longevity of the product inside. The size and shape of the packaging must also be conducive to consumers' lifestyles and have the ability to stand out in various retail locations. The good news is that suppliers have the ability to offer manufactures a wide range of options that suit their product's particular needs.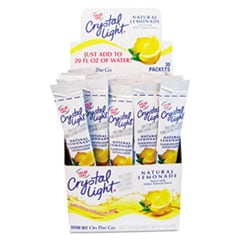 One form of flexible retail packaging we've seen undergone a major evolution is stick packs. Think of single-serve powdered drink packets – like Crystal Light – or even sugary treats like Pixy Stix. Now, this smaller, portable type of packaging could soon make its way into the pharmaceutical industry. Smaller, lighter alternatives to bottles and boxes are perfect for over-the-counter pain medications like aspirin or ibuprofen because they can easily fit in a pocket or purse, and consumers won't have to worry about the packaging tearing or breaking. (Image Source:
The FDA even likes the idea
of using smaller forms of flexible retail packaging for medication because it reduces the potential for improper measuring.
Users will get the dose right every time with single-serve medication packaging. New technology allows for consistent dosing and the creation of tamper-evident packaging formats that keep medicine fresher and protects it against outside contaminants. Flexible retail packaging can be used for both dry and liquid medications, but there are certain special considerations pharmaceutical companies must be aware of when packaging their products.
Patients don't receive medicines in foil pouches anymore because they just do not maintain the medicinal value that a pill requires. Special materials must be used in the flexible retail packaging for medicine to keep it well protected. The structural elements must be highly hygienic and contain multiple layers of barrier film to maintain the safety of the medicine as it is shipped to and from warehouses before it arrives in the pharmacy.


(Image Source: http://www.hungrymeetshealthy.com/)
Pharma companies are at an advantage when they swap bottles and boxes for smaller forms of retail packaging because they are less expensive. Customers choose OTC products to save money, and they won't be pleased with a price hike due to expensive packaging costs. Using single-serve packaging for medicine also helps brands differentiate themselves and present their products in the very best light. Japan is paving the way for this new type of pharmaceutical container, packaging medical products like electrocardiogram test gels in these protective packs.
Flexible packaging can even be used to keep pet medication and supplements safe, which is great for on-the-go owners who won't have to rush home to take care of their furry friends. Using stick packs and pouches is easy for adults to quickly administer medications with less waste and hassle. Flexible retail packaging is an excellent solution for keeping medications protected from outside contaminants and making it easier for consumers to measure out their proper dosage every time.
Relates Posts: