Child Resistant Exit Bags An eco-friendly packaging solution for medical marijuana, edibles, laundry pods, medicine and more.
Though stand up pouches are revered for their easy-to-open tear notches and reclosable zipper top, there are some products that companies – and consumers – simply do not want to fall into the wrong hands. Pharmaceuticals and medicinal marijuana are two industries that require specific product packaging that is compliant with government regulations and includes child-proof features that ensure young consumers cannot mistakenly open the package.
Fortunately, our new child resistant exit bags are the perfect solution for providing convenience and ease of use to adult customers while complying with child-proofing requirements to keep young ones safe.
Cannabrands making the decision to embrace flexible packaging for its light weight, recyclable structural materials, protective features, and positive impact on the environment can choose new locking bags that keep the product's aroma, freshness, shape, and structure protected while serving as the perfect compliant storage option.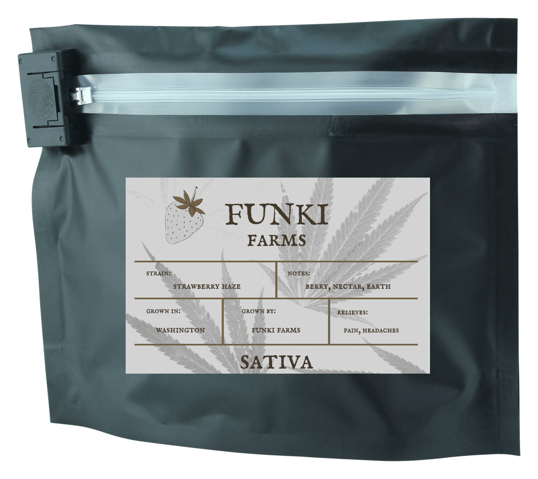 This child resistant packaging for cannabis is made from unique thick-but-flexible layers of opaque, food-grade plastic that are "smell proof" and protect against the entry of outside elements like air, moisture, odor, and bacteria that can compromise the quality of the product inside. The bags feature a scientifically developed child-resistant lock at the top with comprehensive instructions to open – users must push the small lever up, then pull the zipper out to access the items. To reclose, consumers push the zipper top until they hear a "click" from the bottom lever. These extra steps are easy for adults to follow but make it difficult for children to access what's inside.
The inventive, highly protective bags can be custom printed in up to 8 colors with a mininum run of 10,000, allowing cannabusinesses to feature their creative designs and distinct branding right on the outside of the package. Whether you are selling medical marijuana, cannabis-infused edibles, or other legal medicinal products, we can produce a locking bag that suits your item's specific requirements.
Our sturdy child resistant exit bags are strong enough to protect your product from puncture or exposure to outside contaminants without the heft and rigidity of traditional packaging options like canisters, jars, or boxes.
Think of these child resistant packaging pouches as the "evolution" of the plastic baggy – they are more structurally sound and safe, while allowing for custom artwork and designs that give legitimacy to both the brand and their product offerings.