Food recalls involving listeria are running rampant this year. Blue Bell Ice Cream had its fair share of nightmarish recalls, and Jeni's Splendid Ice Cream is sadly following suit.
Only seven weeks after Jeni's destroyed over 250 tons of product and lost $2.5 million, listeria was discovered yet again in its production kitchen.
Talk about a terrible track record of luck.
So, now Jeni's is forced to halt production for the second time resulting in more lost revenue, and worst of all, lost customers.
When food companies face recall and PR nightmares like this one, how can food packaging help save the day?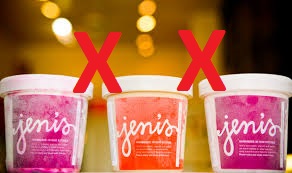 Print Custom Packaging With Trust Logos
One way to start re-establishing yourself as a food brand is to incorporate trust logos. An obvious choice here would be incorporating FDA's logo to show that you are tested and approved to sell product.
Another option is to incorporate certification from the Safe Quality Food Institute. SQFI increases customer awareness of increased food safety with its clients. They also understand that customers are expecting food companies to undergo rigorous testing to ensure that their food is quality (and safe).
The idea is to provide your customers with verifiable proof that you've been tested beyond the normal safety standards. Printing trust logos on your custom food packaging can help with that.
Upgrade to Higher Quality Food Packaging Materials
Nothing quite says quality like well-made retail packaging. Customers connect the quality of your product to that of your packaging, so skimping on quality won't help you rebrand after a recall.
You don't have to necessarily do a complete overhaul on your product packaging at this point—sometimes an upgrade will do the trick. This might mean adding new convenience features such as a zip lock closure, or adding an extra barrier layer so your packaging stands up straight on the store shelf.
Rebranding is the perfect opportunity to give new insight on the upgraded quality of your product. What better what to demonstrate that than with upgraded quality packaging?
Give Your Food Packaging a Design Overhaul
Redesigning your protective packaging can signify a new beginning for your brand. You still want to stick with your original logo and company colors, but giving it a facelift can put you on the fast track to an effective rebranding strategy.
Your design overhaul can consist of dumping outdated protective packaging methods such as cardboard boxes or glass jars. Or, you might already be using flexible retail packaging but want a new look. Either way, custom packaging can surely get you a new look while building a new sense of trust.
With protective packaging, you can incorporate fresh graphics, new typography, social media handles, and even revamp with powerful new copywriting.
Connect With a Packaging Professional to Rebuild And Rebrand
Packaging professionals are experts in building a brand from the ground up—even when that said brand has hit a major roadblock.
Always keep your eyes on the future, and don't settle for anything less than quality packaging for your business. The power of rebranding is in your hands.
Related Articles:
http://www.standuppouches.net/blog/the-best-reusable-pouches-start-with-quality
http://www.standuppouches.net/blog/sabra-hummus-recall-reminder-to-use-fda-approved-packaging
http://www.standuppouches.net/blog/pet-food-packaging-oc-raw-dog-issues-recall-a-review
http://www.standuppouches.net/blog/product-packaging-3-tips-to-avoid-packaging-recalls