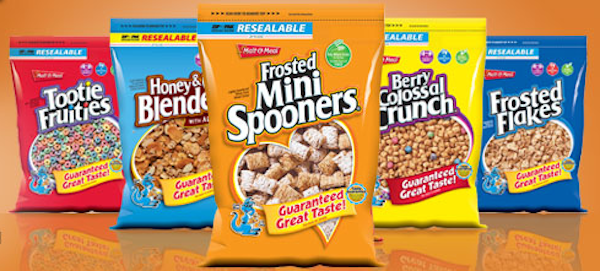 Post Consumer Brands recently reported increased profits for its Malt-O-Meal cereal, packaged in custom printed bags.
While the leading manufacturer and distributor of breakfast cereal still utilizes traditional cardboard boxes for some of its products, the adoption of flexible cereal packaging has proven to bring in huge wins for the global brand.
The CPG company recorded its bagged cereals pushed operating profit in its Consumer Brands segment up 29% to more than $96 million. While Malt-O-Meal might not have the strong name recognition of other Post products like Honey Comb, Raisin Bran, or Honey Bunches of Oats, it's telling that this particular product line has seen an increase in sales and brought in higher profits than the notable boxed cereals the company also sells. Post reported that its boxed cereals marketed to adults have actually seen a slight decline in sales, while cereal in custom printed bags has increased in consumption by 4.2% this quarter.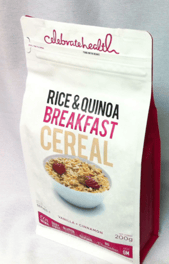 We can attribute many reasons why cereal in flexible custom packaging is selling better than traditional boxed cereal. One of the most obvious factors is cost. Typically, consumers find cereals packaged in lightweight bags at their grocery store of choice are less expensive than their boxed competitors. As millennials — the largest living generation of consumers — are starting families, they're looking for the most value they can get out of products to feed their little ones. Bagged cereals often contain more product than the bag-in-box cereals that line store shelves.
Today's consumer also seeks out more environmentally friendly or less wasteful products. Post has partnered with TerraCycle to make recycling empty custom printed bags for cereal easy and convenient. For consumers who don't make a habit of recycling their empty food packaging, lightweight bags for cereal are much easier to discard (and take up less space) than bulky cardboard boxes and flimsy plastic liners.
Another big draw to custom printed bags for cereal is their ability to keep the product fresh and extend its shelf life even after the package has been open. There is a huge difference between a cheap plastic bag and a high-quality flexible pouch for packaging food like cereal, and more of today's leading brands are embracing cereal packaging solutions like reclosable flat bottom bags that mimic the shape of the traditional cereal box but allow consumers to push air out and reseal the package. Oxygen is the enemy of food freshness, and cereal fans know the little cardboard tab at the top of a traditional box really does nothing to help prevent cereal from going stale.
Flat bottom bags, on the other hand, are made with multiple layers of food-grade barrier film that are laminated together to create a durable and highly protective structure that allows the bag to stand upright and release oxygen so cereal stays fresh and does not get crushed.
If Post's profit reporting is any indication, lightweight, flexible custom packaging for cereal may replace the traditional cardboard box, saving brands a bundle in shipping costs, storage fees, and eliminating the need to order both an outer box and inner plastic layer to keep their products fresh and protected.
We partnered with independent research firm Cint to introduce the concept of the reclosable flat bottom bag — also called a flex box bag — to more than 1,000 consumers who purchase and feed their families breakfast cereal on a regular basis. Our report shows:
90% of surveyed consumers would replace the boxed cereal they normally purchase with cereal packaged in a flexible stand up bag

77% of surveyed consumers said they would try a new cereal if it was packaged in a flexible stand up bag rather than a cardboard box

80% of surveyed consumers said cereal packaged in a flexible bag stands out more on the shelf of their preferred grocery store than a traditional cardboard box

83% of surveyed consumers said a reclosable stand up bag would add the most value to them as a consumer, compared to a cardboard box with plastic liner
Brands packaging cereal — or any other dry food product — can learn valuable lessons by top companies like Post and consider switching from the outdated traditional cardboard box to innovative, protective, reclosable, high-quality flexible bags to meet consumer demand, cut costs in the supply chain, and see their profits soar.