The chocolate industry is thriving. By 2018, the market will exceed $26 billion. That's a lot of chocolate, and hundreds of competing candy companies are jumping to get a piece of the pie.
Boxes have been the go-to packaging choice for chocolate for the last 150 years. The very first heart-shaped chocolate box was invented in 1861, and became a Valentine's Day sensation ever since. We all know that it doesn't have to be Valentine's Day to enjoy a decadent piece of chocolate. Chocolate is the perfect gift for all kinds of holidays and occasions, from anniversaries to Christmas.
It's hard to deny that the bar is set high in terms of presentation for chocolate. Store shelves look like a battlefield of metallic packaging, glittery boxes, and rich colors. You know that the quality and taste of your chocolate stands out from the rest, but the traditional box just isn't cutting it anymore.
As the demand for chocolate grows, so does the need for innovative chocolate packaging. The traditional box of chocolate is desperate for an upgrade — something that contains more flexibility with the convenience of a bag but stands the test of time while still maintaing the concept of a box.
Innovating Chocolate Packaging With Flexible Box Bags
Flat bottom bags and flexible box bags for chocolate add a new layer of innovation to the chocolate packaging world, while making up for the shortcomings of the traditional chocolate box.
One of the problems with the traditional chocolate box is that it's flat. You h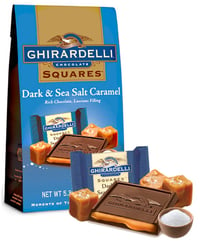 ave to depend solely on the color and artwork on your box to capture the attention of your customer. When everyone else is marketing with a rectangular or heart-shaped box, it's difficult to make your mark on the store shelf. This is especially the case when you're competing with the big boys in the chocolate industry like Lindt & Sprungli, Ghirardelli, and Neuhaus.
You've earned your spot on the shelf, and you'll need to set yourself apart while simultaneously staying on top of consumer demands.
Shifts in Consumer Demand For Chocolate Packaging
Growth areas for chocolate are pointing toward bite-size snacks within re-sealable packaging. This is mostly for the benefits of portion control, with Americans concentrating more on their caloric and sugar intake.
Speaking of ingredients, consumers are also looking for healthier options for their chocolate. Dark chocolate is known for its multiple health benefits, and flat bottom bags give plenty of room to visually market your product. Making the switch from traditional boxed chocolate to flexible box bags won't take away artwork space or decrease the quality of your packaging.
Another rising chocolate packaging trend is having the ability to easily share the candy with friends. Let's be honest — passing around a bulky, traditional chocolate box isn't the best option for sharing. However, flexible bags can easily be passed around and re-sealed when snack time has ended.
One of the last modern chocolate trends is the demand for premium chocolate. When the quality of your chocolate product is above the rest, you'll need packaging that's as tempting as the chocolate itself. With a variety of metallic finishes and the ability to add a touch of luxury, flat bottom bags for chocolate just make sense.
The Future of Chocolate Packaging
Perhaps the biggest benefit of using flexible box bags for chocolate is their ability to stand up right on the shelf. This automatically gives your brand an advantage to overshadow the competition, and do so in a strategic and cost effective way. Traditional chocolate boxes will soon become second fiddle to flat bottom bags, as they step in as the new, innovative way to package your chocolate.
(Image Sources: Packaging Solutions, Red Stone Foods)
Related Posts: