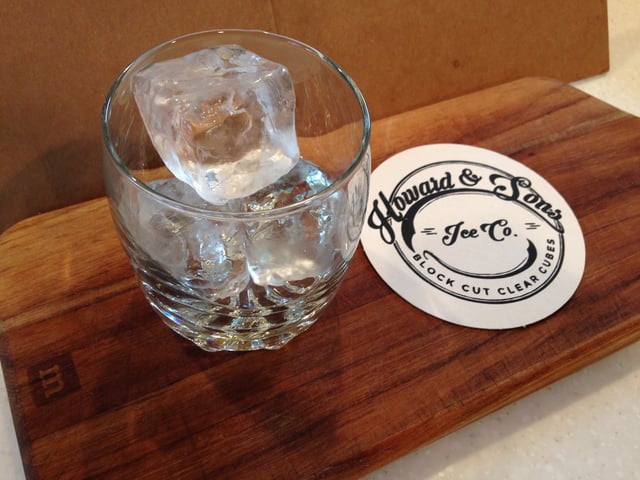 I
ce — everyone uses it. It's something we can make right at home in our freezers. Why, then, does a company like Howard & Sons Ice Co. exist?
The answer is simple: No one wants ice that tastes like the inside of their freezer. While many of us may not be consciously aware of the flavor of the cubes themselves, ice can actually alter the way our beverages taste. Aside from that, who knows what kind of water is used for those bulk bags of ice we can buy at our local convenience store?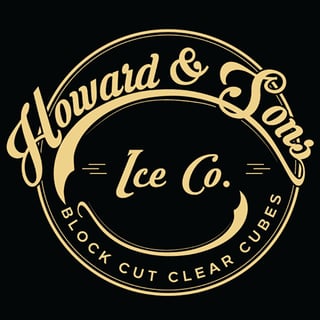 These are points Stephen Howard considered when he decided to step away from his regular day job and focus on making ice better, not just for an elite sect of consumers, but for every person who wants to keep their drinks cold. He was determined to put out a higher-quality product than what most of us are used to, and his mission was to create a clear, flavorless ice that looks and tastes better than what we get from the ice trays in our freezer.
Like any entrepreneur, Howard faced challenges in the beginning of his ice-making endeavor — quite simply, a lot of people just don't really care about ice. Also, most consumers are used to ice being free, and creating a higher-quality product often means more costs are tacked on for the end user. To create a crystal-clear ice cube that doesn't melt down as quickly (and thus doesn't dilute drinks), upscale bartenders will typically create a large block and cut the ice down by hand. However, the cost of doing this on a larger scale would be too great for a larger business. At ritzy bars that do serve this style of clear, flavorless ice, an extra dollar is often tacked on to the price of an already expensive cocktail, thus limiting the consumer base to those willing to spend a lot of money on a fancy beverage.
Howard wanted to make high-quality, clear, flavorless ice available to more than just elite consumers. This ice needed to be readily available to any person, anywhere — from a parent who wants to be sure the water used to chill their child's juice isn't contaminated, to young hipsters drinking a cold-brew coffee with subtle but distinct flavor notes. Producing and selling ice to a wider, more diverse range of consumers required proper ice packaging that would both sell the idea of "high-quality ice," and keep it protected from any outside elements that could alter its flavor, appearance, or structure.
When shopping around for packaging for ice, Howard initially ordered 500 stand up pouches from a manufacturer on Amazon.com. After receiving them and inspecting their quality, he was less than thrilled. He needed ice packaging that was going to properly reflect the care and attention to detail that went into creating his frozen product while looking attractive in stores and, most importantly, keeping the ice intact from point A to point B.
Howard pulled out a package of Himalayan salt from his home pantry. He was impressed with the quality of the stand up pouch it came in, and he boldly decided to call the salt company and ask who their packaging supplier was. Initially, the brand assumed he was a competitor, but after explaining his business venture, they referred Howard to StandUpPouches.net for his packaging needs.
Howard requested free samples from StandUpPouches.net and was impressed with the quality, clarity, and durability of the pouches compared to the previous packaging he ordered. He remarked that this packaging for ice had more room to seal and a better-quality zipper that would make a stronger first impression on potential retailers. His major goal, after all, is to get his ice into traditional retail and specialty grocers — not just liquor stores and bars. Shelf appeal and stability were key for determining how to package ice.
Currently, Howard and his team distribute their ice themselves using a mobile freezer with a battery pack that charges in the car with a cigarette lighter. This freezer carries around 50 pouches of ice, each 1 ½ lbs. Howard & Sons Ice Co. is getting to the point where they have the manpower to meet local demands for ice and have begun getting into catering and sponsoring "fancy" events. The company is meeting with restaurant owners and retailers who are interested in seeing, experiencing and tasting the ice for themselves. They can either stop by the business, or Howard can drop the ice off at their business within the vicinity of Dallas, TX.
Selling both retailers and consumers on the experience of the high-quality ice is huge, and custom packaging has the ability to communicate so much about a product and differentiate it from what people are used to seeing and purchasing. Howard says young people like that his ice is "trendy," and older consumers enjoy it because it "sends them back in time." This ice is reminiscent of the cubes they grew up with, as older generations didn't have the giant bulk bags of ice we're used to now. Howard says ice looked and tasted better back then, and he wants to recreate that higher standard and attention to detail with his current product. As such, he needs proper packaging that will look as nice as the ice and reflect its higher quality.
Howard & Sons Ice Co. plans to produce its ice in several different sizes, requiring the need for ice packaging that will accommodate its different offerings. The 20-25 cube package is ideal for everyday home use and is designed to fit in a standard freezer. A larger package will be released with the ability to hold 65 cubes, which is perfect for parties and gatherings. Special 10 and 20-lb bags of ice will also be available for the company's commercial clients.
With the use of high-quality, attractive, and durable stand up pouches for ice packaging, Howard & Sons is preparing to take off into new markets, beyond just fancy cocktail bars and liquor stores. Great packaging has the ability to tell a story, which is key to reaching nostalgic older consumers, and if the pouch looks good, influential millennials will want to pick it up and show it off to their networks as well. StandUpPouches.net was able to supply Howard with consistently superior quality pouches that help show off his product in the very best light.