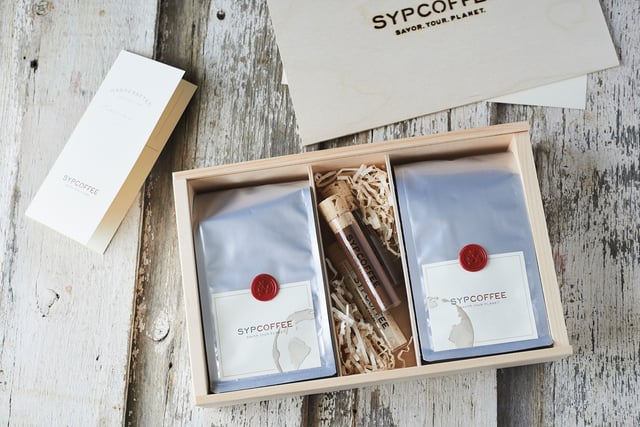 When you want to honor the special people in your life, every detail matters.
Creating an unforgettable experience is what leads to beautiful memories that last a lifetime. That's the idea Craig Margolius had when he decided to quit his job at Nissan and embark upon his entrepreneurial adventure with SYPCOFFEE.
The "SYP" in the company's name is an acronym for "Savor. Your. Planet." Margolius set out to create a specialty gift coffee company that serves as a more personalized and unique alternative to other gift delivery services like flowers, fine wine, or candy. The founder resides in Tennessee and has observed what he calls a "coffee renaissance" in Nashville. While he doesn't have a background in coffee roasting or working as a barista, he is passionate about coffee, and he wanted to create a brand that would offer something more personalized and experiential for consumers to set his company apart from the numerous coffee businesses booming in the area.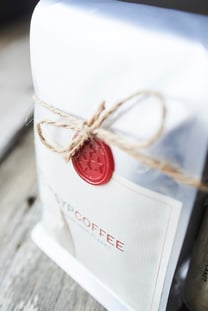 Although cars were his passion, he knew he had to resign from his former job to dive head-first into the business idea he came up with. After experiencing family loss, he realized life his short, and he wanted to create a product and service that would offer value for both the giver and recipient. He wanted to create a service where people could send coffee to the people who matter in their lives, whether it's to celebrate a birthday or promotion, or to simply show they're thinking of that special someone.
"I decided I've got to try something that scares me," Margolius said. "Whether it's a car or coffee, you've got to create that positive, memorable experience."
Creating experiences is what SYPCOFFEE does best. Anyone could order a bag of coffee online and have it sent to someone they care about, but what differentiates Margolius' brand from the rest is the presentation and personalization aspects. Coffee packaging is what inspired the entrepreneur to pay closer attention to the appearance of the entire gift set and add that customized touch that truly reflects the intentions of the sender.
Margolius wanted bags for roasted coffee that looked like gift wrapping on their own, so he sought out silver matte stand up pouches from StandUpPouches.net. He then wanted to apply his own embossed labels to mimic the elegance of a wine bottle. Applying the labels and seals himself is very important to Margolius as he strives to create a consistent brand image focused on a handcrafted, highly personalized experience.
Packaging is key to creating the "wow factor" of his coffee products and allowing them to stand out not only among other coffee companies, but also amidst the other packages or mail that arrive on the recipient's doorstep.
Margolius is very meticulous about the overall packaging of his coffee, from the color, weight, and labeling of the bags, to the fonts, logos, photography and overall appearance of the coffee packaging at the retail level. He came up with the concepts for the appearance of his bags for roasted coffee by first writing a manifesto, then developing a styleguide around the principles he wanted to center his brand on. He hired a graphic designer to help create a cohesive online presence to make the ordering experience as special as the gift itself. He continuously focuses on every small feature of his gifts, from the cardstock used inside the boxes, to the way the coffee pouch feels in a person's hands.
The most rewarding part, Craig says, is being able to relay the purchaser's stories onto cards that are included with the coffee gift sets. When ordering coffee, the customer is able to enter a custom message, which Craig then handwrites and includes with the final product.
"People trust us to deliver their powerful, emotional stories. I get to be the conduit," he said. "It's all about giving back to the people in your lives, so every facet has to be perfect."
Margolius sources his coffee roasts from around the world, then he crates flavors and spices to compliment the individual beans. He partners with a roaster to teach him every nuance of the roasting process, and he said finding a roaster who believed in his concept was vital. Pricing wise, his coffee gifts are similar to sending someone a single flower bouquet, but his product serves as a beautiful, more personal alternative to the standard gifts one is used to.
He said corporate gifting is a large segment of his company, and while he didn't initially think of getting his products into retail locations, it was the high-quality appearance of his coffee packaging and the beauty of the finished designs that inspired him to pursue adding his coffee to Nashville-based locations, at least to start out. He said he enjoys being able to customize the wax seal on each bag of coffee for clients, and no matter who orders or receives the coffee, he wants to keep that personalized, memorable experience as an integral part of his brand promise.
"Coffee is only a piece of it because you can find great coffee anywhere," Margolius said. "The company has to be unique, and we're a very human company that's in it for the long haul."
SYPCOFFEE exists, he said, to help people recognize the loved ones in their lives who matter most to them and honor those folks with fresh-roasted, specialty coffee in beautiful packaging that is personalized just for them. He said he is happy leveraging the the coffee bags from StandUpPouches.net in a product where every single detail batters. Each impression matters in a business, he said, and the packaging is just as important as the product and experience.
(Image Source: SYPCOFFEE)