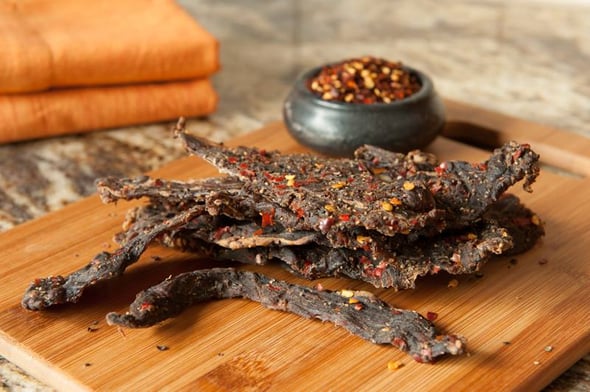 When Ricky Lussier founded his company, I Can Haz Jerky?!, he set out to create a jerky revolution.
Once considered junk food or processed convenience store fare, brands like Lussier's are reshaping the way we view jerky and are promoting both the craft of curing meat and the wholesome properties it contains. Currently operating as a made-to-order business, I Can Haz Jerky?! is in that crucial beginning stage of getting product in the hands of consumers and ensuring each flavor of jerky is fresh, delicious, and well presented. This is why careful thought into packaging beef jerky has been top of mind for this entrepreneur.
Striking a balance between a small-business feel and professional quality of a large corporation can be a tricky task. In general, consumers tend to favor locally produced goods from startups they can trust — after all, transparency is easier to achieve when the owner of a company can speak face-to-face with customers. However, larger brands have the luxury of increased capital and manpower to be able to utilize the latest technologies and innovations. This is where flexible retail packaging can bridge the gap between big business and local startup — packaging is the first thing we see, and it can be used as a three-dimensional sign that draws people in. If a smaller brand is still using cheap, generic packaging for its products, consumers may be less inclined to pick it up and less convinced of its quality.
Lussier admits he originally wanted to package his gourmet beef jerky in brown paper bags. With so many new and inventive packaging options out on the market, he was able to pivot into a new direction and rethink the possibilities involved in packaging beef jerky. The owner did some research on beef jerky bag suppliers but found it was difficult to get his hands on packaging samples in a timely manner. He came across StandUpPouches.net after doing a quick Google search, and the ease of receiving free packaging samples, as well as the professional look of the website and content, gave Lussier a positive initial impression.
As packaging suppliers, we know decision making comes in those crucial first few seconds a person spends looking at a company's branding. Visual communication is key to attracting a new customer, and a good flexible retail packaging supplier will help their clients attract their own customers through highly functional, attractive packages and other marketing materials.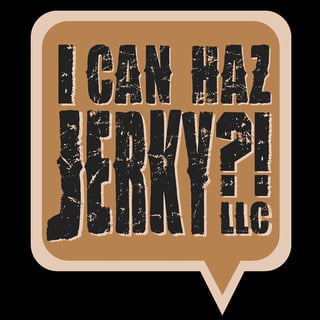 Lussier was first impressed by our kraft stand up pouches, which he says looked more professional and polished than a standard brown bag. These pouches are produced with strong-but-flexible layers of kraft paper that mimic the local, small-biz look of a brown paper bag but offer significantly more protection for the product inside. Food manufacturers, especially, must be concerned about how well their packaging performs and protects their goods from harmful external elements like pests, bacteria, odor, moisture, and UV rays.
If the packaging cannot consistently safeguard food from these factors, it will spoil quickly and potentially make the end user sick. Stand up pouches for beef jerky, which Lussier chose to adopt as his packaging solution, are manufactured with layers of protective, FDA-approved film that are laminated together, creating a barrier that uniquely protects the product, locks in flavor and aroma, and allows brands to highlight their logos, color schemes, and informative text on the outside of the packaging using high-quality, water-based inks.
All these factors are important to Lussier, because he wanted his new brand logo and fun jerky names to really pop. You simply won't get the same kind of printing quality on a brown paper bag as you do on stand up pouches for beef jerky, and after Lussier reviewed our samples, he was on his way to placing an order and getting his delicious, gourmet jerky packaged fast.
What makes Lussier's products such a standout are the creative flavors and distinct texture. He considers I Can Haz Jerky?! to always come with a surprising twist — for example, one of his most popular flavors, Pass The Gravy, mimics the taste of an entire Thanksgiving dinner all rolled into his flavorful, savory meats. His jerky uses a natural cure process and is dried in a commercial dehydrator, but what makes it truly different is that it's tender, rather than tough. This allows consumers to get a healthy dose of protein on the go — yet another reason why portable, convenient, highly protective flexible retail packaging is a must for gourmet food products like Lussier's.
The owner says his co-workers currently serve as willing taste testers, sampling jerky flavors like:
BBQ

Teriyaki

Thai

Sweet Asian

Asian BBQ

Peppered

Sweet and Spicy
In the works are maple bacon and chicken parm flavors, along with an inventive fruit jerky. Gluten-free and low-sodium options are available as well, and because the company's jerky is currently made-to-order, Lussier can accommodate consumers' specific needs and requests. His plan is to sell his packaged jerky online, then begin to pitch his products to stores. He's also interested in being included in a monthly subscription box, which requires his packaging to be flexible enough to fit into the box with other products and durable enough that it won't tear or break during the shipping process. Stand up pouches for beef jerky serve as the perfect solution that help Lussier build his brand and meet consumer demand while ensuring the exciting flavors of his product remain sealed in tight every step of the way.
Learn more about Lussier and his I Can Haz Jerky?! products at https://www.facebook.com/ICanHazJerky.

Share this Image On Your Site