Beef Jerky Packaging: Where To Start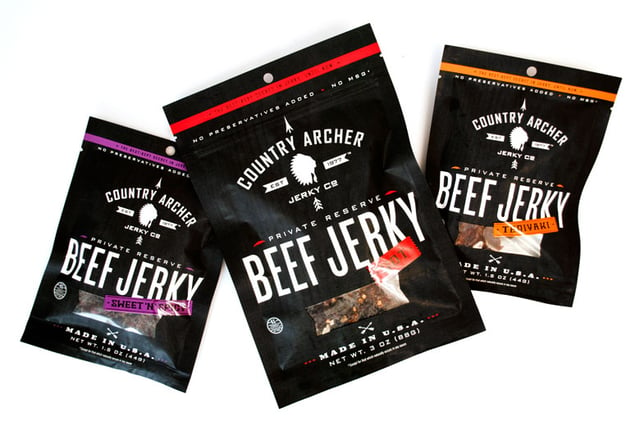 Let's just say you're in the right place! We've got the stand up pouch for beef jerky that will fit your every need. Each beef jerky bag we produce uses multiple layers of barrier film that have been laminated together. What's the significance of this? Added protection in the form of a beef jerky bag, of course! You can't afford to place a product on the market that has been poorly packaged. This could lead to spoilage, which will in turn lose you customers.
Beef jerky bags typically come in the form of flat barrier bags. There are stand up beef jerky bags, but these are for much larger quantities than what are typically sold in one bag. Because of this, we offer beef jerky bags that come with a special hang hole so they can be hung around stores. We call ourselves StandUpPouches.net, but we do recognize that only producing stand up beef jerky bags would severely limit your options as one of our customers. Of course, if you're selling beef jerky in larger quantities, we do offer a stand up pouch for beef jerky. It is our goal to provide meat packaging bags that do exactly what you need of them. If you want to get a feel for our products, go ahead and request a free sample.
What's so special about StandUpPouches.net' beef jerky bags?
We utilize the best technology to keep your jerky fresh and savory. We offer the option of vacuum sealing your beef jerky bags so air stuck in the pouches doesn't harm the product. We use a nitrogen flush system to push out extra oxygen trapped in the bag and further preserve the jerky. Unlike other companies, we test all of the products we use regularly so the nitrogen involved in this process will be top notch. In addition to these precautions to avoid stale jerky, we use desiccants to keep your jerky from retaining moisture. This, along with our thick packaging, reduces the chance of your jerky becoming moldy, which would be a real turn-off for customers. Can you imagine opening up a package of jerky only to find that it was not only no longer fresh, but also not even safe to consume? Talk about gross!
It is our absolute pleasure to offer the choice of a hanging bag for smaller quantities of jerky and a stand up pouch for beef jerky in larger quantities. Utilize our Fast Track System for flat barrier bags. On that page, you will find a list of additional features we can include for yourmeat packaging bags, such as ziplocks, hang holes, and tear notches. Furthermore, we allow you to choose whether you want a custom-printed bag or whether you'd rather go with one of our stock bags. If you opt for a custom project, you will receive your order within 4-6 weeks after the artwork has been approved.