We are often asked, "What is the best pouch packaging for my product?" That's a great question that has many different variables and options to it. As experts in the flexible packaging business, which includes pouch packaging, we are happy to answer this question. There are many options to choose from. But first, I have a few general statements. Flexible packaging, such as stand up pouches, spouted stand bags for liquids, and even rollstock is made from multiple layers of engineered barrier film which are laminated together to create a structure that is incredibly strong and durable so it can stand if necessary, withstand puncture, and have the barrier properties to protect the contents from moisture, vapor, odor, even UV rays. This combination of strength and protection makes pouch bags very popular for packaging retail products.
Some of the more popular styles of pouch packaging include:
---
1. Stand Up Pouches
Stand Up Pouches continue to be one of the most popular versions of product packaging. The wide face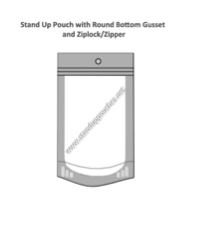 and back along with the bottom gusset allow this style to stand on a store shelf while at the same time provide a generous amount of room for custom printing or an applied label. In regards to custom printing, stand up pouches, also known as stand bags, can be printed up to 12 colors and available features include ziplocks, tear notches, gas valves, and hang holes. Products ranging from dry goods like spices, cereal, snacks along with coffee and tea as well as non-food items work perfectly in this pouch packaging style. Pet food packaging such as dog chews and cat nip merchandise quite nicely in stand up pouches as well. There are different bottom gussets for stand up pouches that are used depending on the weight and volume of the product being packaged and items from less than 1 pound to well over 10 pounds can be packaged in stand up bags. Subject to the quantity and how elaborate the printing scheme is, printed stand up pouches range in price from $.05 cents to $.25 cents. Stand up pouches are recyclable and landfill friendly.
2. Flat Barrier Bags
Flat barrier bags are another popular style. This style of packaging is known as a 3 side seal bag.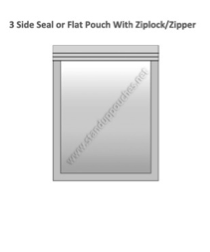 On flat barrier bags there isn't a bottom gusset so these cannot stand however many clients will choose this type of pouch packaging and add a hang hole as flat barrier bags work very well as part of a display with pegs or they just lay them down. Flat barrier bags for retail are perfect for smaller items less than 1 pound such as spices and ingredients or even pet treats and non-food items such as chemicals. To be clear, flat barrier bags can certainly hold more than 1 pound and have printing as good as stand up pouches and other product packaging, however since they can only hang or lay flat they provide limited retail options. Options for flat 3 side seal pouch packaging range from ziplocks and tear notches and hang holes. Pricing for flat barrier bags will vary depending on the size and quantity, but the $.03 cent to $.23 cent range is reasonable to use as a reference. Flat barrier bags are recyclable and landfill friendly.
3. Spouted Stand Up Pouches
Spouted stand up pouches for liquids continue to grow in popularity. Using the design from its sister the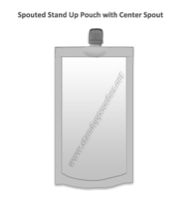 standup bag, spouted pouch packaging can stand effectively on a store shelf and hold liquid such as water, juice, alcohol, soap, and even fluid chemicals. This pouch style can be used instead of rigid and semi-rigid bottles and jars because a key part of these stand bags is they have a spout and cap applied. This style can be printed up to 12 colors and the spout and cap can be in the center of the pouch or on one of the corners. Further, spouted stand up pouches use a fraction of the energy to make and take up a fraction of the room required by other liquid packaging for storage and shipping. Spouted stand up pouches are recyclable and landfill friendly and will cost from $.15 to $.35 cents each depending on the quantity, spout and cap style, and printing.
4. Flat Bottom Bags
Flat bottom flexible box bags are cousins of the stand up pouch. Made from multiple layers of barrier film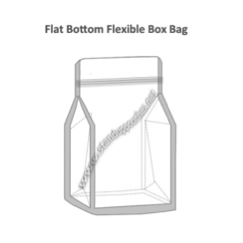 this packaging style has a wide face and back like a stand bag while also having side and bottom gussets. Because of this design, this pouch style can hold more volume than traditional stand up pouches yet use up to 15% less film. From a marketing perspective, all of these gussets are perfect for custom printing up to 12 colors and can be made with ziplocks, tear notches, hang holes, and gas valves. Flat bottom pouch packaging was created to mimic a box and folding carton. This design uses the barrier properties of the laminated film to protect the contents while eliminating the excess inner packaging that is normally required for boxes and folding cartons. Flat bottom stand up pouches are recyclable and landfill friendly and cost from $.15 to $.40 cents each.
5. Rollstock
Rollstock is another form of pouch packaging but in this case the real emphasis is on machinery that can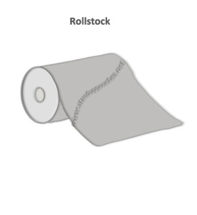 take these rolls of film and bend and fold and seal to create finished pouches such as stand up pouches and flat barrier bags. Again, the equipment used is critical for what the rollstock can be created to do. Basic rollstock converting machinery can make flat barrier bags while elaborate ones can add ziplocks, hang holes, gas valves, and convert into finished stand up pouches. Rollstock is made from the same barrier film used for the other styles of pouch packaging listed above. Rollstock per piece prices range from $.02 to $.06 cents each impression or printed film area.
---
In closing these are some of the most popular styles of pouch packaging. As diverse as the products they hold, the flexible packaging industry continues to come up with innovative styles that are cost effective while protecting the contents inside.
---