The "health food craze" is over – and by that, we mean this so-called fad or trend is no longer just a temporary phenomenon. Consumers today demand natural, fresh ingredients in the food they eat no matter what kind of diet or lifestyle they prefer.
Around the world, companies are introducing healthy new products and are retooling their food and beverage offerings to include more wholesome, organic ingredients. This demand for healthy options, coupled with increasingly active consumers, is revitalizing the food industry.
Customers crave convenience, and both retail stores and food service companies are taking notice. Smoothies have become a popular option on nearly every restaurant menu – they're a quick and easy way to get your daily servings of fruits and/or vegetables, and they're prefect for on-the-go lifestyles. Not to mention, smoothies are incredibly delicious. But how can consumers really be sure the ingredients are healthy, fresh and not packed with sugar, fats, or tons of artificial additives?
That's where One With Nature comes in. The company, owned and operated by a husband-and-wife duo, puts control and creativity back in customers' hands so they know exactly what is in their beverages. The owners have developed a revolutionary new way to make smoothies without the hassle. One With Nature prepares fresh ingredients like blueberries, carrots, bananas, and kale into custom-printed stand up pouches, so all the consumer has to do is open the bag and dump the ingredients into their blender.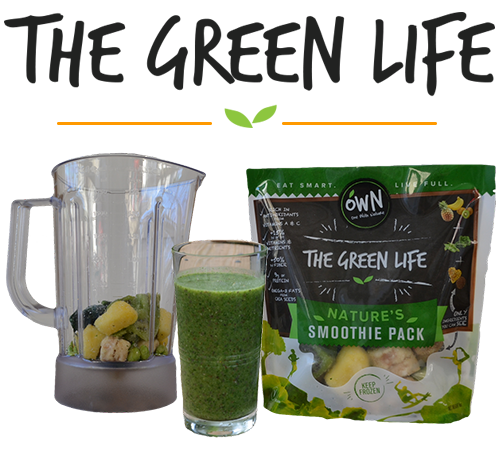 A major selling point of this product is the ability to see exactly what ingredients are inside and knowing they are nutritious, vegan, unprocessed, and gluten free. The packaging is key for the brand to communicate this to shoppers – One With Nature uses stand up bags with a clear window so the fruits and vegetables inside can be easily viewed before the packaging is open. This particular product is meant to be frozen until used, so choosing packaging that can last in the freezer and keep the food inside fresh is crucial.
This is especially important for a brand that prides itself on delivering wholesome, unprocessed goods to its health-conscious customers. Stand up pouches also help retain vitamin content, color, texture, and flavor of the food inside. With its sturdy, puncture resistant structure, this type of packaging maintains the excellent quality of the smoothie ingredients without decreasing the nutrient value.
Choosing stand up pouches allows One With Nature to maintain its mission of taking the work out of smoothie making for its customers. The product packaging is vibrant and features tear notches at the top so it's easy and quick to open.
The company includes nutritional information both on the stand up pouches and on its website because the owners know transparency is so important to today's savvy shopper. Customers want to know what they're consuming is from the earth and good for them, and using their frozen food packaging as a means to communicate this cannot be overlooked. Choosing environmentally friendly packaging from StandUpPouches.net also sends consumers a message that the food producer cares both about their health and the health of the planet.
One With Nature offers four varieties of smoothie packs called The Green Life, Live Bold, Own It, and Own Your Day. Each pouch contains a unique blend of fruits and vegetables that consumers can see from the outside, along with a packet of ultra-nutritious chia and flaxseed. The process for making each smoothie can be followed in these four easy steps: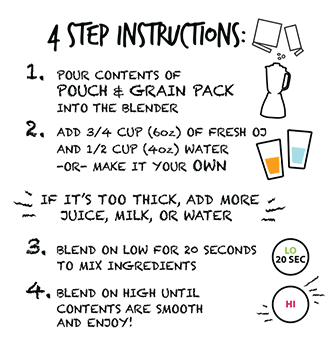 This is a much more convenient way to make smoothies than chopping up fruits and vegetables, measuring out other ingredients, and spending time blending and stirring to get the right consistency. It's certainly a better way to get on-the-go nutrition than depending on questionable fruity drinks from fast food or coffee chains.
One With Nature takes the work out of living healthy while still allowing customers to be creative and choose the ingredients they prefer. In fact, the owners came up with the idea for the product after having children (let's face it – lots of kids are notoriously picky eaters) and realizing how important it is to provide nutrition to consumers and families with increasingly busy lifestyles.
One With Nature makes all of its smoothie packs fresh in St. Louis and uses our custom printed stand up pouches to ensure they make it safely from their kitchen to retail stores throughout Missouri. The owners are always adding new retail locations where their convenient smoothie packs can be purchased. Learn more about the company and its fresh, innovative products at LiveOneWithNature.com.
Related Posts: