Trade shows are prime opportunities to not only connect with various professionals in your industry, but also discover new trends and become privy to exciting new products emerging in the marketplace.
As we gear up for the NASC Annual Conference next week, we've consulted with industry experts to forecast innovations and changes happening in the world of pet products. Conferences, trade shows, and forums are important to us because they help us better serve our customers and stay ahead of the curve in the pet packaging industry.
We came across an excellent piece by Petfood Industry editor-in-chief Debbie Phillips-Donaldson outlining several key trends and takeaways she encountered at the Global Pet Expo this year. One common thread strings these various observations together, pointing to new advances in marketing pet food and related products, as well as changing consumer behavior and preferences. In our world of flexible pet food packaging, we know that sticking to the old way of doing things is bad news for any consumer packaged goods brand. As such, we've compiled five trends that stood out to us to help clue companies in on new advancements in the pet space and how they can keep up with these trends in their own unique ways.

1. Introducing New Packaging Styles to the U.S. Market
Flexible pet food packaging, like stand pouches for pet treats and big bags for dog food, is still a relatively new concept in the United States. Traditionally, animal feed and associated products have been packaged in large boxes, flimsy bags, or rigid canisters. New developments overseas have pushed flexible packaging to the forefront, making it the preferred choice for highly influential modern brands across the globe. Companies that utilize intriguing, fashionable packaging that is sleek and highly functional are drawing in new customers and reshaping the marketplace in exciting ways.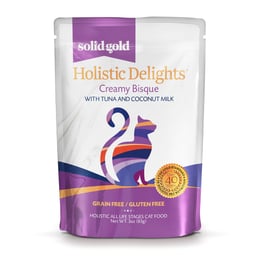 We're seeing more and more pet businesses using unique packaging styles for their food and treats because they stand out from the competition and draw in consumers. One trend being observed at trade shows is the packaging of smaller meals for cats and dogs. These single-use feasts are produced to satisfy the needs of smaller pet breeds — a growing trend happening here in the U.S. As such, companies selling these products need to place a special emphasis on the way they are packaged. New pouch styles can be custom tailored to fit nearly any size product while keeping air out, prolonging the shelf life and freshness of the food inside. Utilizing these inventive types of all-in-one packaging cuts down on extraneous waste while providing a strong but pliable barrier that maintains the quality and integrity of the pet food.

2. Enhanced Kibble with Savory Ingredients

A growing trend from last year, big players in the pet food industry are expanding their lines of kibble with exciting new flavors and fresh ingredients. Purina is one brand launching a specialty cat food line, Shredded Blend, that includes tender meaty shreds. The hard, dry kibble mixed with tender meat provides an interesting texture that keeps pets coming back for more. Using real chicken and other sources of protein requires a special type of packaging that will lock in and protect the aroma, shape, and tenderness of the shredded pieces while maintaining the strength to keep the kibble hard and crunchy.

Purina, like many other large and innovative pet companies, chose to use stand up pouches for this product, modeled after the similar Pro Plan line of food for dogs. The custom printed pouches feature bold, rich graphics along with sharp photography, marrying two graphic styles that mimic the fusion of dry and wet food inside. The brand achieves success in marketing pet food by always putting packaging at the forefront, focusing on its protective qualities, along with its visual appeal on store shelves.

3. Alternative Formats for Pet Treats (Raw, Baked, Freeze-Dried)


Pet food companies large and small are placing special emphasis on smaller portions and quantities of the edible products they produce in an effort to mitigate high production costs and to lower prices for the end user. Convenience is another key factor influencing the manufacturing of small-size food items, but because pet treats are generally considered supplementary to regular kibble or wet food, companies are including more nutritious ingredients and inventive ways of preparing treats so they can be better incorporated in pets' diets.

Merrick is one brand getting creative with the way pet treats are produced, utilizing freeze-dry methods that offer raw nutrition in a convenient format. This special preparation method requires packaging that can protect the delicate treats and allow them to be packaged and used easily. Small stand pouches for pet treats are a great go-to solution for these alternative cooking methods, as they are made specifically to package products depending on their individual temperatures, conditions, and properties.

Quantities of food large and small can be packaged hot, cold, frozen, or at room temperature, and this type of flexible food packaging is made to withstand storage in various temperatures as well. This means pet companies are no longer limited by packaging requirements, as they now have the freedom to whip up frozen food or treats meant to be heated up by consumers without hassle.

4. Millennials + Cats = <3


Internet videos and memes aside, it's become a proven fact that the current most influential generation is crazy for cats. More millennials are gravitating toward felines and owning them as pets, and as a result, there has been an increase in development for cat food and other products. New product lines with unique concepts are emerging, particularly in a food's state of matter. Bisque-like meals prepared with a coconut milk base, as well as mousse made with goat cheese, are just a few of the gourmet options pet brands are now offering with their cat food selections. Such delicacies require pet food packaging for liquid that best reflects the high quality and inventive nature of these products, which is why brands that wish to appeal to younger cat owners are choosing options popular overseas that intrigue and resonate with savvy millennial consumers.

5. Increased Transparency Regarding Sourcing and Processing


Just as today's shopper gravitates more toward smaller brands and natural products, they too seek out wholesome, nutritious products for their furry friends. Companies have responded by increasing the information on their product packaging, communicating more about the item's ingredients and manufacturing processes through graphics and text. At trade shows, pet companies are debuting more technologies that incorporate mobile apps, some of which allow pet owners to trace the origin of pet food ingredients with a simple tap of their smart phone. Actively seeking out special labels and seals on packaging has become the new norm for shoppers, as these certifications serve as visual cues that quickly communicate the brand's quality standards and commitment to offering the very best for consumers and their pets.
The entire pet packaging industry has undergone several much-needed changes in the last few years, and adhering to new regulations, upholding standards of quality, and working with pet products companies to best market and reflect their brands via their product's container have propelled the marketplace into an exciting new direction.
Packaging is no longer regarded as an afterthought, and suppliers of innovative package solutions have become an integral part of a business' partnership and team. Your product's package is the first thing people see, after all, so whether you're at a trade show, conference, demo booth, investors' meeting, or in a store aisle, becoming a leader in reshaping the world of pets begins with staying up to date on the latest trends, technologies, and strategies for successfully selling your pet products.
(Image Sources: Petco)
Related Posts: