The familiar spice retailer McCormick has recently introduced a series of new breakfast slow-cooker seasoning packets to their offerings.
Packaged in brightly colored custom printed pouches, the seasoning packets also include recipes for their use. The seasoning packets are directly in line with McCormick's commitment to reduce its carbon footprint, while also creating innovative new solutions for flavoring food in today's fast-paced world.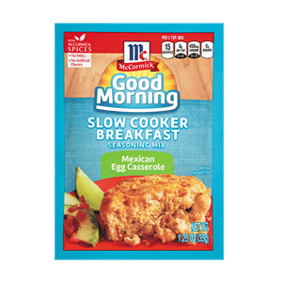 By choosing custom printed pouches for their new seasonings packaging, McCormick was able to print more information on the sides of the packet, such as recipes and tips for use. Creating a product that is convenient to use, but still offers a unique flavor profile, is appealing to the interests of today's consumers. With less time to cook, consumers today are looking for products that can offer interesting flavors while also saving time in the kitchen.
Printed on the back of the custom printed pouches, along with recipes for use, is a clear and concise list of the seasoning packets' ingredients.
They employ only five major ingredients, part of a minimal approach to food that is becoming more and more popular among current consumers who are looking for products made from a smaller number of ingredients that they can recognize and pronounce.
The Good Morning Breakfast Slow-Cooker Packets come in four distinct flavors, each one corresponding to at least two simple slow-cooker recipes meant to be prepared with the addition of just a few ingredients that can be found in most kitchens. While the seasonings' packaging directs users to apply the product to a simple slow cooker recipe, ultimately, the consumer is able to choose how they use the seasoning packets, allowing for endless recipe applications and a degree of customizability that today's customers are looking for.
McCormick's slow-cooker packets are part of a growing number of products that emphasize the unique value of customization.
As people's diets become more specialized and health-conscious, food products like seasoning packets, which can be tailored to suit a variety of diets, are growing in popularity. By choosing to package their seasonings in custom printed pouches, McCormick has ensured that their product isn't lost in the crowd.
Additional Reading: