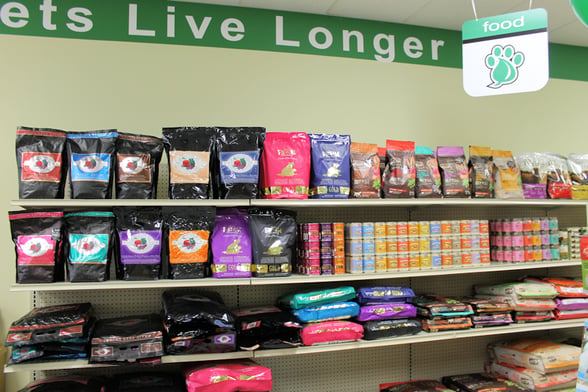 Think of some of the most popular pet foods and treats you see on the supermarket shelves.
Meow Mix, Kibbles 'n Bits, 9Lives, and Snausages may come to mind, and they are a few of the largest products made for cats and dogs. Each of these products is produced, distributed, and marketed by Big Heart Pet Brands. The company is dominating the pet food market, as evidenced by its massive acquisition by J.M. Smucker Co. this past spring. Now, Big Heart Pet Brands has boosted Smucker's sales 47 percent, contributing $628.2 million to its overall net sales. It's not just a random surge in demand for pet food that is leading to the companies' success. Big Heart Pet Brands is making its mark on the industry because of its innovative new products and use of pet food packaging that stands out on the shelves and speaks to customers.
The right pet food packaging can inspire impulse purchases and create an exciting visual experience for consumers.
Sure, all pet owners need to buy food for their furry friends, but goodies like Milk Bone, Pup-Peroni, or Pounce cat treats are, more or less, like an extra gift or surprise for pets. They help owners bond with and train their animals, and many of these products have been formulated to aid in animals' dental health. All of these benefits can all be communicated through effective food packaging, bringing to mind happy memories and moments between pet and owner. Many people care just as much about the health and wellbeing of their pets as the other loved ones in their lives, and they're looking for products that are nutritious and wholesome and stored in pet food packages that keeps the food and treats fresh and safe.
Big Heart Pet Brands encompasses a family of beloved companies creating food and treats for pets, and a large portion of these manufacturers are embracing stand up pouches for pet food packaging to display clear, eye-catching photos of cats and dogs, as well as distinctive branding, realistic graphics of the product inside, and text that communicates the healthy ingredients the food and treats are made of. Stand up pouches are a great solution for packaging because they're less likely to break or fall apart than traditional boxes. Your rowdy dog or curious cat will have trouble breaking through the puncture-resistant laminated layers, but even if they try, owners can ensure they're safe because stand up pouches are made with FDA-approved, food grade materials and water-based inks.
Committing to using protective, flexible pet food packaging shows customers brands care about their impact on the world and are choosing packaging that keeps pet food and treats safe from outside contamination. Big Heart Pet Brands is currently the nation's largest standalone producer, distributor, and marketer of branded and private-label pet foods and snacks, and it remains committed to three important values: integrity, courage, and action. The company knows it can communicate these values to customers right on its pet food packaging – especially on pouches that stand up on shelves and are easily visible. Retailers – not just in the pet products market – are rapidly embracing goods packaged in stand up pouches because they are cost efficient and take up less space in store aisles. Flexible food packaging is an important way for companies to build their brands communicate their messages to consumers, and keep their high-quality products well protected longer than traditional packaging.
Related Posts: