For the past few years, the cereal market has been on a troubling decline.
To get sales back up to par, industry leaders like Kellogg are reaching out to international markets and introducing products like porridge and muesli that are more commonly consumed outside of the U.S. Embracing culinary staples from other countries and revamping them to appeal to new demographics of American consumers is smart, but there is one market that could help existing cereals find new loyal consumers. Gluten-free products continue to see a significant amount of promise, as consumers adopt healthier lifestyles and see a surge in products that fit in to their new diets.
General Mills has been in the news as of late due to an unfortunate recall of its gluten-free Cheerios. However, the company has risen from the ashes, and its effective marketing strategy has helped build the brand and product back up. Any company that faces a recall will see its reputation tarnished in some fashion, but General Mills is proving that with the right strategies in place, food companies can continue to thrive in growing markets. The cereal giant recalled its products due to an allergen contamination, but brands can avoid this by thinking outside of the box and packaging their cereal in containers that effectively protect against outside contaminants.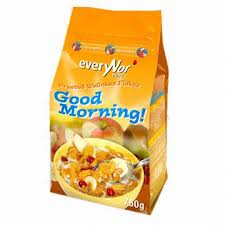 Flexible box bags are an increasingly popular solution producers of dry foods, like cereal and granola, are adopting to best protect their products and increase the longevity of their shelf life. Traditional cardboard boxes may stand upright on the shelves and can be arranged in clever ways to display your goods, but when it comes to creating packaging that is easy to open and reclose and keeps products safe from any pests, bacteria, odor, or air, these types of flat bottom bags are your best bet.
Gluten-free cereal can be effectively packaged in large quantities using flexible box bags that contain a stable base that supports multiple laminated layers that keeps dry food fresh. Each component of these flat bottom bags is food grade and FDA-approved, and because the bags are heat sealed, the excess waste most cereal boxes produce is unnecessary. The package creates a box-like shape, so cereal companies won't have to completely overhaul their brand image or redesign their familiar logos and graphics. Flexible box bags use 12 percent less film and weigh 12 percent less than traditional boxes. They can expand to hold more volume of product, and they provide plenty of space on the front, back, and side panels for text, images, nutritional information, ingredients, and marketing copy your team has worked hard to perfect.
When it comes to refreshing a product after a recall, or simply selling nutritious food like gluten-free cereal, incorporating flexible packaging styles into your entire marketing efforts can make a huge impact.
Customers want to be able to easily identify the products they know and love on the shelves, but when they see that their favorite brands have retooled their packaging to become more user friendly and keep food fresher longer, their perception of the company will change dramatically. It's always smart for producers to really listen to their target audience and work each day to perfect their product and the way it is presented. Using safe packaging that preserves the food inside and protects against harmful contaminants is a step in the right direction and will help sell wholesome products to today's savvy shoppers.
(Image Source: Logos Pack)
Related Posts: