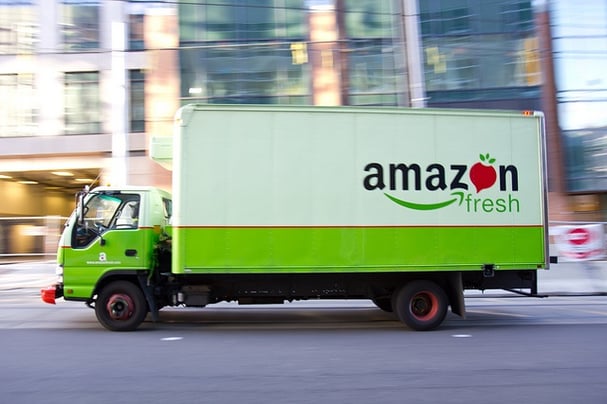 After hearing the news of the Amazon-Whole Foods merger, we weighed in on the various ways the partnership will cause major shifts in the grocery business and food industry as a whole.
Now, we've learned Amazon is taking a cue from the United States Military to introduce new preservation methods and an innovative style of retail food packaging for home delivery.
With huge companies like Blue Apron, Hello Fresh, and Green Chef launching and popularizing fresh meals and ingredients delivered straight to your door, Amazon understood it must remain competitive in this changing consumer landscape. As such, they're exploring the possibility of delivering ready-to-eat dishes to consumers as early as next year.
The idea of a "one-stop shop" to order all of your household goods and fresh, nutritious meals that are delivered right to your home is the ultimate dream come true for people who crave convenience (and that's a lot of us). To stay on par with innovations happening along the grocery channel, this move will also place Amazon in a position to revolutionize the supermarket as we know it — as long as they continue to focus on the fine details of preserving the freshness and quality of the food they're delivering to consumers.
Shipping fresh food is notoriously difficult. A lot can happen to a product during the transportation process, which is why protective retail food packaging that not only prevents a product from spilling or leaking but also completely blocks out any external elements that could contaminate the product is crucial. Amazon is playing smart by evaluating and testing the most effective form of fresh food packaging at this stage in the game… especially considering there have been many complaints about Amazon's use of extraneous shipping materials and boxes that cannot be ignored.
So, what exactly is this innovative U.S. military technology that is bound to shake up the food packaging industry? Microwave assisted thermal sterilization, or MATS, places packaged food in pressurized water and heats it, which makes the product shelf stable and eliminates the need for constant refrigeration. Traditional processing methods can often remove nutrients in the food, but using this technology, a dish can sit on the shelf for up to a year — making this the perfect solution for storage in Amazon's warehouses and safeguarding the food products during the shipment process.
---
Related post:

Lessons in Flexible Retail Packaging from the U.S. Army
---
Amazon understands the importance of choosing packaging and preservation methods that will both shield food from contact with bacteria and other elements that can cause rapid decomposition and spoilage, as well as keeping the product fresh for extended periods of time.
When customers order food from AmazonFresh, the online retailer's grocery delivery service, they expect their goods to be as fresh as they would be if they picked them up from a local supermarket. If Amazon wants to utilize and succeed at delivering full, nutritious meals to customers and their families, they must select fresh food packaging that is formulated to undergo this technologically advanced preservation method without falling apart or allowing nutrients from the food to escape.
To allow this project to come to fruition, Amazon is already hiring food industry pros left and right to develop meals, increase food's shelf life, and determine which retail food packaging is best suited for their ready-to-eat meals. The next step in this process is finding the right packaging partner who is best equipped with the knowledge and expertise to help the corporation choose which protective, microwave packaging is best for not only prolonging the freshness of a product, but also keeping it intact during storage and transportation.
The biggest "no brainer" at this point would be for Amazon to choose flexible retail packaging, like stand up pouches and vacuum sealer bags, for its fresh meals and ingredients.
This type of packaging is significantly easier to ship and store than rigid trays and it cuts down on waste by serving as an all-in-one solution (no lids and trays, no excessive packing materials due to fragile structures like glass, etc.).
We're big fans of @greenchef's delivery meal kits, and we applaud their switch to flexible pouches for their sauces! #packaging pic.twitter.com/CZ7hQ8jKof

— StandUpPouches.net (@_standuppouches) July 13, 2017
Meal delivery kit companies like Green Chef have already made the switch from using fragile, rigid containers for their fresh food packaging to using flat pouches and vaccum sealer bags for sauces, dressings, and other ingredients that could spill or become contaminated if not packaged properly. The company determined this was not only a more protective packaging solution, it was also more eco friendly. The brand included instructions for the consumer to recycle the pouches — a retail packaging solution many folks assume cannot actually be recycled.
Amazon's Whole Foods merger is already creating a significant impact on the retail landscape and food packaging industry, and we expect big changes happening with food manufacturers and ecommerce businesses. A switch to more sustainable, lightweight, eco-friendly fresh food packaging is at the forefront, as is working with experts to embrace and implement innovative new technologies.
(Image Source: Atomic Taco, Flickr)