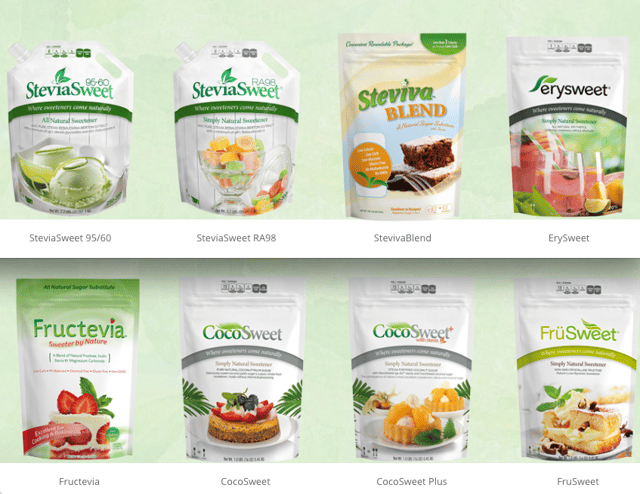 Steviva Brands is one of the largest leading manufacturers of stevia-based sweeteners — a product the company introduced to the U.S. market well before it was FDA-approved and became a staple in households, bakeries, cafes, and restaurants.
Steviva not only pioneered a product, it also distinguished itself by embracing stand up pouches for sugar alternatives — a packaging style U.S. consumers see growing and expanding across a wide range of industries but was once relatively new to American markets.

While countries like China, Australia, and New Zealand have seen the widespread use of flexible packaging for CPG products, Steviva was an early adopter in our neck of the woods. The brand recognized lightweight, recyclable stand up pouches for sugar alternatives were an eco-friendly solution that aligned well with the company's values and commitment to producing and distributing clean-label, healthy, natural products.
The company has been a long-time client of StandUpPouches.net and has used custom printed pouches for its extensive line of all-natural sweeteners for several years. The brand recently launched a new store and announced a global expansion to meet growing demand for all-natural, clean-label sweetening systems.
To prepare for this boom in business and the changes that naturally go along with it, Steviva made an investment in high-quality photography for its custom printed pouches, as well as professional performance material.
Steviva made the smart, strategic move not to rush the process of improving upon its dry food packaging or launching a new store and visually stunning web presence. The results have helped the company consistently reach new customers and solidify its position as a global leader in the natural sweetener market.
Industry trends point to a move away from sugar — as evidenced by the FDA's announcement of changes coming to its Nutritional Label requirements — which place Steviva in a position for continued growth as consumers focus more on their health and wellbeing and seek out brands that provide natural, healthy alternatives. Steviva Founder and CEO Thom King noted that the changing FDA label requirements from major and mid-market manufacturers has driven an onslaught of new business. As such, Steviva responded by increasing its research and development capabilities, along with the production capacity of its clean-label sweeteners.
Changing demands can come from all sides (consumers, clients, retailers, and even the FDA), and brands have to be able to pivot efficiently to keep up. Steviva wisely focused on increasing the professional quality of its food packaging design to market its new store, new manufacturing and distribution centers, new headquarters and active role as a pioneer, innovator, and leader in natural, eco-friendly food products and solutions.
Steviva has embraced innovative flexible packaging, such as a spouted pouch with handle for dry food packaging, custom printed stand up pouches for sugar alternatives, and custom printed pouches that feature professional photography and crisp graphics. King and the Steviva team made a conscious decision to choose product packaging that helps maintain the health of the planet as they balance their commitment to consumer and environmental wellbeing.
Whether your brand is introducing new additions to your product line, expanding production, filling a need in new markets, or suddenly experiencing a boom in orders, excellent food packaging design and retooling your custom printed pouches can help market and promote your product.
Partnering with packaging experts who can solve any unexpected problems and provide hot-rush options or has a solid hold-and-run program in place in absolutely crucial. We've maintained a long and lasting partnership with Steviva — a successful, growing brand that understands the importance of cohesion between product, brand image, and packaging and works thoroughly and strategically to meet emerging trends and changing demands.

Share this Image On Your Site