"I need to prolong the freshness and shelf life of my product."
Our packaging is high quality, made with multiple layers of laminated film and sturdy bottom gussets that ensure no oxygen, moisture, light, odor, or pests come in contact with your product. The more protective the packaging, the longer the product inside stays fresh. The innermost layer of our pouches is food-grade and FDA-approved, guaranteeing it is safe to protect even the most delicate items and complex flavors, textures, and structures.
"We need a supplier/partner who can keep up with our artwork and label changes."
We have our own graphic designers on staff who can either make the changes for you "on-the-fly" or make sure your changes are "print ready." We understand your concept of time. Our staff designers can take your branding and designs and turn them into eyecatching, production-ready pouches. They can also create artwork for you from scratch.

"Our ingredients and labels change all the time as regulations change... how can your company help?"
By having our own staff of graphic designers, and our own team members at our factory, we can not only make these changes well in advance but also go to the production line and implement them.
"We need a way to speed up design and completion of finished flexible retail packaging."
We have several Hot Rush options: We can run your bags digitally in 1 to 3 days, we can go into full production and run and ship in 4 weeks (out the door), and we can even hold finished film and convert and ship in 2-3 weeks (or less). This is what we do... 1-3 days, 2-3 weeks, 4 weeks... we have Fast, Faster, and Fastest options (see below) to help you!
"We're just starting out and not quite ready for larger runs of custom-printed pouches. But we still want our brand to stand out and beat the competition."
We partnered with Avery WePrint to offer 10% off custom sticker labels you can apply directly to our ready-made, plain stock pouches (available in our online store). You can design and order short runs of the custom labels without set-up fees or hidden costs. This saves you money AND time you'd spend designing or searching for printed labels.
"We finally got that deal with WalMart, Whole Foods [or] Target. We need MASSIVE volume now."
We can run millions of pouches at our plant, and our capacity cannot be matched! We have 8 different Rotogravure printing lines, 4 different laminators, and more than 30 converting lines. We run 24/7.
"We started out small, but all of the sudden our orders just exploded! We need a supplier who can SCALE and grow with us."
We have the unique ability to run very, very small volume and scale UP (1, 3, 5, 100, 1000, 5000, 50,000, 500,000, 5,000,000 pouches/bags). The very small quantity (1, 3, or 5) can be done digitally. The other quantities will be production run.
"We need effective Supply Chain solutions. We cannot wait a long period of time for our packaging."
We have several options: We can hold finished packaging in our Ohio warehouse and deliver as needed. We can have finished inventory held at the factory and at our Ohio warehouse where we can ship and replenish... we can have printed semi-finished materials at our warehouse that we can immediately put into production for very fast lead times. "We have unexpected orders from our customers. What can you do to help us so we NEVER run out of our packaging?"
We provide emergency and safety stock — finished packaging ready to ship at a moment's notice — 24/7. Or we can have semi-finished raw materials that we can put into production immediately for very fast turnaround. We also have our Ohio warehouse, we can hold inventory at the factory, and we can even provide a warehouse closer to your location (that's being a partner!) in case of emergencies.
"We don't need another supplier, we need a packaging partner who will help us stay up to date with new materials and styles so we can beat our competition."
This industry is always evolving. There are styles, materials, and structures that many companies don't even know exist. As your partner we will keep you informed and even send packaging samples to test with your products.

"I already purchased my printing cylinders and artwork from another supplier. I can't afford to buy them again. What can you do?"
If we are duplicating what you already have from another supplier, we will provide your printing cylinders at no charge. (Seriously!)
"How do I know you are the right supplier for us or that your film and pouches will work on our equipment?"
We run no-risk, no-cost trials. You provide what you want, we'll print it, run it, and if there is an issue on your equipment we won't charge you. If it works, that is when you'll pay for it.

"My existing co-packer or supplier isn't there when I need them."
We provide 24/7 customer support. Not every packaging supplier is the right fit for your brand, team, or product. We provide educational materials, samples, superior customer service, and a team of experts in Ohio and overseas to answer your questions and solve issues quickly and effectively.
"I need to get my product into retail stores, but the turnaround times on packaging are too long."
We know how important it is to get your products out on store shelves right when they are needed. Our solutions can save you weeks and thousands of dollars. Here are our options:
FAST: Run Film and Hold (faster lead time — approx. 4-5 weeks)

FASTER: Run and Hold COMPLETE (place a blanket, hold finished inventory, and you pay as you receive. release from factory. Lead time — approximately 3 weeks)

FASTEST: Place Blanket Have Factory Hold (including billing), Have Stock In Cleveland or West-Coast Warehouse (1 week or less)

Hot Rush — NEW!

Digital: 1-3-5…100…we can digitally run pouches and film in 3-5 days

Short Runs: 100 pieces, custom printed in up to 9 colors? And they are not digital — they are fully printed, laminated, production-run quality pouches.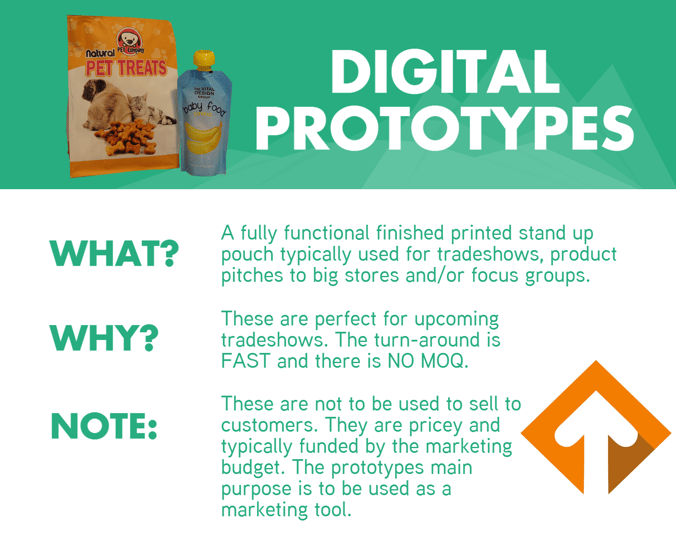 "I need to create packaging that stands out: It needs to be custom, unique and manufactured for a specific product size, shape, weight, temperature, etc."
We work closely with our overseas plant to develop packaging that best protects nearly ANY product. If we don't sell a plain stock pouch that suits your needs, we will go back to the drawing board and completely personalize your packaging in the shape, size, color, and design you require. We are able to add extra features like easy-open tear notches, reclosable zippers, hang holes, pour spouts, etc. so your packaging functions properly with your product and offers consumers convenience and eases frustrations involved with hard-to-open extraneous packaging.
As a bonus: With our innovative Make My Pouch online tool and mobile app, we put the power in YOUR hands to design the flexible packaging of your dreams from your home or office. Once we receive your 3D-rendered packaging replica, we'll get to work on making your vision a reality.
"The flexible packaging I've used doesn't protect my products as well as jars, boxes, or other hefty containers."
While we truly believe flexible packaging is the future of keeping CPG products protected, not all lightweight bags and pouches function the same. We have flexible box bags and spouted pouches that replicate traditional rigid containers without the added heft or fragility. Glass jars break, cardboard boxes rip and become soggy, and flimsy plastic bags just don't protect the freshness or quality of products the way stand up pouches can. The laminated barrier layers that make up our pouches have been scientfically developed to allow the package to stand upright and protect goods inside from spoilage, breakage, or outside contamination.
"I'm just starting my business, and I need packaging that will help my products stand out from the competition."
Flexible packaging is already forward thinking and innovative… We have plain stock bags that you can apply a printed label to, then once you're ready to take the next step, we can fully print custom pouches with bold, vibrant, water-based inks. We can also provide digital printed prototypes for you to test out your products at demos, events, etc. We can custom manufacture unique styles of packaging that are attention grabbing and offer added convenience for the end user. Packaging serves as the face of your brand (it's the first experience people have with your product, after all) and it can be used as an effective tool to build brand recognition and customer loyalty.
"My company cares deeply about environmental issues and wants to reduce its carbon footprint. I need eco-friendly packaging that communicates our commitment to sustainability and makes it easy for the end user to recycle."
We're proud members of the Sustainable Packaging Coalition, which has recognized our flexible retail packaging as recyclable, landfill friendly, and less detrimental to our clients' carbon footprint than heavy, rigid containers (the bigger and heavier the container, the more fuel and emissions it requires to ship). Learn more about our commitment to sustainability here.