Imagine if you could improve your dental health and overall energy with chocolate bars...
While traditional chocolate might give you a little pep in your step, it's generally packed with sugar, butter and other ingredients that can trigger allergies and immunities. One company set out to change the face of chocolate as we know it, creating a clean-label product that is allergen-free, sugar-free, and entirely guilt free. With ingredients like non-GMO cocoa, Indian fruits, green tea, and even white kidney beans, Healthy Chocolate Florida, LLC, has manufactured a line of chocolate-based products that are not only nutritious, they are delicious as well.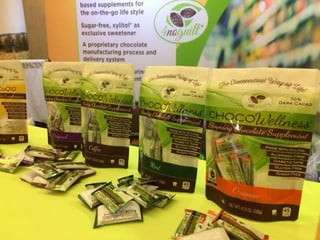 The secret ingredient in Healthy Chocolate®'s sweets is Xylitol, a sugar alcohol extracted from the Birch tree. A naturally occurring substance in the human body, this ingredient appears much like white sugar but has tremendous health benefits like slowing down tooth decay, warding off flu and cold viruses, and even offering advantages to Diabetics and those with Metabolic Syndrome. Xylitol gives the brand's products a pleasant chocolately texture without loading the consumer with additives, chemicals, or other unhealthy byproducts.
Healthy Chocolate® needed to market their treats as healthy chocolate-based supplements in a way that would shake up consumers' preconceived notions about chocolate candies as a junk food or an indulgence. The company decided to individually wrap their chocolates to allow for portion control but mimicking traditional candy so people are more inclined to grab one when they're craving something sweet. Marketing these products as natural, chocolate-based supplements is no easy task, but Healthy Chocolate® knew they could communicate the benefits of their goods using one very important tool: Packaging.
The brand chose StandUpPouches.net to create customized external packaging for their individually wrapped chocolate-based supplements, knowing these stand up pouches would keep the product fresh and best protect the items from external elements like bacteria, UV rays, moisture, pests, and other contaminants that could lessen the natural health benefits of the goods inside.
Because the forward-thinking brand understands the importance of packaging in marketing an innovative new product, they chose to create custom-printed stand up pouches that would stand out both on retail shelves and at the natural products and supplements largest B2B trade show. The pouches they selected use food-safe, water-based inks to display the brand's vibrant and distinctive logos and product information, as well as a clear, leaf-shaped window that allows consumers to see what the individually wrapped chocolate-based supplements and bars look like inside the package. This helps build transparency while ensuring the quality and integrity of the goods remain intact.
We've detailed Healthy Chocolate Florida, LLC's, story and the revolutionary new way they are manufacturing chocolate products in our latest case study. In this complimentary report, you will learn:
How Healthy Chocolate ® overcame challenges of marketing chocolate as a beneficial health product

How StandUpPouches.net helped create custom chocolate-based supplement packaging that appeals to health-conscious consumers

How the brand broke the mold and used packaging as integral part of their modern, forward-thinking marketing practices

As a bonus, the case study contains an exclusive interview with Healthy Chocolate Florida, LLC President Guy Lopez on the Dich The Box Podcast.
(Image Source: 4noguilt.com)