Curious why top brands like Kraft Heinz, McCormick, and Mars are switching to stand up pouches for their product packaging needs?
The answer is simple: They're putting themselves in their customer's shoes. If a package is impossible to open and can't be reclosed, you're going to end up with some angry, frustrated customers who will write off your product even before they get around to trying it! In today's world, product packaging can truly make or break your brand. It might look pretty, but if it's not functional, it's going to cost your company big time.
You can also view the video on youtube here!
Leading brands are ditching traditional boxes, bottles, cans, and cartons and are instead choosing flexible retail packaging because it's less bulky, better for the environment, and it truly stands out on retail shelves.
Stand up pouches are a form of flexible retail packaging that have become the go-to option for producers of food, beverages, household items, personal care products, pet food, vitamins, and so much more. Stand pouches include easy-open tear notches and a heavy-duty zip lock closure that maintains the freshness of the product inside longer than other packaging options.
Whereas cheap plastic bags and flimsy cardboard boxes are easy to tear and break – as illustrated by the video – stand pouches are made from durable, puncture-resistant layers of laminated film. The innovative structure of this flexible retail packaging lends to a longer shelf life and guarantees your product stays protected from outside moisture, oxygen, odor, UV light, and bacteria from the warehouse all the way to retail stores and finally to customers' homes.
Your company spends a tremendous amount of time and effort perfecting the recipe and composition of your products. You've got to package it properly if you want to compete with the big boys in an increasingly crowded marketplace. Choosing stand pouches shows customers you're listening to their needs and are refreshing your offerings to complement their modern, active lifestyles. It's all about convenience and quickness these days, and if you're stuck using old containers, you're going to be left in the dust.
Stand up pouches are made of 100 percent recyclable materials, they require less fuel during transportation due to their light weight, and they're landfill friendly. The packaging contains scientifically developed layers of FDA-approved, food-grade film and can be custom printed with water-based inks that make your brand's designs and graphics really pop. When it comes to presenting your product in its very best light, this is really a no brainer. Check out the video below to see how today's consumers feel about brands using traditional product packaging versus stand up pouches.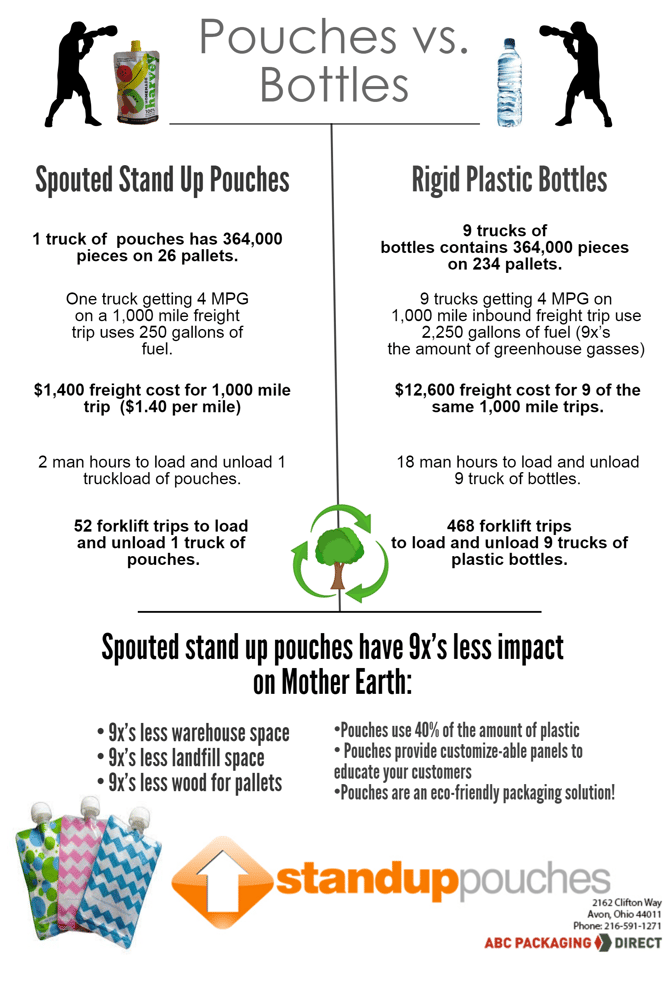 Share this Image On Your Site