With the launch of Kim Kardashian's recent cosmetics line, KKW Beauty, many consumers are taking to the internet to vent their frustrations over Kim's lack of attention to detail.
Carrying a price tag that should put them more in line with luxury beauty products, the KKW Beauty line falls short in a number of ways, packaging being a major one. Besides being expensive, difficult to use and low quality, consumers are calling attention to the brand's lackluster beauty packaging, which is a problem that could easily have been avoided with some careful attention to detail and a better packaging partner.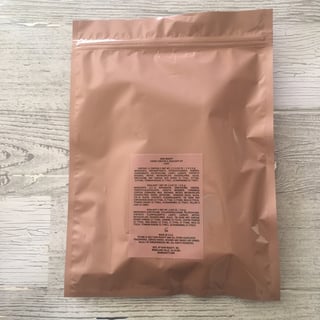 While KKW Beauty products are packaged in lightweight flexible pouches, a little extra effort in the planning and customization of these pouches would have made all the difference.
Instead of capitalizing on the variety of options offered by custom printed stand up pouches, KKW Beauty instead opted to place all the pieces of the product line in the same sized, shiny, flesh-colored pouches.
The fact that these products are all packaged in the same size of pouch, rather than in custom-size pouches, is just the beginning of the lack of consideration for how packaging can impact a product's success in the marketplace. Since custom printed pouches are available in a variety of colors and finishes, KKW Beauty also could easily have opted for more of a luxury feel in terms of the tactility of this packaging, not to mention a more appealing color.
If the brand had taken the time to consider their packaging more carefully, these pouches could have had a lovely frosted finish and an inviting color palette. Instead, many consumers say the beauty packaging feels cheap and looks unattractive. A few clever consumers on Twitter even noted the pouches' striking resemblance to the packaging for MREs, or government-issued food rations provided to soldiers in place of regular food… not exactly the kind of association one might hope a luxury beauty product would draw.
Along with making the pouches more visually appealing, instructions and tips for using the products could have been printed on the pouches themselves, rather than, as they are, on an applied label that seems more like an afterthought than a successful component of the products' design.
The point, here, is not to chastise Kim Kardashian for her blunders, but rather, to call attention to just how important the details of packaging and design are. Had KKW Beauty taken the time to have custom sized, custom printed pouches made for these products, many consumer grievances could have been avoided altogether.
There are a lot of details to consider when it comes to producing a product and releasing it into the marketplace, but making the decisions that go into good packaging design doesn't have to be difficult.
Working with a packaging partner that understands the important role of packaging would have been a wiser choice for KKW Beauty. Whether launching a new product or looking to improve a current one, taking the initiative to consider packaging design, along with the assistance of a packaging partner that helps brands undergo a packaging and design refresh in the timeframe they require, can be all it takes to make a product as successful as possible.
Additional Reading:
Omg. I couldn't help myself. When I first saw the #kkwbeauty packaging I thought of my husbands MRE's (military food. Meals ready to eat.) pic.twitter.com/cKD5rbW391

— Sandra Orta (@sandraortaxo) June 22, 2017
(Image Sources: Glitz & Glam, Poshmark)