Have you ever wondered how to seal stand up pouches? As flexible packaging experts, we strive to provide our customers with the pertinent information they need to come out on top, with the very best stand up pouch packaging. This is why we invited Sealer Sales expert Stephanie Hwang to our Ditch The Box radio show. The focal point of this episode is on the sealing aspect of flexible retail packaging. Marketing Coordinator at Sealer Sales in L.A., Stephanie is a pouch-sealing expert. She helps our clients find the very best heat sealers for their particular style of stand up pouch.
What exactly goes on behind the scenes of sealing a flexible package? What do you need to know when it comes time to make decisions regarding the seal of your flexible packaging? Stephanie highlights some of the main points to keep in mind when it comes to seals and sealers. Listen to the full episode here: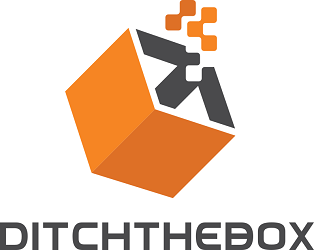 Sealer Sales uses 4 main questions to determine what sealer to recommend:
What typed of volume are you looking for? (1000 bags per month, 1000 per day, 1000 per hour, etc.)
What is the thickness and material composition of the bag?
What are the dimensions of the bag? (Width and Height)
*Width is measured at the opening of the bag*
What is the height and weight of the bag when filled with the product? (mostly for band sealers)
Difference between a double and single impulse sealer:
Single Impulse Sealer: The bag uses one heating element (at base of sealer)
This type of seal is typical for everyday sealing of a 4-5 millimeter pouch.
Double Impulse Sealer: There is another heating element present in addition to the base element (sealed from both sides)
This seal is typical for sealing really thick material (i.e. coffee pouches - typically four layers thick)
Things to keep in mind when deciding how to seal your pouch:
Most standard sealer widths are 2 millimeters
The wider the seal, the better the heat penetration
Stand Up Pouch clients are generally recommended an Impulse Sealer with a 5 millimeter seal - as a starting point.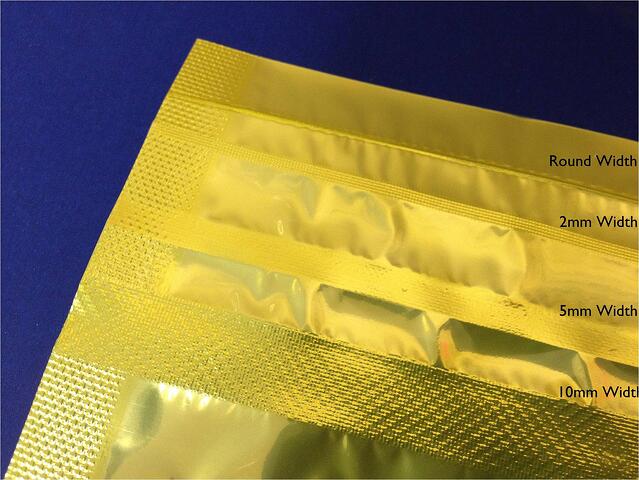 Sealer Sales sells two main types of sealers (both work well for stand up pouches):
1. Direct heat sealer: Two jaws maintain constant heat - Offers better heat penetration for thicker widths. There are two direct heat sealer options: meshed seal line or serrated seal line.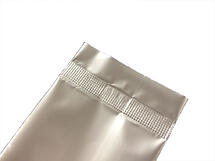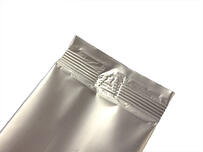 Meshed Seal Line Serrated Seal Line
2.

Impulse sealers

: Adds a congeal step that allows the seal to cool under pressure. This creates a smooth, professional looking seal.
When asked where the industry is headed, Stephanie explained how she has seen a trend towards band sealers. Why? Band sealers offer the possibility to print on the actual seal line. (i.e. expiration dates). There is one huge advantage of band sealers. The productivity rate is much higher because the rate depends on how fast the operator can feed the machine. This is compared to hand and foot sealers which are much more strenuous on the operator. The more strenuous the act on the operator, the slower the production rate.
Overall, something as simple as a seal can make or break your package's visual appeal as well as your actual product. A seal done correctly will portray a professional look while keeping the product as fresh as possible. The implications of something as simple as a seal can be enormous and should not be taken lightly
We want to thank Sealer Sales and Stephanie Hwang once aging for the insight on sealing stand up pouches and for sharing instrumental advice with our followers. Be sure to follow Ditch The Box and stay tuned for upcoming episodes.
Remember, It's Your Product, Package It Properly!