In the packaging world, we know how important it is for food and drink companies to use protective pouches that keep products safe from harmful bacteria.
Now, some brands are looking for containers that actually lock bacteria in. It may sound odd; as the last thing a company would want is for consumers to get sick from microorganisms thriving in its products. However, for fermented food companies, certain types of bacteria are the key ingredients in their healthful products. Yogurt, pickles, and even kimchi are thriving in the food industry thanks to probiotics found in these goods. Probiotics are revered for their gut-healthy properties, and new research has uncovered additional benefits that are exciting consumers and food producers alike.
Probiotics do wonders for fighting toxins and infection in the GI tract, and since 70 percent of the body's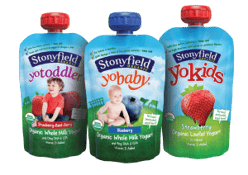 immunity lies in the gut, this "good" bacteria can help strengthen the entire immune system. According to the Nutrition Business Journal, a recent global study by Datamonitor revealed 88 percent of consumers are interested in purchasing immune-boosting food and drinks. As a result, companies are getting smart about the way they are selling and marketing probiotic-rich snacks and beverages.
Wellmune is thriving in the probiotic arena, and listening to customer feedback has made a tremendous impact. The company says 79 percent of surveyed consumers understood key messages the company tried to communicate using its branding and packaging. Logos, designs, colors, and structural elements all have the capacity to speak volumes about an item. However, companies only have a few seconds to grab a potential customer's attention, so careful thought must be placed on each of these areas to effectively highlight what the product is and why people need it in those crucial few decision-making seconds. All marketing copy must be consistent, and in the probiotic world, information about certain strains and dosage levels should be included clearly in the text on the packaging.
When it comes to choosing the right packaging for probiotic products, companies must be innovative and select a container that effectively shows off their unique branding. I MUNE Nurture is setting a great example – the company chose spouted pouches to package its natural fruit water for kids, which is made with Wellmune beta glucan, a yeast ingredient used to boost immunity. Each of the liquid bags with spout is packaged with ingredients that are good for children ages 2 to 5 years old and contain no added sugars or sweeteners. The company really wanted to sell the benefits of this product to parents of toddlers who may be entering preschool or kindergarten – two places where they can become exposed to all sorts of germs and bad bacteria. I MUNE Nurture helps prevent infection, and it's packaged in a spill-proof aseptic pouch that kids can easily hold, transport, and open.
Spouted pouches are an excellent option for probiotic drinks because they are manufactured with multiple laminated layers of food-grade, FDA-approved film that protects the beverage from puncture or breakage.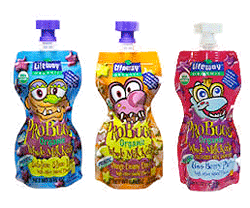 Liquid bags with spout are perfect for products made for kids, too, because they are produced with water-based inks that create bold, eye-catching colors and designs that appeal to little ones. Parents can also rest easy knowing their kids won't injure themselves on the flexible but durable containers. I MUNE Nurture cleverly added a symbol and text that reads "Just press, no mess" and easy instructions that inform consumers to press the spout and suck to drink. It shows just how important packaging like spouted pouches can be in educating and informing customers not only about the benefits of the product, but also how it functions.

There's no easier way to lose customers than selling products that are impossible to get open or re-close, and these child-approved liquid bags with spout eliminate frustrations and properly lock in all the vitamins and nutrients found in the natural beverages. Packaging is one of the most important tools used by leading healthy brands to sell products that meet consumer demand and provide important benefits for their overall wellbeing.
(Image Sources: Mune Health, Food Fete, Buttermilk Press)



Related Posts: