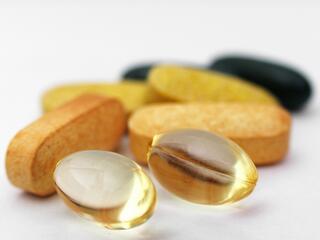 It's no secret that more and more people have become concerned about the health of both the planet and themselves. Consumers are watching what they eat and are more conscious than ever about making sure they get all the vitamins, minerals, and supplements they need to ensure themselves of a healthy diet. This shift in our society has led to increased competition in the vitamin industry which, if this is what your company does, isn't anything you don't already know. What you may not know, however (but definitely should!) is that not all vitamin and supplement packaging is created equal. And, given the arena in which your brand competes, you need a package that stands apart from the competition. Hence, this review of vitamin and packaging done the right way.
There are, of course, several options for vitamin and supplement packaging, the most common of which are plastic jars or jugs (an especially popular choice for chewable and gummy-style vitamins). This traditional container has provided adequate protection and convenience to consumers for years. Adequate. But superior? What if we told you there was another choice for your brand's protective packaging? There is. And it's called flexible retail packaging.
Before we discuss its benefits, let's talk a bit about what this type of packaging is. Usually made by laminating together multiple layers of scientifically-formulated, FDA-approved and food-grade film, flexible retail packaging is strong, durable, and puncture-resistant, capable of protecting against vapor, odor, moisture, pests, and gas-producing air and UV light if necessary.
This format comes in many varieties including stand up pouches, flat barrier bags, and even spouted stand up bags for liquids. Great, you say, but why is this my best choice? For several reasons, some designed to satisfy the consumer, some to benefit your bottom line, but all to provide the ultimate in protection for your line of products.
The barrier properties that give flexible bags their strength are also those that preserve the shelf life of the contents. This type of packaging will seal in freshness, nutritional /healthful properties, and flavor when applicable. Optional zip lock closures can further extend your brand's "best by" date. Optional pour spouts and resealable caps make this vitamin and supplement packaging a great choice for liquid products as well. Jugs and jars? Not so much.
Consumers care about packaging strength and product shelf life. You do too, of course, but there are other factors that are of significant, if not equal, importance to you. Such as? Such as whether your packaging choice can save you money. Flexible retail packaging can. Here's how:
While it's true each package is made from multiple film layers, some styles actually take up to 15 percent less material to make than other plastic bag packaging.

Less material means less weight, which translates into reduced fuel consumption per unit during shipping.

The strength of this vitamin and supplement packaging also saves you money. You see, because this packaging is so very strong, it requires no inner liner or outer bag, box, carton or other container to fully carry out its functions. This results in savings to you because the costs normally associated with the manufacture, transport, storage and disposal of extra packaging are eliminated.
In closing, not all vitamin and supplement packaging is the same. In a world of cut-throat competition choosing flexible retail packaging that protects your products while building your brand and your bottom line could be the wisest choice of all.