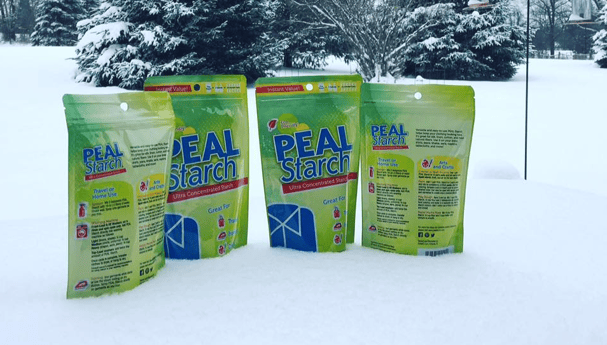 Custom packaging can accomplish so much more than simply protecting a product — it has the ability to share a brand's story with the whole world.
Packaging not only serves as the voice of a company, but it is also an important visual communication tool that informs and educates about a particular product. With custom artwork and designs, great packaging helps differentiate a particular item from competitors while also serving as the tangible "signature" a brand leaves behind everywhere the product appears.
StandUpPouches.net's very first customer who ordered custom printed pouches needed a style of packaging that would offer more value and convenience to consumers while setting their unique product apart from seemingly similar items on the market. Peal Starch, an innovative brand specializing in the production of dry laundry starch, initially chose custom printed stand up pouches to hold its fine powder mix because it was the most protective option available. As founder Obeta Osolu conducted more research on this type of packaging, and worked closely with the StandUpPouches.net team, he learned that pouches can actually provide the end user more product and increased uses than a bottle or aerosol can (the traditional containers for laundry starch).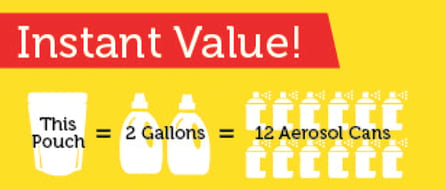 Stand up pouches are also much easier to take on the go than traditional rigid containers, and soon the Peal Starch team discovered that their biggest target customer wasn't a stay-at-home mom doing laundry — it was actually a 20-something male who traveled for business. To keep their suits looking crisp and wrinkle free, many of these working millennials were packing pouches of Peal Starch in their suitcases so they could quickly starch their suits on the go. With this new customer demographic came the need to update the presentation of Peal Starch's product. The Peal Starch founders once again turned to StandUpPouches.net to start a new custom printed project and update their packaging without hassles or delays.
Peal Starch worked with the packaging partner's design team to overhaul their laundry starch pouches, making them smaller in size, and including more descriptive graphics and text that explains how the product can be used in a variety of scenarios. From the original application — starching clothes and linens — to arts and crafts and quick ironing on the go, Peal Starch was able to enter new markets by listening to consumer feedback and updating their product packaging accordingly.
It can be risky for brands to overhaul the way their product is packaged and presented on shelves, but by partnering with the right supplier, a product refresh or update can be accomplished easily and without setbacks. If Peal Starch learned about its new customer base and additional product applications and didn't adjust the look and functionality of its pouches, they could have lost out on big business. The willingness to turn on a dime and create something new and fresh is what set Peal Starch apart in the first place, and it's what helps them to continue their growth and success.
In our new case study, "Updating Your Product with Custom Printed Pouches: The Peal Starch Way," we explain how we worked closely with the Peal Starch team to refresh their product packaging to meet new consumer demand. In the report, we highlight the importance of choosing packaging that is manufactured to best protect fine powder products, like laundry starch, while offering extended value and use to the end user.
As a bonus, we've also included an exclusive podcast interview with Peal Starch Founder Obeta Osolu, who explains his journey working as an entrepreneur, creating a small mom-and-pop business, and the role packaging has played in a complete overhaul of his branding, including new marketing techniques and a new website.
(Image Source: Peal Starch)