Stand Bags Are Great For All Your Laundry Needs
Whether your soap or detergent is in liquid or powder form, you can count on stand pouches to protect the contents from moisture, vapor, odor, light, and even puncture.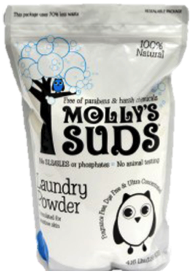 Stand pouches are made from multiple layers of high quality barrier films laminated together to form the barrier properties and protection needed to keep the product fresher for longer but also provide the strength and durability for the pouch to stand on a store shelf effectively. Pouches continue to grow in popularity with companies looking for unique ways to merchandise their product while protecting it at the same time.
By design stand up pouches have a wide face and back, which is ideal for an applied label or better yet, custom printing. Stand up bags can be custom printed up to 10 colors. Available features for stand up pouches include heavy duty zipper tops, tear notches, hang holes, pour spouts, and even gas release valves.
Examples of soap and detergent packaging include:
Powder soap
Liquid hand soap
Laundry detergent
All natural bar soap
Individually packaged pouches of powder soap
Septic system soap packets
We make is easy to take your soap and detergent from a basic package or even a bag in a box into an eye catching and custom stand up bag, with amazing barrier properties and even custom printing. In fact, we have developed our Stand Up Pouch Fast Track System to assist clients every step of the way. Stand pouches continue to be one of the fastest growing segments of the packaging industry, and our design team can provide the best fitting stand pouch with the highest impact at the total lowest cost.
Whether you are looking for a stock stand pouch in one of our many colors and available sizes, an unprinted stand bag with a particular size unique to your product, or even a stand up pouch that is custom printed, we can help. In regards to custom printing, once artwork is approved, you can expect your stand pouches in 6-12 weeks. Best of all, we have the unique ability to custom print as few as 5,000 stand up pouches, one of the lowest minimum runs in the world.
Make your soap and detergent packaging stand up and stand out from your competition by providing retailers new opportunities with stand up bags that visually stand out while providing superior protection and increasing your sales and profits too.