For centuries, men and women have searched high and low for the so-called "fountain of youth," that magic source of vigor and life that keeps them young and agile.
From new diets to home remedies, beauty products, and various other methods in between, people are always trying out new ways to reduce the physical signs of aging and maintain their youthful glow. As more of today's consumers veer away from products containing harmful chemicals and artificial additives, there is ample opportunity for brands to sell clean-label anti-aging products that offer numerous benefits beyond just looking younger.
Collagen is the new hot item on the market today. When most people hear the word "collagen," they picture an actress or model under the hand of a plastic surgeon that is sticking a sharp needle into their skin all in an effort to reduce wrinkles and fine lines. Collagen has come a long way in recent years, and we're learning about its many benefits. This protein – the most abundant found in the human body – resides in our connective tissues. As we age, collagen production slows, which results in saggy or wrinkled skin, as well as painful stiffness in our joints. People aren't just using collagen to make their faces pretty – they're consuming the protein in a number of ways to assist with soreness and to regain their internal energy while keeping their body looking and feeling younger.
Many companies are offering collagen supplements in the form of gels or gummies, and they're selecting resealable stand up bags to keep the products protected from outside contaminants. Collagen can be used in food products along with ingredients like gelatin that add texture and functionality to supplements. In fact, this ingredient can replace fat and help bind collagen products together. This allows producers to create fortified gummies that are infused with various vitamins and nutritional supplements that are easy to consume and contain clean-label ingredients.
In Japan, collagen products are huge, and they play a key role in the "beauty from within" motto that permeates the country's culture. Japanese brewery Suntory even developed a collagen-infused beer developed to promote healthy, youthful hair, skin, and nails. In the U.S., companies like NeoCell are creating products like Beauty Bursts that are packaged in resealable stand up bags and are marketed as gourmet soft chews infused with collagen. Perrigo Company is another healthcare products business that teamed up with Ferrara Candy Company to manufacture gummy vitamins. Ingredients like collagen allow manufacturers to create anti-aging supplements that taste like candy, and they can get creative with the product and its packaging.
According to new research by Mintel, the majority of consumers – both seniors and those in the millennial demographic – are dealing with so-called "pill fatigue." Though supplements in pill form make up 40 percent of the market, gummies are coming up close behind at 18 percent. Collagen-infused "candies" are easier to consume and taste better, allowing brands to offer alternative vitamin and supplement delivery systems that are innovative and result in a better customer experience than standard pills.
Another company thinking outside of the box with its collagen-infused supplements is Agel, and its FLX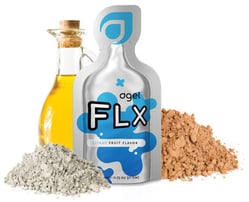 product uses suspension gel technology and natural ingredients to promote healthy joints. This product is packaged in a sleek, futuristic stand up pouch that protects the gel from spills or leaks. Flexible retail packaging is perfect for this kind of unique product because its internal layers stand up against viscous liquids while maintaining an upright shape that catches customers' attention in retail stores. Resealable stand up bags and other forms of flexible packaging are the best choice for alternative forms of vitamins and supplements because they ensure freshness and keep the nutritional content of the products protected. This type of packaging is made with scientifically developed, FDA-approved layers that work together to form a safe, durable barrier that stands up to the elements.
Brands that are listening to consumers and rethinking the way they deliver healthy anti-aging products are using flexible packaging because it helps distinguish them from traditional vitamin and pill manufacturers.
People are drawn to colorful resealable stand up bags with interesting gels and gummies inside because they are eye-catching and fun. These aren't your standard pill bottles, and they allow brands to get inventive with their branding and product design. For anti-aging products, especially, establishing yourself as a forward-thinking modern brand using new delivery systems will draw in consumers searching for that seemingly unobtainable fountain of youth. These products will speak to clean-label seekers looking for brands that are listening to their needs and are committed to using the best ingredients and sustainable packaging possible.