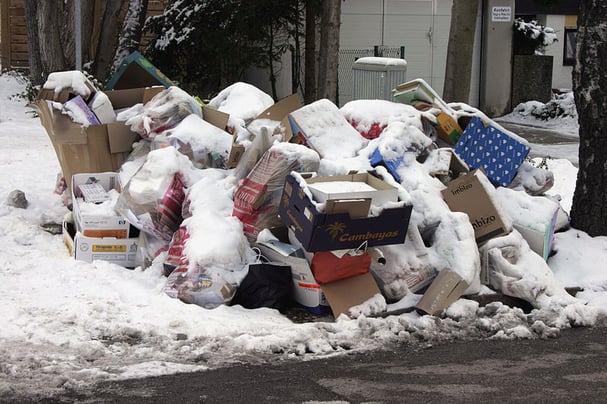 The winter holiday season is in full swing, and it's no secret that

excess

is the name of the game this time of year.
Consumers — young adults in particular — are increasing their gift purchasing this holiday season, with a reported 46 percent of shoppers 18-24 years old saying they plan to spend more on presents this year. Retail sales through the end of the year are projected to increase to roughly four percent, totaling approximately $679 billion dollars.
That's a whole lot of spending… and a whole lot of discarded product packaging.
Once the magic of gift giving begins to wane, consumers begin filling their trash cans, recycling bins and dumpsters with torn wrapping paper, crumbled gift bags, peeled-off bows and empty shipping boxes. According to the EPA, ONE MILLION TONS of packaging end up in landfills after the holiday season.
One in every four items consumers through away is packaging related, which means a large percentage of environmentally damaging waste comes from the container a product is in. However, eliminating packaging isn't going to solve the problem. After all, packaging is what protects products, safeguards it from becoming contaminated and helps distinguish one item from another.
Packaging entices buyers to reach for a product, it provides important nutrition and safety information and it keeps gifts a secret until their intended recipient breaks through the bag or wrapping to unveil the surprise product. No matter how you look at it, packaging matters. However, it doesn't have to be a necessary "evil" if the right kind of packaging is chosen for products.
The key to eliminating the problem of excess packaging waste during the holiday season is reduction.

Reducing the amount of packaging used is a step in the right direction.
Brands that want to do their part to increase sustainability and help the environment should also reduce the amount of raw material that goes into manufacturing their product packaging.
Stand up pouches are one example of product packaging that is sustainable, reusable and uses less material to produce that numerous other containers. In fact, lightweight flexible packaging uses 40 percent of the amount of plastic than rigid containers like canisters or bottles.
Stand up pouches also take up nine times less space in landfills than their traditional heavy counterparts, and they're an all-in-one solution that eliminates waste. More of today's modern, successful and forward-thinking brands are even ditching the cardboard box and switching to flexible pouches for their ecommerce and shipping packaging solutions.
With an increasing number of influential shoppers actively choosing to purchase from brands with strong, clearly communicated values (such as sustainability or a mission to reduce food waste), selecting reusable, lightweight, eco-friendly packaging will play a significant role in cutting down on waste this holiday season.
who needs gift wrapping..? #fresh #packaging https://t.co/899qNEvxUt pic.twitter.com/ynLNkizVvT

— quip (@getquip) December 5, 2015