With so many modern consumers vowing to cut their sugar intake, how can a candy company stay afloat in today's health-conscious world?
Wise businesses will focus their efforts on maintaining a local, handmade feel no matter how large they grow. People want to purchase from companies that put care and attention to detail in every step of the production of their product offerings. It's all about creating an experience people remember by sparking memories and an emotional response through the aroma, presentation, and bite of the delicious foods they are purchasing.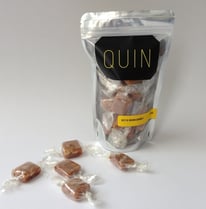 QUIN Candy has expertly created that experience from its Portland shop, turning the traditional candy store experience on its head and incorporating modern, unique ingredients to stand out among other sweets manufacturers. QUIN takes great pride in its high-quality, handmade goods. The company produces small batches of sugary goodness so it can focus on perfecting each and every morsel before it reaches the customer's hands. Maintaining that traditional, nostalgic candy shop feel while incorporating modern aesthetics and practices into its operation required QUIN to find candy packaging that reflected its branding while holding the same high standards as its quality candies.
QUIN chose flexible retail packaging from StandUpPouches.net to present and protect its individually wrapped caramels and lollipops, along with its unwrapped gumdrops and marshmallows.
QUIN is distinctive in that it uses top-notch ingredients like Oregon berries, homemade coffee extract from locally roasted beans, locally brewed teas, and even rosé wine to give its treats sophisticated, exciting flavors. Because the ingredients used for its candies are the very best around, QUIN sought out a candy packaging supplier who could provide candy packaging that properly sealed in the aroma, taste, and freshness of its goods while protecting it from harmful outside contaminants that could jeopardize the quality of its products.
QUIN selected plain stock stand up pouches with a clear front layer and silver foil back that allows customers to see exactly what is inside the packaging while scanning the retail shelves or company website. Because QUIN places so much attention on the design and presentation of its candies, it was important for the team to select packaging that doesn't obscure the product and instead shows it off in its best possible light. By purchasing this style of stand pouches, QUIN could stick its own custom-made logo and label right within plain sight. Because the front and back layers of the pouches offer plenty of room for creative designs and branding, the company didn't have to worry about covering up the product and could proudly display a bold "QUIN" sticker right on the front of the package.
QUIN Candy knows it could use artificial colors, waxes, flavors, and sweeteners to cheaply and quickly produce its candies. However, the company makes a point to stand out from the crowd and deliver superior artisanal treats that go above and beyond what consumers expect from sweet treats. Even consumers who unflinchingly stick to strict healthy diets feel OK indulging in QUIN candies because they are made with real, natural ingredients people can identify and pronounce. Customers love QUIN for its creativity and willingness to experiment with bold new flavors and varieties. The company needed to choose packaging that wouldn't distract from its beloved product while best reflecting their commitment to using natural colors and flavors.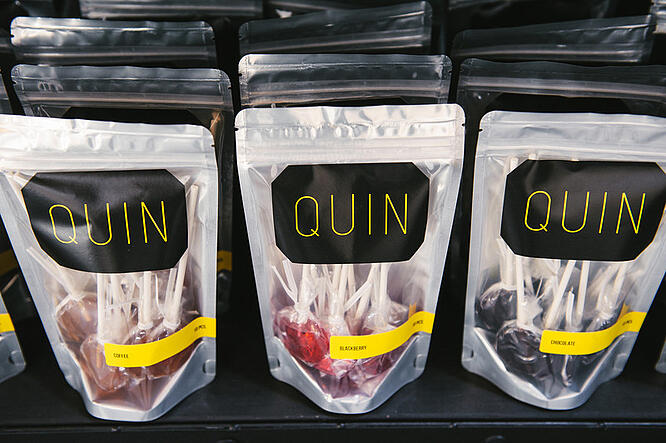 Packaging from StandUpPouches.net is environmentally friendly and made of FDA-approved, food-grade layers that are puncture resistant and protect QUIN candies from breaking, spilling, or coming into contact with undesirable outside elements.
The packaging's sleek, modern structure meshes well with QUIN's sophisticated branding and focus on simple ingredients and clean presentation of its candies. The company has already established itself as forward thinking in terms of packaging, as it uses Oregon's Union Wine in a Can to flavor its lollipops, proving that the company is always exploring new avenues to deliver its products in innovative containers and seeks out partners who do the same.
QUIN Candy has already gained a devoted following and a substantial amount of positive press, from Cooking Light to Fast Company and Good Housekeeping, and people around the world are taking notice of its bold, modern aesthetics and commitment to superior quality sweets. The company is a leader in its market for its blend of old classics and new traditions, resulting in exceptional candies that appeak to a wide variety of consumers.
We are proud to partner with QUIN to deliver stand up pouches fast and efficiently.
The company rolled out exciting new summer flavors, like Chocolate Malted Sugar Cone Caramels and Tropical Breeze Dreams Come True Chew, and we knew we needed to get their packaging to the team fast so they could distribute the candies on time. Our plain stock stand up pouches can be delivered with a lightning fast turnaround time, ensuring that brands can distribute their seasonal or limited-edition products quickly and without worry.
We're excited to see the emergence of carefully crafted, artisanal sweets made with care, love, and the highest quality local ingredients. We work with great brands like QUIN Candy to deliver fast, durable, and attractive flexible retail packaging to make sure their products are presented in both a well-designed and highly functional manner. Gone are the days of paper wrappers, heavy jars, and flimsy cardboard containers for sweet treats. Strong, flexible stand up pouches are used by leading brands at the tops of their industries to help communicate a commitment to sustainability, excellence, and practices that help produce the very best goods consumers can get their hands on.
Related Posts:
...