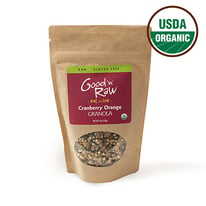 The last decade has shown marked growth for the global paper and paperboard packaging industry. In fact, this particular market is expected to reach $213.4 Billion by 2020, according to new research from MarketsandMarkets. Countries with high populations, including China and India, will see an even higher growth rate in the next five years. So, what's with the rise in paper, and why should you care?
Paper is booming alongside the packaging industry due, in part, to an increased awareness of environmental issues. More customers are seeking out eco-friendly packaging for their products, and suppliers are driving innovation to meet this demand. Kraft stand up pouches, made from natural kraft paper, are a type of flexible retail packaging that take up less space, keep products safe and are made with FDA food grade material.
The value of this type of flexible retail packaging is all in the name: Kraft is a German word that translates to "strong" in English. So, although this type of pouch is made from a papery material, the process that goes into the production of its outer layer guaranteed a strong, porous paper with high tear resistance. In fact, the pulp produced by the kraft process is stronger than any other type of paper, with long fibers making up its durable composition. The pulping process involves converting wood chips and other plant fiber into paper, resulting in natural product consumers can feel good about purchasing.
With an increased shift away from plastic, along with a dependence on more convenient food, kraft stand up pouches are no longer just an alternative – they are often the first choice for many. While their natural look communicates a healthy, organic message to consumers, producers love this kind of flexible retail packaging for its low cost and high stability. The flexibility of kraft stand up pouches means more room than bulky glass or boxes on the shelves, which means more products in stores and in the hands of customers.
Last year, food packaging accounted for more than 40 percent of the total paper and paperboard packaging market. In the next five years, we can expect to see a jump in paper used for beverage packaging, as this segment is expected to rise at the highest compound annual growth rate. Paper has come a long way since its development back in the second century AD, and technological innovations are only going to take this material to new heights.