Move over, kale, quinoa, and chia – there's a new healthy ingredient in town, and it's quickly taking the food industry by storm.
The plant is being hailed as "the next hot superfood" thanks to its protein, calcium, iron, vitamin C, and antioxidant-rich leaves and seeds. The plant is said to contain 300 medicinal benefits, and because stems from a drought-tolerant tree, it can be planted in regions across the globe where malnutrition is widespread. According to NPR, moringa leaves even contain double the protein found in yogurt, four times the amount of calcium found in milk, and seven times more vitamin C than oranges.
Although its nutritional benefits are seemingly endless, in some areas, moringa still contains a stigma. Sure, it's extremely healthy, but it's often associated with bland greens and other foods that aren't exactly glamourous or hip. However, food and beverage companies are changing all of this by incorporating the ingredient into exciting and delicious fares like granola bars and smoothies. This is a food product that is even being embraced by the Peace Corps to inexpensively feed the malnourished. If brands want to take advantage of moringa's growing popularity, they'll need to find a way to make it easy to ship, carry, and open. Stand up pouches are the perfect solution because their gusseted bottoms are scientifically developed to keep delicate, powdery products from spilling or seeping out of the package, which drastically cuts down on food waste and spoilage.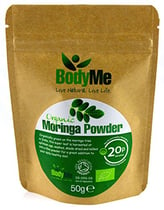 We're already working with clients that specialize in moringa products, and each is choosing stand up pouches to best protect and present this intriguing new ingredient.
Moringa is sold as a powder that can be added to dishes – much like chia seeds or nutritional yeast – and in tea bags, nut mixes, and nutrition bars. Stand up pouches lock in these products using hand held heat sealers for packaging that work with each of the pouch's layers to create a strong, puncture-resistant barrier that seals in freshness, aroma, and vitamin content while keeping the product protected from outside moisture, odor, light, or air.
The benefits of moringa aren't just limited to the food and beverage industries, however. The plant's antioxidants and abundance of vitamins are being touted by beauty experts who say the plant supports radiant, younger-looking skin. There is huge potential for brands to market moringa to a wide range of consumers, including older demographics increasingly concerned with their physical health and appearance, and choosing packaging that stands up boldly on shelves is a key way to grab their attention.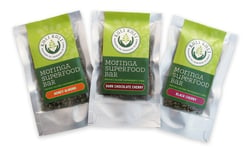 At StandUpPouches.net, we don't just supply run-of-the-mill packaging for trendy and unique products like this. We offer heat sealers for food packaging in addition to custom, personalized pouches, that help maintain the quality of the product while helping brands distinguish themselves from the competition. Moringa companies can send us unique artwork, and after four to six weeks, we will send the completed packaging that can be printed with up to 12 bold colors. Because moringa is rising in popularity, we understand that brands need to get their products out on the market fast without sacrificing quality – or a ton of money. Digital printed prototypes will help get your packaging project rolling quickly so you can determine which finish, features, and deigns look best on your product packaging.
Colorful, innovative stand up pouches, coupled with the use of hand held heat sealers for food packaging, expertly protect moringa and keep it fresh. We're excited to see so many small and mid-market companies jumping on board with this product and committing to delivering healthy, nutritious goods to customers in exciting and inventive ways. We make it a point to learn more and care about each client's products just as much as they do so we can offer the perfect packaging solution that fits their individual needs and speaks to consumers. It's all about exposure and marketing the product in a way that makes customers excited to get their hands on it. Moringa could be the next big thing, as long as brands continue to put time, effort, and care into the way it is packaged and presented on shelves.
(Image Sources: Vitaleaf Moringa, My Best Organic, Trend Monitor)
Related Posts: