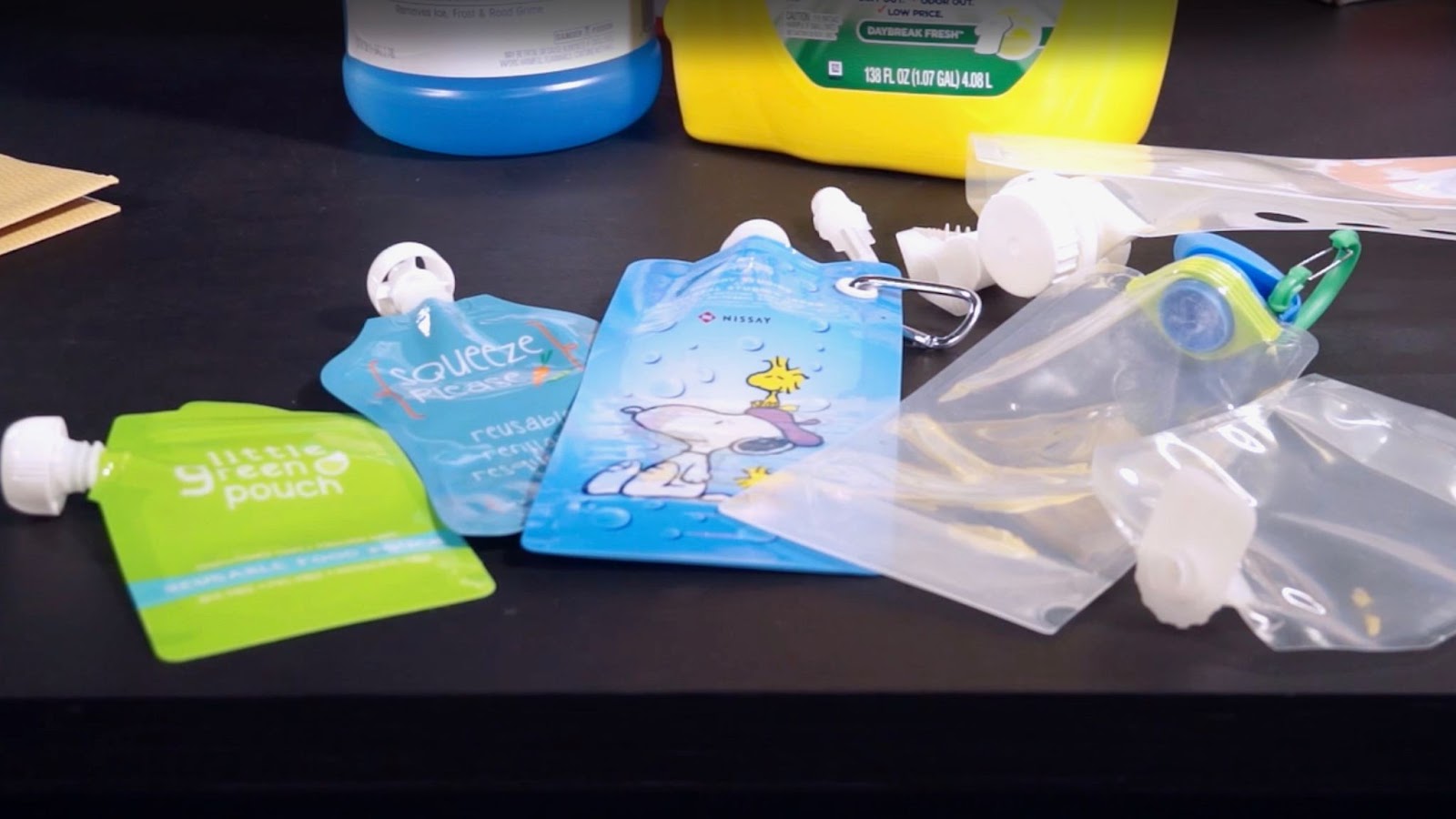 The United States is finally waking up to the convenience, shelf appeal, and cost savings that can be achieved with flexible packaging options — particularly for liquids. There's a stand up pouch with spout suited to virtually any liquid product you can sell on a retail shelf. Brands are switching to spouted pouches from a rigid container for products as diverse as:
Fruit juices
Window cleaners
Laundry detergent
Beers & wines
Sauces, syrups, and honey
Protein powders
Baby food
Lawn and garden products
Motor oil
And more!
You may have seen those baby food squeeze pouches, but syrup in a pouch? Laundry detergent? Really? Yes, and a flexible pouch solution provides better performance for the customer while saving money for your brand. The versatile options for filling, dispensing, and handling make all the difference.
Fill Through a Void
Unlike a bottle or jug, you don't need to fill a stand up pouch with spout via the same opening the consumer will use to dispense the product. Pouches are often filled quickly and easily through a larger void in the top or side where the two side panels haven't yet been sealed together. When you're done, heat seal the opening and you're good to go. A built-in spout can stay tightly capped the whole time.
Wide Mouth Pour Spouts
If you're packaging microwaveable soups or other products that just won't work well with a narrow spout, no problem. Equip your pouch with a wide mouth pour spout that simulates the pour of a larger container without the bulk or wasted space once it's empty.
Spray Triggers
Spouted pouches aren't only for products that pour. Use a spray trigger in place of a traditional spout to upgrade your pouch for cleaning sprays, insecticides, odor-elimination products, or anything else that requires a spray function. Customers will love that the product retains its ease-of-use even as the contents deplete, because the pouch will shrink to conform to the remaining product. No more restrictive angles for spraying with a near-empty bottle.
Spigots
This is a big one. You don't need your spout to be located at the top of the package. A spigot-equipped pouch is ideal for wines, alcoholic beverages, and other liquids that are dispensed in this fashion. Consider the convenience of a stand up pouch with a spigot for liquid laundry detergent!
Built-In Straw
We're all familiar with stand up pouch juices for the kids — they've been popular for years. However, in the past they've always required a separately packaged straw to be glued to the side. What if it's lost on the way in and out of the fridge or cooler? It's also more exposed to the elements and contamination. Now you can get a stand up pouch with a built-in straw inside of the sealed spout. Open it up, extend the straw, and sip with peace of mind that nothing was lost or exposed.
Handles, Grommets, and Hang Tabs
Handles are great on a larger stand up pouch with spout — say, for that laundry detergent — so that it can easily be carried with a substantial volume of liquid inside. All it takes is to extend the side panels up a bit beyond the contained area, and punch openings through for the user's fingers. The same concept can create a built-in hang tab for easy stocking on racks rather than shelves. Got a heavy product? Consider using grommets in the opening to reinforce the package and prevent any damage.
A Stand Up Pouch With Spout Stands Out
The best thing about switching to a flexible stand up pouch with spout is the wow factor. You're instantly differentiated from your competitors with an edge-to-edge brightly printed package that offers ease-of-use along with less hassle and waste. Your packaging decision shows off the creative mindset of your brand, but even more, it proves that you care about the customer experience above all else.