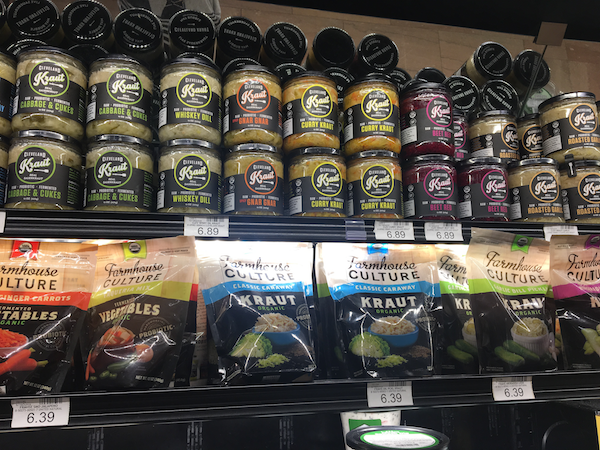 Sauerkraut, kimchi and kombucha — tangy, bubbly fermented delights — are undergoing a renaissance as they are increasingly sought after by today's health-conscious consumer.
These probiotic-packed foods and drinks have been consumed by specific cultures for centuries, and they are revered for their beneficial properties relating to digestion and overall gut health. With many studies revealing the link between the gut and our mental wellbeing, more consumers (especially influential millennials) are scooping up fermented goodies as part of their personal wellness regimens.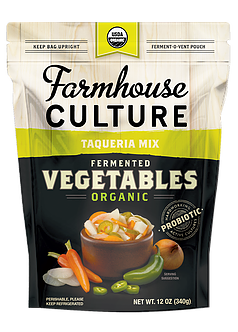 Those familiar with fermenting their own vegetables, tea and even beer and wine know the process can be long and requires specific steps to ensure the beneficial bacteria are doing their jobs to change the overall flavor, structure and nutritional value of the product. Attention to detail is of the utmost importance to make sure all materials are sanitized and no mold or harmful elements contaminate the final result.
This is an importand reason why most folks ferment their food or beverages in airtight jars or crocks. But what if there was another way to serve up probiotic-rich delicacies so they stand out on store shelves, are more sustainable and can easily be taken on the go?
This is where many of today's health-food brands are taking traditional practices and marketing their foods as trendy products for a whole new generation of consumers. At the Food Evolution Summit this year, our team heard firsthand about from the leadership team at Farmhouse Culture about the power probiotic product packaging has to innovate a consumer packaged good, refresh a brand and spark demand for a food or drink that has been around for centuries.
Today's health-food leaders are making bold choices with their packaging for fermented food and are even embracing stand up pouches to protect and promote their products. But will a stand up pouch actually keep the product fresh? Will it lock in the active cultures that are so vital to digestive health and wellbeing? Will it keep the food and drinks from becoming contaminated?
Farmhouse Culture is one example of a brand that successfully made the switch from the rigid-yet-fragile glass jar to the flexible stand up pouch for its sauerkraut and fermented vegetables. The company's revolutionary degassing valve, which they market as the "Ferment-O-Vent" printed right on the back of the pouch, actually solves a common problem companies packaging probiotics in jars often face: leakage.
Continuously venting the carbon dioxide that builds up inside of a container holding fermented food is the secret to preventing the packaging from exploding. Trust us when we tell you many brewers, kimchi enthusiasts, kombucha fans and kraut connoisseurs have dealt with shattered glass and a massive explosion in their kitchens because of built-up gasses fighting to get out of the airtight, rigid jar or glass bottle.
A stand up pouch prevents this problem, as its multiple layers of laminated barrier film are intended to expand without wear, tear or breakage. Adding a vent to the packaging allows air to escape while trapping in all the important elements that keep the food or beverage continuously fermenting and growing stronger and more complex in flavor.
Stand up pouches for packaging probiotics have the added benefit of being much easier to take on the go — imagine lugging a giant jar or crock of sauerkraut to a family barbecue versus tucking a lightweight pouch in your cooler with other condiments and accompaniments. Lightweight, portable containers are significantly easier to travel with, which makes shoppers more likely to repeatedly purchase and consume the product. If they can enjoy a healthy, delicious treat wherever they go because its container is lightweight, prevents leaks and won't shatter, there's a pretty good chance it's going to become a staple on their grocery list.
It's understandable, however, that brands may be wary of making the switch from jars to pouches for fermented foods. After all, most shoppers are used to seeing brands packaging probiotics in rigid containers, and they scan store aisles and coolers looking for the jars and bottles they're familar with.
However, this is where custom packaging design can help brands maintain their customer loyalty and recognition while innovating and revolutionizing the products in their particular markets.
Farmhouse Culture used custom printed stand up pouches to feature high-quality photography and crisp logos on the outside of their fermented food packaging. The pouch was produced with a partial matte finish and glossy texture used strategically to showcase and call attention to he cultured vegetable inside the container. Pouches are now seen in stores with an overall glossy, professional finish.
The brand was initially hesitant to make the switch from its recognizable glass jar to a stand up pouch for fear that their target demographic would dislike the use of plastics. However, the environmental benefits of flexible packaging largely outweigh the apprehension some may have about plastics. Stand up pouches are reusable, they can be broken down into recyclable regrind, they take up significantly less space in landfills than glass containers and they reduce brands' carbon footprint as less trucks and fuel are needed to ship them than heavier, space-hogging rigid packaging.
While fans of fermenting food and drinks may still prefer to use jars or crocks during the process of making of kimchi, kombucha and sauerkraut, cultured food can absolutely be safely repackaged in a stand up pouch — particularly one with a gas valve. After being filled in the flexible product packaging, the pouch is heat sealed to prevent any leaks or cross-contamination.
Stand up pouches can be produced with a special vent to continuously release carbon dioxide gas, reduce pressure (which can lead to leaking liquid in traditional jars) and keep the gut-friendly bacteria and delicious flavors locked inside to extend the shelf life of the product and keep consumers coming back for more.