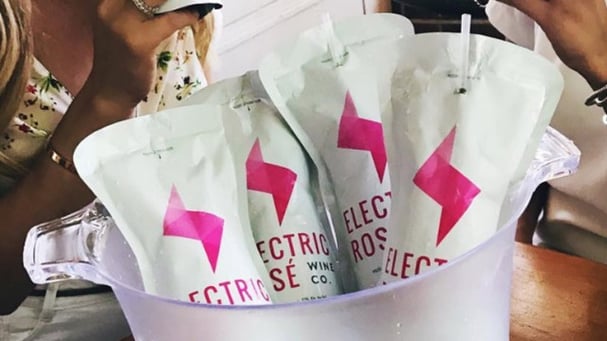 Many people are familiar with Capri Sun, a juice drink packaged in a foil pouch that includes a straw for drinking the product straight out of the package.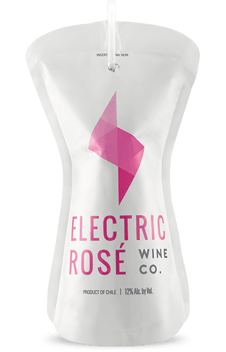 Beloved by '90s kids as a staple of lunch box beverages, it's not surprising that Capri Sun's innovative approach to beverage packaging is catching on in other areas of beverage world, specifically, wine packaging.
Electric Rosé wine company recently released a whole new way to drink wine that harkens back to the Capri Sun pouches of millennial-era lunchboxes by utilizing a stand up pouch and straw. Bundled in a six-pack of pouches, one package of the rosé equals about 1.5 traditional bottles of wine.
The convenience, alone, of the pouch and straw, makes Electric Rosé's new alcohol packaging design noteworthy.

Consumers will love that the pouch

is an all-in-one solution

that does away with the need for glasses and a corkscrew, not to mention dramatically

increases

the beverages' portability, making it perfect for picnics or trips to the beach.
But what about taste? According to Electric Rosé's website, it's the "first and only, high quality, premium rosé in a single-serve pouch." The company also boasts that Electric Rosé is "a superior tasting rosé with electric qualities developed with the help of an internationally renowned enologist." And, of course, pouches are known to keep products of all kinds optimally fresh, which makes them perfectly suited for innovative alcohol packaging like this.
The wine packaging is also environmentally friendly, since it packs flat for shipment and is more lightweight than traditional glass wine bottles. The company further improves its environmental impact by donating a portion of the sales from Electric Rosé to water2wines.org, an organization which provides clean, sustainable, water to people in need.
Unfortunately, Electric Rosé is only currently available in six states, mostly along the Eastern seaboard, but the company promises that it is continuing to grow, so keep your eyes out for more innovative alcohol packaging designs in a liquor store near you. The convenience, versatility and sustainability of Electric Rosé's wine packaging in a pouch are sure to be adopted by other forward-thinking beverage brands looking to stand out on the wine store shelf.
Innovations from overseas are influencing how CPG brands are packaging and marketing their products on U.S. soil. While the traditional way of packaging alcohol, in bottles or cans, may work just fine, demands from retailers and consumers alike are adding increased pressure on companies large and small. Alcohol companies that want to stand out and appeal to their customers' changing desires should take a cue from innovative trendsetters like Electric Rosé… and it all starts with their choice of packaging.
Additional Reading: