Are you in the market for new coffee bean bags for sale?
If so, we're comparing coffee packaging companies side-by-side from an unbiased perspective, bringing you the facts to help you make smart buying decisions. PBFY and Stock Bag Depot are two prominent suppliers in the industry, and this is the breakdown of the two brand's available styles, materials, turnaround times, and more.
Plastic Bags For You vs. Stock Bag Depot: Available Styles
Stock Bag Depot has your typical selection of paper coffee bags available. Their stock bags for coffee include stand up pouches, gusset bags, flat bags, and kraft paper coffee bags.
PBFY also has a good selection of coffee packages in its inventory, including gusset bags, flat bottom bags, stand up pouches, flat bags, and kraft paper bags.
If the style of your coffee packaging is a big concern to you, you'll likely find what you need at either one of these companies.
Coffee Packaging Features And Accessories
Along with style selection, Stock Bag Depot also has a healthy assortment of features for coffee packages. Their features include:
Tin ties

Re-sealable Tape

Metal bag clips

Gamma lids/de-gassing valves

Zippers

Zip locks
Plastic Bags For You has a selection of packaging features and sealers, including bag clips, zip locks, zippers, tin ties, re-sealable tape, and degassing valves.
Available Coffee Packaging Sizes From PBFY And Stock Bag Depot
Stock Bag Depot's selection of packaging sizes comes in wide ranges. Here is an outline of what they have available in terms of size:
Stand up bags are available in 2oz, 4oz, 8oz, 12oz, 16oz, 16oz long, 2lb, 5lb, 5lb narrow, and 5lb poly

Quad gusseted bags come in 8oz, 16oz, 2lb, 10lb, 20lb

Aroma gusseted bags come in 2oz, 18oz, 16oz, 5lb

Kraft paper coffee bags with a window is available in 4oz, 16oz, and 18oz

Flat bags come in 2oz, 4oz, 8oz, 16oz, and 2lb
PBFY's packaging size selection includes the following:
Gusseted side bags are available in 2oz, 8oz, 16oz, 2lb, 5lb

Stand up bags are available in 1oz, 2oz, 4oz, 8oz, 12oz, 16oz, 24oz, 2lb, 5lb

Tin tie bags are available in ½lb, 1lb, 2lb, 5lb

Flat bags come in 2oz, 4oz, 8oz, 16oz, and 2lb

Flat bottom bags come in 16oz
PBFY vs. Stock Bag Depot: Materials And Print Options
PBFY's print options come in the form of custom printed bags, hot print stamping, and custom-printed labels. Customers must submit their artwork in CMYK format, and all black and white images must be changed to gray scale format. PBFY offers flexo printing, hot stamp printing, and flexo printing on the following materials:
Clear

Foil

Kraft paper

Colored poly
Stock Bag Depot also has a variety of materials and print options available for its packaging. They offer foil, metallized, poly, and kraft paper coffe bags. The printing process at Stock Bag Depot involves rotogravure printing with 8-color printing capabilities. They also offer label printing and hot stamp printing.
Print Capacity And Lead Time

Stock Bag Depot's print capacity varies depending on your packaging style selection and the size of the bag. There's a one-case minimum for each order, which ranges from 500 to 2,000 packages depending on your order. Custom packaging has a turnaround time of 8-10 weeks for new orders, and 6-8 weeks for reorders.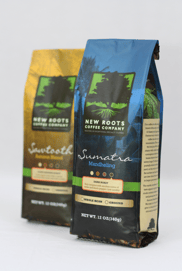 PBFY's minimum print also varies with sizing and style selection. Custom printed bags with hot stamps (1-2 colors) requires a minimum order of 1 case and 7-10 days lead time. Custom labels require an inquiry to find out your minimum order, but the turnaround is 10-14 days. As for print capacity, PBFY's custom printed bags with multiple colors and photos have a minimum order of 5,000 and a turnaround time of 8-10 weeks.
Location and Years in Business
PBFY has been in the packaging business since 1992 and is located in Brea, Calif. Stock Bag Depot is located in Chino, Calif. There is no information on Stock Bag Depot's website regarding when its business was established.
Stock Bag Depot vs. Plastic Bags For You: Who's The Winner?
Stock Bag Depot and PBFY are pretty comparable when it comes to selection, print options, and turnaround times. But finding the best fit for your packaging supplier can go deeper than selection alone — you'll need to find a packaging professional that you can trust to help grow your business. Contact us at StandUpPouches.net for questions and guidance on the best coffee bags for your brand.
(Image Sources: Jayce-O-Yesta, Coffee Talk)
Related Posts: