Here at StandUpPouches.net, we're digging into a series of posts where we compare two packaging companies and their coffee bean bags for sale.
This data is pulled straight from their websites and outlined from a completely unbiased perspective. If you've been researching one (or both) of these companies, take a look at how they stack up against one another.
Without any more delay, here's the coffee packaging showdown for Roastar vs. Plastic Bags For You.
Plastic Bags For You vs. Roastar: Available Styles
Plastic Bags For You has five available styles of coffee bags in their inventory. These styles include:
Side gusseted coffee bags

Flat bottom coffee bags (PBFY labels them as Block Bottom Bags)

Stand up bags for coffee

Flat pouch coffee bags

Tin tie coffee bags
In terms of coffee bags, Roastar has three packaging styles to choose from: stand up pouches, flat pouches, and gusseted bags. They also have a 2 o.z version of a three-side seal coffee bag available in their inventory.
Coffee Bag Features
Plastic Bags For You has a selection of packaging features and sealers, including:
Degassing valves

Zip locks

Zippers

Tin ties

Re-sealable tape

Bag clips
You can get just about anything for coffee packaging features at PBFY.
Roastar's features are a bit more limited. They offer tin ties for their coffee bean bags for sale, as well as packaging that comes with an optional gas release valve.
Available Sizes
Roastar's selection of packaging sizes depends on the style of bag that you select. Gusseted bags are available in two sizes: 5-8 oz. and 12-16 oz. Their stand up pouches have slightly more variety with 2 oz, 5-8 oz, 12-16 oz, and 32 oz bags available. They also have a mini flat pouch for coffee samples, available at 2 oz.
PBFY has a larger selection of coffee bag sizes for all styles.
Gusseted side bags are available in 2oz, 8oz, 16oz, 2lb, 5lb

Stand up bags are available in 1oz, 2oz, 4oz, 8oz, 12oz, 16oz, 24oz, 2lb, 5lb

Tin tie bags are available in ½lb, 1lb, 2lb, 5lb

Flat pouches come in 2oz, 4oz, 8oz, 16oz, and 2lb

Block bottom bags come in 16oz
Materials And Print Options
PBFY's coffee packaging materials consist of the following:
Clear

Foil

Kraft paper

Colored poly
Print options from PBFY consist of hot print stamping, custom printed labels, and custom printed bags. All artwork must be in CMYK format, and black and white artwork should be gray scale. They offer rotogravure printing, flexo printing, and hot stamp printing.
Roastar has two available packaging materials: glossy laminated white film and matte laminated film. They're a process color printer that also uses CMYK format in the printing process.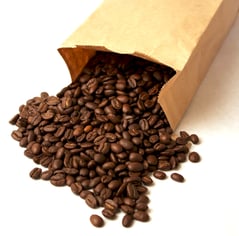 Print Capacity And Lead Time:
PBFY's minimum print varies. Custom printed bags with hot stamps (1-2 colors) requires a minimum order of 1 case and 7-10 days lead time. Custom printed bags with multiple colors and photos have a minimum order of 5,000 and a turnaround time of 8-10 weeks. Custom labels require an inquiry to find out your minimum order, but the turnaround is 10-14 days.
Roastar has a minimum order of just 100 bags and a turnaround time of 1 week.
Location and Years in Business
PBFY has been in the packaging business since 1992 and is located in Brea, California. Roastar was founded in 2011 and is located in Wausau, Wisconsin.
Plastic Bags For You vs. Roastar: Who's The Winner?
Both companies have their pros and cons when it comes to selection, style, features, and lead-time. Either company can be the winner depending on your specific packaging needs, but it always pays to do your research before settling on a particular brand. A packaging professional will help you choose the best bags or pouches for your business and guide you through the process.
(Image Sources: Design Instruct, The Living Room Coffee House)

Related Posts: