With so many consumers adopting healthier diets and lifestyles, cutting their sugar and gluten intake, and purchasing, fresh, organic foods, it may seem that certain edible products are seeing a decline in desirability and sales.
One might assume that veganism and vegetarianism are becoming popular lifestyle choices as consumers shun fatty foods with questionable sources and ingredients. The food industry, in fact, is actually experiencing the opposite effect – as consumers seek out more natural sources of protein and nutrients, they're incorporating a larger amount of lean meats into their diets. Meat snacks are having a moment as an interest in quick sources of protein-rich goods is rising.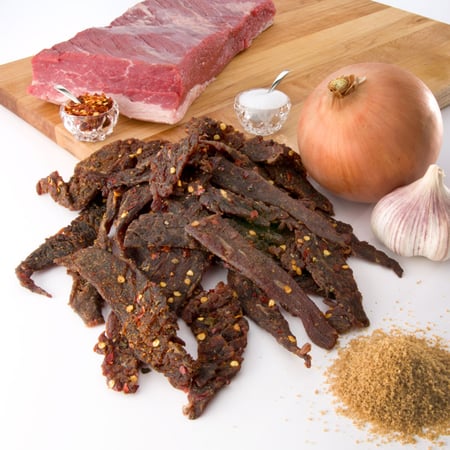 (Image Source: https://murrayfamilyfarms.com)
One particular snack that is wowing customers across the United States is jerky. The dried, smoky forms of beef, bison, and other lean meats keep consumers full as they go about their busy daily lives. Companies are getting creative with new flavors and varieties of jerky, incorporating savory, organic ingredients into the traditional meat snack most consumers are used to. Chefs are embracing these new jerky offerings and are using them to spice up restaurant meals. As a result, meat snacks have become the fourth largest savory snacks category in the U.S. after potato chips and trail mixes. There is huge opportunity for brands to make their mark in this booming industry, and choosing the right beef jerky packaging can help build sustainable growth.
Companies like Hershey are even finding ways to enter this market and reach health-conscious consumers.
This year, the candy brand acquired Krave Pure Foods, which specializes in jerky products. These snacks are made with simple, natural ingredients and use flat barrier bags for their beef jerky packaging. Companies are boasting artisanal jerky varieties, like chipotle lime and lemon garlic, and are using vibrant, colorful beef jerky packaging to draw in consumers and show off jerky in a new light. We're used to seeing beef jerky packaged in bags using dark colors and heavy, industrial-looking typefaces. Now, jerky companies are switching up their beef jerky packaging to appeal to the average, health-conscious consumer.
Small changes in packaging design can make all the difference in helping establish growth and popularity in a particular industry.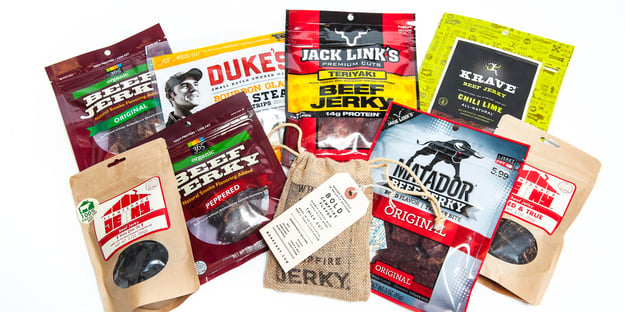 Using flat barrier bags for beef jerky packaging has been the go-to solution for successful companies in this market because they seal in flavor and freshness and keep out air and moisture. Stand up pouches are easy to carry and take on the go, they can be resealed for snacking later, and they are the best solution for incorporating vibrant colors and designs that draw customers in within seconds.
Flat barrier bags are a great choice for beef jerky because they can include a variety of additional features like oxygen absorbers and tear-notches for mess-free opening.
They can also be produced with a clear window on the front of the package so your brand can be as transparent about its food as possible. These bags are perfect not only for hikers, bikers, and others with active lifestyles, they're also great for consumers who frequently travel because they are easy to open and close and protect against puncture or breakage.
There's no doubt jerky is having a moment, and choosing flexible retail packaging to communicate a brand's exciting new flavor varieties can help keep the market booming. Meat snacks are becoming a huge part of healthy diets around the globe, and big brands are clearly getting on board to meet consumer demand. Smaller companies can compete with these large, established brands by presenting their jerky to a wide range of consumers and getting creative with their packaging structure and design.
Related Posts: