In today's crowded marketplace, what sets a brand apart? How can food and beverage companies stand out from the crowd to attract and hold on to loyal customers?
There's no doubt changing consumer lifestyles and technology have both played a significant role in the way producers are marketing themselves to attract new brand advocates. The alcohol industry, in particular, is focusing more on the emotional response to its products than traditional advertising or sales tactics.
New research from Crowdtap looks into the reasons customers choose one brand of alcohol over the other, and the insights gleaned from these reports can help companies retool their packaging to attract new consumers. Recommendations from family and friends play the biggest role in a shopper's alcoholic beverage selection, but great marketing is right up there on the list. The ability to personally engage with a brand and influence its product and packaging is particularly influential for today's connected customer.
Using this research, alcohol companies can incorporate the following three techniques into their marketing strategies to stay modern, hip, and become the drink of choice for many new consumers around the globe.
Listen to Customer Opinion
More than 85 percent of consumers surveyed by Crowdtap said they are more likely to purchase from alcohol from a brand that invites them to collaborate on its product marketing. Cost plays a big role in customers' alcohol selection, but brand packaging is the fourth most popular reason consumers today will select a particular type of alcohol. Social media can be used as a powerful tool for brands to really listen to their customers and adjust their drink packaging to suit their needs. In fact, 72 percent of consumers say they even use social media on their smartphones while shopping for booze.

Today's consumer is savvy, mobile, active, and bombarded with an abundance of product choices in stores and online. Alcohol companies should pay close attention to shopping trends and changing lifestyles and adjust their drink packaging accordingly. Because today's shoppers are always on the go, companies that use flexible beverage packaging, like spouted stand up pouches, will be at a great advantage. This type of packaging is easily transportable, puncture resistant, and it's great for toting along to parties or other social events. Your packaging is the first thing shoppers see, and if you're offering easy-open, unbreakable options, consumers know you've been paying attention to their concerns and are keeping up with their modern lifestyles.

2. Use Brand Heritage in Your Beverage Packaging Design
Believe it or not, tradition is more important to today's shopper than one might assume. People care about the history of a brand and everything that is associated with it. Crowdtap's research shows the most popular alcohol brands around the globe are Johnnie Walker, Moutai, and Hennessey. These are three companies that were established long before the 20th century, and they have become staples in the consumption habits of adults all over the world ever since. Each brand has evolved its product offerings to introduce new varieties and recipes to drinkers while still maintaining their classic luxury-label appeal.



Brands that want to make the switch to flexible packaging to keep up with consumers' changing lifestyles can still preserve their brand identity and rich history by incorporating it into their package design. There has been a boom in the demand for nostalgic, retro beverage logos,

particularly in the beer industry

, showing that switching to new packaging materials doesn't mean a brand has to let go of its heritage. Many alcohol companies are turning to spouted stand up pouches to package their beverages because the rotogravure printing used on the packaging lends well to vibrant, eye-catching colors and designs.
Innovate to the Latest Packaging Options
Yes, we're all used to seeing glass bottles and aluminum cans lining the shelves at the liquor stores, but companies that want to cut costs and be friendlier to the environment are recognizing the value of using flexible retail packaging for their alcoholic beverage offerings. Stand up pouches are much lighter and less bulky than bottles and cans, meaning they're easier to transport and require much less fuel. This type of packaging is user friendly, allowing customers to easily mix drinks, and it produces less waste in landfills than bottles or cans.

Partnering with a packaging supplier that will help you custom print and design your beverage packaging is the real key to success. Flexible packaging can come in a wide range of sizes and shapes, and their flat surfaces allow your branding to really shine. Gone are the days of traditional advertising when it comes to getting customers' eyes on your alcoholic beverage. People want to see it in the stores, interact with your company, and know that you're listening to their needs and retooling your brand packaging and marketing accordingly.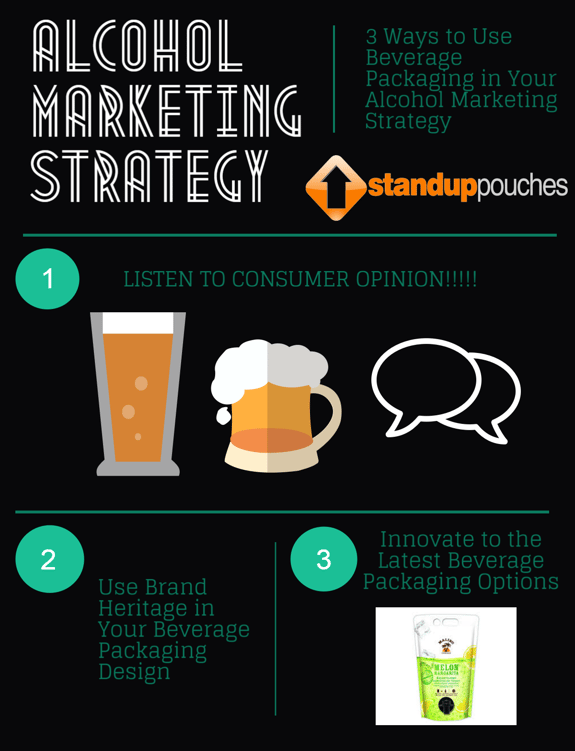 Related Posts: